Escape
by 500sunny500
Tags hyuna key kikwang nicole siwon yoona | Report Content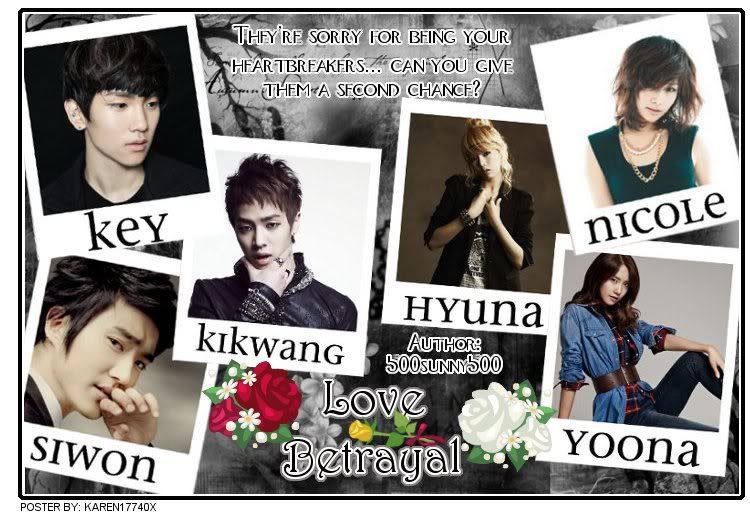 Yoona woke up in an unfamiliar room. She was tied onto a chair, and she struggled to untie herself. She failed to do so, so she sighed. The door opened, and there was Siwon. She glared at him.
"Hey Yoong," Siwon greeted. Yoona wanted to say something, but there was something covering her mouth. A handkerchief. Great, she thought, rolling her eyes. Instead, she glared at Siwon. Siwon flinched for a moment, but then grabbed a seat. He leaned towards Yoona, his hand running down Yoona's cheek. Yoona wanted to move away from him, but she was tied to well.
"What happened to you? You were so... pure," Siwon whispered. For a moment, Yoona could see sincerity in his eyes. No, stop thinking like that. You hate him with your heart, remember, Yoona reminded. She continued to glare at Siwon, wondering if Kikwang would ever come. 
"Anyways, let's talk. It's been a couple of years. I can't believe it, can you?" Siwon asked, chuckling. Yoona couldn't help but soften up a bit. She remembered that chuckle. It was so... nice hearing it again. She began to weaken slowly, as Siwon was able to overpower he slowly. He made her look straight into his eyes. She saw how fragile she used to be. Like the old Yoona. 
"I will accept you once more if you want me too," Siwon whispered. Yoona wanted to say, "YES!" so badly, but then because of the handkerchief, she couldn't speak. Noticing this, Siwon slowly untied it. Yoona gave Siwon a small smile, ready to be in his again. Suddenly, there was a big, CRASH! in the hall. Siwon got up, and loaded his gun. He kissed Yoona's cheek.
"Wait here, sweetie," he whispered, going into the hall. He left Yoona there alone, wondering what was happening. She was alerted by someone grabbing on her wrist. She quickly turned and found Kikwang there, a finger on his lips. Yoona nodded quietly, as Kikwang started to untie the ropes. 
"Next time, come straight back to me, all right? You know how long it took for me to find you?" Kikwang hissed. Yoona bit her lips, shifting her feet uncomfortably.
"I'm sorry, Kikwang," she said quietly. Kikwang rolled his eyes, as he tossed Yoona her gun.
"Let's go. It's loaded, just to tell you," Kikwang informed. Yoona nodded again, while the two quietly crept out the window. Suddenly, someone shouted, "SHE'S ESCAPING!" Yoona turned back, but Kikwang pushed her out.
"Get out!" Kikwang shouted, pushing Yoona. Yoona pulled herself out of the window, and landed on the ground. She heard someone shooting multiple times, as Kikwang tried to get out. Once he got down, Yoona went to check on his.
"Kikwang, are you hurt? Are you okay?" Yoona asked, worried. Kikwang smirked.
"I'm fine. That guy missed a lot," Kikwang laughed. Yoona grinned, as Kikwang pulled her out of the place. When they were out there, though, they found trouble. Nicole was captured by a Siwon's assistant, Key. Nicole was shouting, struggling to get out, but Key clamped her mouth with one hand and placed a knife right below her chin. She widened her eyes, as she stopped screaming. Siwon was there, too, frowning at Yoona.
"I told you to wait there, Yoong. Didn't you hear me?" Siwon asked, chuckling. Yoona glared at Siwon.
"Oops, I never heard that! I guess because I was too busy getting out of here," Yoona said, sticking her tongue out. Siwon gritted his teeth, holding back his fist. 
"Well, that doesn't matter. We have your friend here, Nicole. You take a step forward, she dies. You take a step backwards to the base again, she'll be alive. It's your choice, Yoona-ssi," Key smirked. Nicole stared at Yoona with wide eyes, wondering if she would make the right choice. Yoona bit her lips, while Kikwang clicked his tongue.
"Isn't it obvious? Yoona and I are trying to escape! Just kill her," Kikwang blurted. Yoona gasped at Kikwang, as Nicole widened her eyes.
"I never asked what your decision was, Kikwang. I asked for what Yoona's decision was," Key snapped. Just then, a tear rolled down Nicole's cheeks.
"Key..." Nicole croaked. Key stared at Nicole, glaring at her.
"What?!" he barked.
"Please don't kill me...." Nicole cried, her legs shaking. Key scoffed at her. She's still the same weak Nicole. There is no reason for her to kill her, but I have to. It's my duty as a C.H.A.N.C.E member, Key thought, tightening his grip. Nicole gasped for air, as Yoona panicked. She didn't want anyone to be killed, not even Siwon. She just waned to escape.
"The H3art Br3akers will come to us any moment now! I just secretly contacted them with the new device we created, right Yoona?" Kikwang blurted. Yoona gasped and smacked him on the head really hard. IS HE DUMB!??! COULDN'T HE SEE THAT SIWON DOESN'T KNOW WHO I REALLY AM!?!? Yoona thought angrily. Key gasped.
"She's one of them?" Key asked, continuing to gasp. Siwon rolled his eyes and studied Yoona for a second. She trembled in fear, wondering if this would be the end of her life.
"Release her, she's a weakling," Siwon commanded. Yoona stared at Siwon for a second. Is he crazy?! Isn't that breaking the C.H.A.N.C.E rule? she thought. Then, she had another thought, Wait, I'm going to die if I'm staying here any longer. And did he just call me a WEAKLING?!
"But sir, what if she gets stronger?" Key asked worriedly. He released Nicole, who ran to Yoona and Kikwang. She sobbed in front of Yoona, who patted her back. Kikwang rolled his eyes, embarrassed about Nicole crying like an idiot. Siwon pointed to the gate, where Yoona dragged Nicole out and Kikwang. Once they were gone, Siwon opened his mouth to speak.
"Then I'll take care of her. I broke her heart once, and if Kikwang breaks her heart, she won't be the same."
^ Back to Top