The Locked Room
by 500sunny500
Tags hyuna key kikwang nicole siwon yoona | Report Content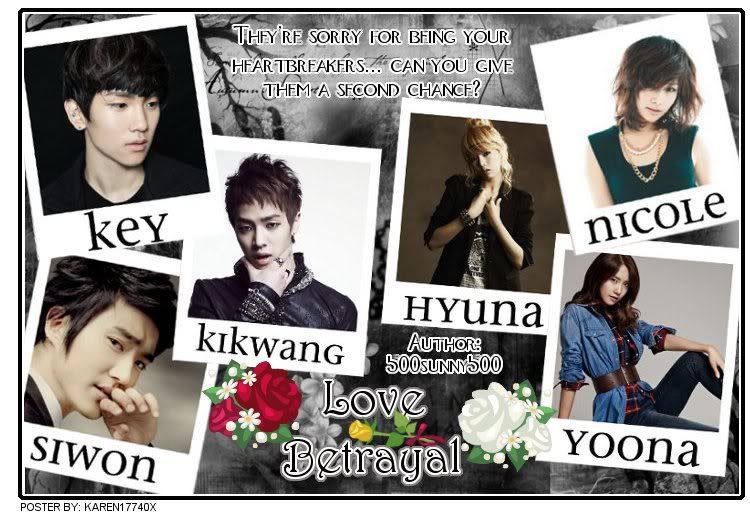 "KEY! OPEN THIS DOOR RIGHT NOW!" Siwon shouted, banging on his house. There was no answer. Only Key crying like a baby, loudly. Hyuna sighed and brushed her hair with her fingers, waiting outside the cold night. 
You guys might be wondering why Key was locked up in his room and in his house. Well... 
Flashback:
"Hey sweetheart," Key cooed as he pecked Nicole on her lips. Nicole grinned, but then slowly, her grin turned to a frown. Key realized that something was wrong with her. Usually, she would be excited and glad to see Key. Now, she's frowning as if they were enemies like before.
"Hi," was all Nicole said. She slammed her locker and walked away quickly, ignoring Key. Key scrunched his eyebrows, thinking if he had done anything wrong. He realized why she was acting like this towards him. He ran to Nicole and stopped her by holding tightly onto her wrist. Nicole flinched, trying to push him. He wouldn't budge.
"Nicole, I'm sorry I took away Mr. Pookie! I just thought you were putting so much attention to that doll, I just had to get rid of it somehow! I can give it back if you'd like! Please don't be mad at me!" Key begged, looking straight into her eyes. But he only saw anger.
"You stole Mr. Pookie?! You know how long I had to search for it? I never even found it and here you are, confessing you stole Mr. Pookie!" Nicole growled. Key raised an eyebrow.
"Wait, you're not angry about me stealing Mr. Pookie?" Key asked, unsure of what Nicole was angry about. Nicole slowly cupped his face and shook her head.
"No, Key. That's not it....I quit C.H.A.N.C.E.... I'm back to a H3art Br3aker member now," Nicole confessed.
"W-What?! Why?" Key asked with his mouth opened. Nicole sighed and crossed her arms a little. 
"It was for a friend who was in need. She needs more help than any of us, Key. I'm going to save her, which means I'm going back to a H3art Br3aker," Nicole said, thinking about Yoona. Key clenched his fist.
"Oh, so you chose friend instead of your boyfriend?"
"Key, what was I supposed to do--"
"You were supposed to choose me!"
"No, I wasn't supposed to choose you... I was supposed to choose those who are in need of help! Yoona is in need of help!"
"But she's a H3art Br3aker! They have no feelings--"
"That's how C.H.A.N.C.E members think! You don't even know why we break other people's hearts!"
"I DO!"
"Then tell me WHY!" Nicole shouted, hot tears running down her cheeks. She was furious that her boyfriend couldn't understand her. Hadn't he learned to forgive others and help them out in C.H.A.N.C.E?! 
Key, on the other hand, was quite. He didn't know the answer to Nicole's question. He had just blurted that out. He remembered that he was a H3art Br3aker once and knew how they felt. But why did they exactly break hearts? He only broke other hearts since he wanted to become a player. But how about a true H3art Br3aker? He had heard that Siwon and him weren't real H3art Br3akers. What did the H3art Br3akers have that C.H.A.N.C.E doesn't?
"Exactly what I thought," Nicole said, turning around, "It's over between us now, Key. Goodbye, and let's meet the next time." She walked away, leaving Key furious and hurt. 
Flashback Ended!
Key slowly looked up, tears staining his face. He was lying on his bed, digging his face in the pillow. He saw something shiny on his desk. He knew exactly what it was. A knife. A silver, sharp knife. A knife that I can kill someone in an instance, Key thought darkly, as he reached for the knife. Nicole, you're blood will stain on this knife, he thought, as he got up.
Meanwhile, Siwon had finally had a way to get into his house and rushed to his room. When he arrived, he found Key gone.
A cold, gush of wind blew the curtains.
The windows were open.
Key's special knife disappeared.
Key was gone. 
It was simple for Siwon to solve the missing piece of the puzzle: Key had went to kill the person who broke his heart.
^ Back to Top