She Met HIM
by 500sunny500
Tags hyuna key kikwang nicole siwon yoona | Report Content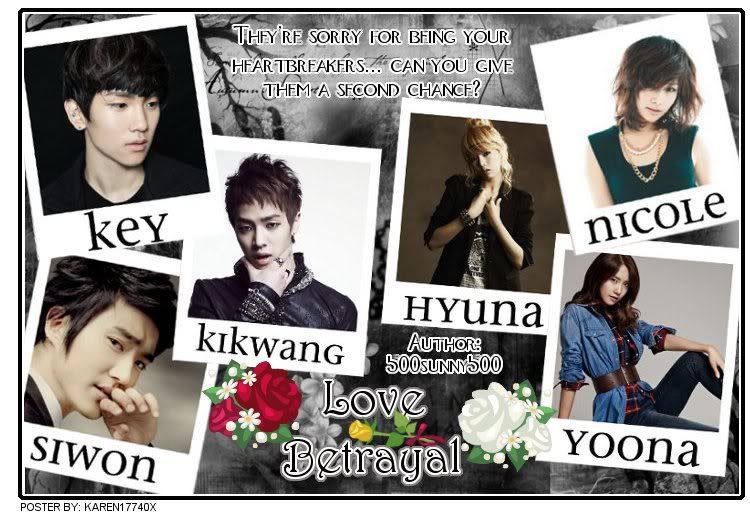 "Yoona-ssi! Please open the door!" Nicole begged, knocking on Yoona's room. They were staying at a hotel, and the three each had separate rooms.
"Hold up!!! I need to find something!!" Yoona shouted, as Nicole heard more banging and crashes.
"Yoona-ssi! I might be able to help, so please open--" Before Nicole was able to finish, Yoona had opened the door. She was wearing the uniform, as Nicole grinned. She looks good with anything she wears, Nicole thought.
"How's my hair? My clothes? Do I look fat?" Yoona asked, straightening her clothes. Nicole just laughed.
"No, no! You look perfect as usual," Nicole replied, giving her a wink. Yoona grinned, as the two girls began exiting out.
"What did you have to find, anyways?" Nicole asked, when they were privately in the elevator.
"Oh, my book bag. It was under my bed," Yoona said, rubbing her neck sheepishly. Nicole rolled her eyes, when the elevator opened. Kikwang was already there, as he leaned against the wall. He began flirting with girls, as Yoona scoffed.
"He's already flirting?" Yoona asked in disbelief.
"Hey, you know how he is. He likes to break other people's heart. He broke, like, a hundred hearts!" Nicole exaggerated.
"Actually, it's a thousand," Yoona corrected. Nicole rolled her eyes.
"What ever," she replied simply, as they began approaching Kikwang.
"Let's go, Kikwang! You don't want to be late," Yoona hissed. Kikwang eyes on Yoona, and began looking at her with awe. Soon, he began to whistle.
"KIKWANG!" Nicole shouted, making Kikwang snap out of his thoughts. Kikwang glared at Nicole.
"I'm going, I'm going!" Kikwang shouted, following Yoona and Nicole. He grumbled something again, but the two girls couldn't hear it. When they finally arrived at the school, they started to explore around. Besides, they were 30 minutes early. 
"There are A LOT of people here," Kikwang exclaimed as they began to go farther into the building. Nicole rolled her eyes.
"Duh! I mean, this is one of the best schools there are. Come on, let's go to class. Then we can explore a bit more. What's your homeroom, Yoona-ssi?" Nicole asked, turning to Yoona. Yoona narrowed her eyes.
"It's school, Nicole. You can't call me Yoona-ssi. Just call me Yoona," Yoona whispered. Nicole nodded awkwardly, as she compared her paper with hers.
"Great! We're in the same class! Sadly, all three of us are in the same class," Nicole said, glaring at Kikwang. Kikwang just shrugged as he began to whistle around. Yoona was thinking about something as they continued to walk. How many people am I going to be dating here? Is it possible I can be the Queen of H3art Br3akers? What would happen if I fail? Are there any C.H.A.N.C.E here? Is-- Suddenly, she bumped into someone muscular and tall.
"Oof!" Yoona yelped, as she fell on her bottom. Her books and papers flew everywhere, as she began to pick them up.
"Oh, I'm sorry! It was my fault--" before the man was able to speak, Yoona was leaving. Where is Nicole and Kikwang? They couldn't have possibly ditched me, right? Yoona thought worriedly. She was unfamiliar with the school's surrounding. 
"Hey! HEY! You forgot your book!" the boy shouted, but Yoona disappeared into the hall full of kids. He sighed as he tried to find who the book belonged too.
"Yoona... Im Yoona... All right, that's her homeroom. I'll just return this to her-- Wait, Im Yoona?" the man asked, flipping the page again. Sure enough, there wrote, "This Book Belongs To: Im Yoona." Suddenly, a girl had scurried towards the man.
"Siwon!" she panted.
"Hyuna, what is it?" Siwon asked, as Hyuna continued to pant.
"It's... *pant*..... the H3art Br3akers! They're here!" Hyuna whispered, "And one of them is hitting on me already! Help!" Siwon knew exactly what to do. He turned Hyuna around and pushed her onto the locker. Then, he began to fake-kiss her, and Hyuna fake-responded back. Kikwang, who was chasing after Hyuna, finally found her kissing her "boyfriend."
"Aw, darn it! You never told me you had a boyfriend," Kikwang said, grinning slyly. Siwon pulled back and glared at Kikwang. Just then, Nicole and Yoona came along.
"We're sorry! He's not usually like this," Nicole apologized, bowing. Yoona bowed too, but only stared at Hyuna. Siwon widened his eyes when he spotted Yoona. It's really... her! Siwon thought, his heart jumping happily. Suddenly, Nicole slapped Kikwang's head really hard. 
"OW!" Kikwang shouted, rubbing his head. Nicole hissed something to his ears, while Siwon approached to Yoona. She gasped when she saw Siwon. The boy who crushed her heart, the boy who made her join H3art Br3aker, the boy who she never wanted to see, was right in front of her. 
"Um, hi Yoona. This is your book. You left it when you bumped into me earlier," Siwon said sheepishly, handing her the book. Yoona snatched it away. Wait, Yoona! Act like you don't know him, Yoona reminded herself. She flashed Siwon a wide smile.
"Thank you! Um... may I know what your name is?" Yoona asked politely. Siwon stared at her strangely.
"Um, you know who I am, Yoona. Remember me? Choi Siwon?" Siwon asked, pointing at himself. Yoona smiled at Siwon.
"Choi Siwon. I'll remember that. Now, we need to go. Let's go, Nicole, Kikwang," Yoona said, ignoring Siwon's sentence. Nicole and Kikwang nodded, as Yoona signaled them to follow her. They disappeared into the crowd, as Siwon ran his finger through is hair.
"Kikwang, it's him!" Yoona whispered.
"Who? Where?" Kikwang asked, looking around.
"Back there-- Choi Siwon. The guy who broke my heart. Also my first victim in this school," Yoona said, grinning slyly. Kikwang frowned at Yoona.
"First, let's see his records. If he's one of the C.H.A.N.C.E members, we need to avoid him," Kikwang reminded, as Yoona sighed. But still, I'm going to break his heart like he did to me, Yoona thought.
^ Back to Top