I Can't Believe It
by 500sunny500
Tags hyuna key kikwang nicole siwon yoona | Report Content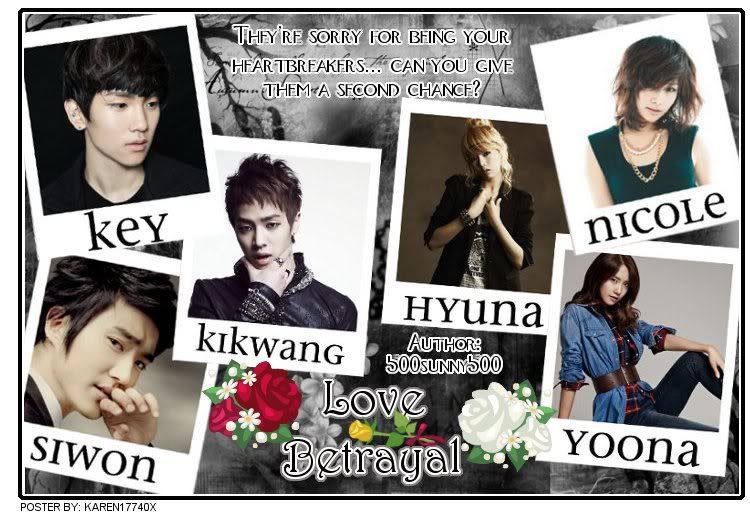 "NO NO NO!" Siwon shouted, scratching the back of his head, "You can't fall in love with Yoona! You just can't! You're going to put her in danger!" After a couple of minutes, he sighed and sat on a chair, as Hyuna gave him some tea.
It was lunch time, and Siwon and Hyuna were at the roof of the school. This is where their usually meetings were, since nobody came up on the roof top. Hyuna sighed and bit into her lunch.
"Stop talking to yourself! Tell me what's wrong," Hyuna said. Siwon explained how he has been falling in love with Yoona again slowly, and the real reason why he had left Yoona since he used to be a H3art Br3aker member.
"That's it?" Hyuna asked, scoffing. Siwon glared at her.
"What do you mean 'that's it?'" Siwon asked, quoting her sentence.
"I mean, it's no big deal! It's okay for the C.H.A.N.C.E member to fall in love, but for a H3art Br3aker? It's a big no-no to fall in love. If they fall in love with someone, they get kicked out of the club so they could be with their forever loved-ones," Hyuna said admiringly, as Siwon just stared at her.
"Do you have to make it sound so dramatic for Yoona?" Siwon asked, "I mean, I could tell she's falling in love with me really slowly, so if she gets caught, then she can be KILLED."
"So?"
"WHAT DO YOU MEAN SO?!?! This is Yoona we're talking about! YOONA!" Siwon exclaimed.
"I mean, she can run away, right? Then she can come to you, and then you guys live happily ever after!" Hyuna squealed.
"But the only problem is Kikwang. And I need your help for me to be with Yoona," Siwon said, pointing at Hyuna. Hyuna hesitated. As much as she wanted to get Yoona out of that club, she hated to be with Kikwang again. He pretends to not notice me, but deep inside, he's deeply in pain, Hyuna thought sadly. Their conversation was interrupted by Key, who came on top of the roof. He had his arm wrapped around a familiar girl.
"Guys, meet our newest member of our group," Key smirked, while the girl lowered her head. Hyuna and Siwon couldn't help but hang their mouths wide open, shocked to see who the newest member of C.H.A.N.C.E was.
Meanwhile...
"Kikwang!" Yoona shouted at the end of lunch. Kikwang stopped and turned around, raising an eyebrow.
"Hm? What happened?" Kikwang asked when Yoona caught up with him. Yoona panted for a moment, and then flashed him a bright smile.
"I have good news!" Yoona exclaimed. 
"Oh yeah! I forgot to tell you, but I have bad news though. Anyways, you go first," Kikwang suggested, as Yoona's face brightened up. 
"You know Hyuna from the C.H.A.N.C.E members, right?" Yoona asked. Kikwang looked up at the ceiling, trying to think of who the girl was and if he had ever met her. Yoona rolled her eyes and sighed.
"The girl you first hit on at school when we came here?" Yoona described. Kikwang clasped his hands and grinned.
"Oh, that cutie? Yeah, I remember! She's from C.H.A.N.C.E?" Kikwang asked in a surprised tone. Yoona groaned.
"Anyways, listen to me: You remember a girl that you hung out with before you came to H3art Br3aker, right?" Yoona asked, grinning wider by the minute. Suddenly, Kikwang's face darkened as he frowned.
"No comment," Kikwang said shortly when they arrived at his locker. Yoona tilted her head, wondering if Kikwang had said what she thought he had said.
"Excuse me?" Yoona asked, putting her hands on her hips.
"I said no comment," Kikwang repeated, narrowing his eyes at the thought of his old girlfriend. Or his old, betraying girlfriend.
"B-But Kikwang, don't you want to know more about--"
"I said no comment!" Kikwang hissed, raising his voice. Yoona flinched and pouted. She stopped talking about Hyuna, since she knew that if Kikwang was really angry, it'd look ugly. After Kikwang was done putting his stuff away, he turned to Yoona and looked at her with angry eyes.
"Can I tell you the bad news now?" Kikwang asked. Yoona nodded numbly, as Kikwang placed his hands on her shoulder. He took a deep breath, and sighed out deeply.
"Nicole ditched us. She joined C.H.A.N.C.E."
^ Back to Top