The Takeover
Completed!
by melfucius
| Updated | Created
Tags infinite romance snsd sungyeol exo kris | Report Content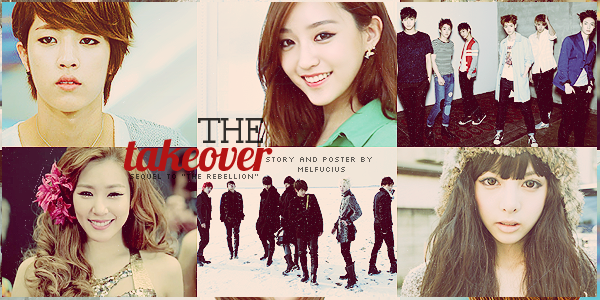 Characters
Hae Mi (OC), Kris, Sung Yeol, Tiffany
Description
Now that they've failed to rebel, what happens then? Will the second time be a charm?
But first, they have to find each other.
And fast.
(This is a sequel to "The Rebellion" and it may be confusing if you choose to read this before reading the original story.)
Foreword
PLANET EXO: An place in an alternate version of "Earth" where all humans are gifted with exactly one power at birth. Planet EXO is currently under the rule of Seo Suk Jin, a greedy corrupt official who overtook the government 15 years past. It is currently still under his rule.
* Planet EXO is a land not an actual planet. It is called "Planet" EXO because King Seo has cut off the rest of the world and in his mind only Planet EXO matters.
PLANET EARTH (SOUTH KOREA): A peaceful nation that shares it's borders with Planet EXO (not the borders that South Korea and North Korea share in real life). There are a total of 5 guardian groups which keep watch over sections of South Korea.
EXO-M: A 6 member traveller group.
Kris - Flight

Lu Han - Telekinesis

Tao - Time

Chen - Lightning

Lay - Healing

Xiu Min - Frost/Ice
INFINITE: The rebel group, fighting for political freedom and aiming to restoring Planet EXO's government to the way it should be. 
Sung Gyu - Telepathy

Dong Woo - Copycat

Woo Hyun - Speed

Ho Ya - Thunder

Sung Yeol - Healing

Myung Soo - Telekinesis

Sung Jong - Invisibility
SNSD: A 9 member guardian group guarding the capital city of Seoul.
Tae Yeon - Shield

Tiffany - Wind

Yuri - Enchantment

Hyo Yeon - Telepathy

Yoona - Illusion

Jessica - Ice

Seo Hyun - Sound

Sunny - Weather

Soo Young - Clairvoyance
f(x): A 6 member guardian group guarding the Gyeonggi-do area.
Victoria - Fire

Amber - Earth

Ye Seul - Flowers

Krystal - Levitation

Sulli - Vision

Luna – Teleportation
Super Junior, SHINee, DBSK: (Will only be mentioned a couple of times.) Guardian groups which keep watch over other areas of Seoul.
OTHER REBELLION GROUPS: B.A.P., Block B, MBLAQ, Teen Top, Miss A, After School
It was all a blur, when the car became engulfed in the tornado, they felt nothing. And when he woke up, he felt empty. She wasn't there.
Their mission? Find the INFINITE members, but most importantly to him, find Hae Mi and to finish their goal. There is unity and power in numbers, and they'll need everyone on board to help foil the Shadow's new plan.
To take over the entire (actual) planet.
TO NOTE:
EXO-M will be featured in this story! If you're an EXO-K fan, don't fret, they may appear in the later chapters. Oh and the usual spiel...this story is purely fictional, any overlaps with other stories are pure coincidences.
I highly highly reccomend you read the first story "The Rebellion" before jumping to the sequel! Some parts of it may not make any sense to you, so head on over and click here.
Subscribe & Comment!
Tweet
^ Back to Top