Only Tears
by jesslyn1234
56 subscribers | 2202 views | Updated | Created
Tags myungsoo romance sad schoollife tragedy woohyun you | Report Content

Characters
Myungsoo, Woohyun, Ja Yeon(You)
Description
There was this girl who only knew what was it like to be miserable.
She lost everything in a week.
Her parents ran away from her house, leaving her with a heavy debt to pay.
Her love died in a car accident.
Her friends left her when they knew about her situation.
Her Family. Her Love. Her Friends.
It was ALL gone in a week.
After that fateful week, she knew that she could never be happy again.
One day, someone transfers to her school.
One day, this person became her project partner.
One day, this person made her open her heart to him.
On that day, she learnt how to smile again.
===========================================================================================================
Foreword
Kim Myungsoo
Age: 17
Your Boyfriend, the love of your life.
A very nice and patient guy towards you, though he's quiet and skeptical to everyone outside.
He loves you more than anything else the world. 
He promised to take care of you until both of you age.
He promised that he would love you till eternity. 
One fight changed your life with him. One fight. made you lose him, for life.
Kwon Ja Yeon
(I used IU xD Don't mind, please)
Age: 17
You, the quiet girl who only knows the word 'miserable'
You were once a happy girl, until that day.
You were once an outgoing girl with lots of fanboys.
Not to forget, lots of friends.
After that day, your fanboys started to leave.
Your friends started to leave.
You were never happy until that day when you met HIM.
Nam Woohyun
Age: 17
A bubbly and active transfer student.
He liked you at first sight but he didn't know.
He didn't know why but he wanted to protect you.
He didn't know why but he wanted to see your smile.
He didn't know why but he just wanted to help you.
All these was because that he liked you.
====================================================================================
Hello. Its jesslyn1234 here. I don't think I would be starting on this fic till a week later, becoz I'm still on another few fanfics. But I promise the first chapter would be up by next Thursday afternoon. Then I would be on hiatus for 8 days before I come back :3.....
Anyway, this is a fanfic using INFINITE's song name "Only Tears". Its an awesome song in my opinion. With Myungsoo playing the guitar, I seriously can't. HAHA. Okay... Do SUBSCRIBE to my fanfic and comment on my FUTURE chapters :D
First Poster: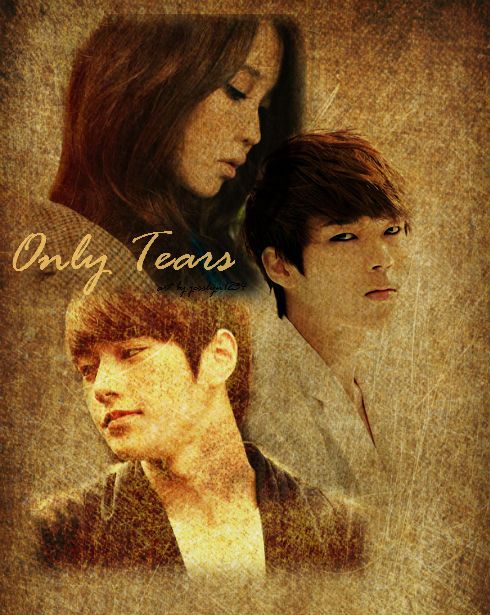 DISCLAIMER: All kinds of clashes of story plot are just COINCIDENCES. I will never ever copy the plot from others. Its all from my brain. 100% by me.
NOTE: Do not COPY, SCREENSHOT, SAVE or do any DISTRIBUTIONS to this story. Please understand me as an author and I really hope that I won't have to report anyone for plagiarism as I really don't want to. If you want to share my stories, just copy and paste the link on other websites and just simply share it. PLEASE DO NOT EVER COPY my plot, I used a lot of time to think of it. 
Do subscribe to my other fanfics too 
COMPLETED.
- http://www.asianfanfics.com/story/view/101854/you-re-the-one-for-me-jongkey-shinee-yaoi
Title: You're the One for me
Characters: Jonghyun + Key
Genre: Yaoi
- http://www.asianfanfics.com/story/view/117378/all-i-want-for-christmas-is-you-one-shot-christmas-onew-you
Title: All I want for christmas is you
Characters: Onew, you.
Genre: Christmas(ONE-SHOT)
- http://www.asianfanfics.com/story/view/134733/going-crazy-chunjoe-one-shot-chunji-chunjoe-ljoe-oneshot-teentop-yaoi
Title: Going Crazy
Characters: Chunji, L.Joe [TEEN TOP]
Genre: Yaoi, oneshot.
- http://www.asianfanfics.com/story/view/102284/perfect-formula-like-you-and-me-minho-onew-shinee-sunny-you
Title: Perfect Formula Like You and Me
Characters: Onew, Minho, You
Genre: Schoollove, schoollife
http://www.asianfanfics.com/story/view/158902/i-need-you-and-you-want-me-oneshot-valentines-yaoi-exo-baekyeol
Title: I need you and you want me
Characters: Baekhyun (EXO), Chanyeol (EXO)
Genre: Yaoi, Valentines, romance (ONESHOT)
- http://www.asianfanfics.com/story/view/138112/you-re-the-miracle-of-my-life-previous-name-miracle-changjo-ljoe-sad-schoollife-teentop-you-originalcharacter
Title: You're the Miracle of My Life (Previous Name: Miracle..?)
Characters: L.Joe, you
Genre: Friendship, schoollife, sad, schoollove
http://www.asianfanfics.com/story/view/141351
Title: Love At the Records'  Store
Characters: Myungsoo (INFINITE), L.Joe (TEEN TOP), You
Genre: Romance, Fangirl, SchoolLife
ONGOING  (Recommended for ALL Inspirits here ^3^)
http://www.asianfanfics.com/story/view/154823/love-of-a-bully-romance-schoollove-woohyun-you-originalcharacter-daehyun-schoolliferomance
Title: Love of a Bully
Characters: Woo Hyun(INFINITE), Dae Hyun (BAP), You, and some other OCs
Genre: Schoollife, romance, Schoollove
http://www.asianfanfics.com/story/view/172970/i-don-t-care-even-if-its-a-forbidden-love-angst-infinite-romance-schoollife-sungyeol-vampire-you
Title: I Don't Care Even If Its a Forbidden Love
Characters: Sungyeol(INFINITE), You
Genre: Schoollife, romance, vampires, fantasy
Tweet
^ Back to Top