HOPE IS A DREAM THAT DOESN'T SLEEP
by choki2lovejessi
188 subscribers | 8133 views | Updated | Created
Tags donghae gdragon jessicajung jisica jiyong snsd soshibang | Report Content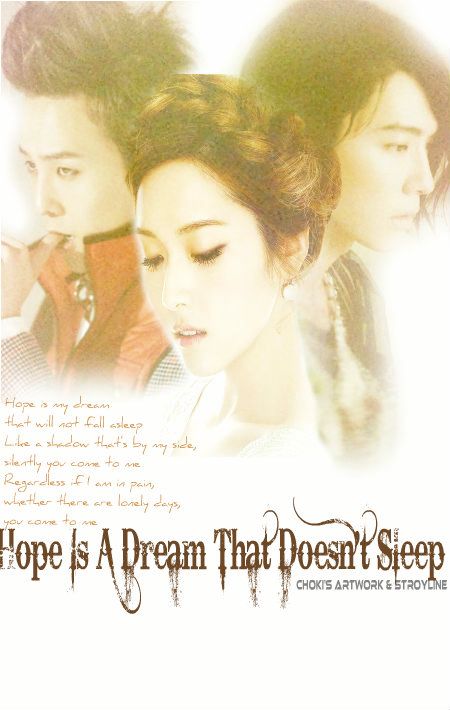 Characters
jessica Jung, Jiyong
Description
It doesn't matter if I get lonely.
When I think about you,

a smile will flicker onto my face

It doesn't matter if there are hard times.
Whenever you are happy,

my heart will be filled with joy

The world that I walk through today,

even if it's not easy, if I close my eyes, I could see your face once again

The dream that continues to run around me,

has turned from my side to your

Everyday, my life is like a dream

Being with you and loving you has allowed me to stand firm again

To me, the precious memories of our happiness

Will stay warm to even during the hard times

Hope is my dream that will not fall asleep

Like a shadow that's by my side,

silently you come to me

Regardless if I am in pain, whether there are lonely days,

you come to me
KWON JIYONG
Successful businessman in music industry
Live alone without his family.
Sensitive guy covered with his cold mask.
He is pretty bright whenever he hangout with his friends.
 When he is quiet, he is extremely quiet. Even his family didn't dare to mutter a word.
His senses are fast and have high self-esteem and like to be outstanding. 
 Bless with talent to create and sing perfectly.
His history with woman makes him more careful to open his heart for love.
JESSICA JUNG SOOYEON
An orphan who just got her green key to set her own life.
She's really sweet and pretty girl.
No one know the hidden secret she hide from others the moment she enter the orphanage.
Her parents abandon her and left her without anything to hold with.
Her heart full with pain and nobody bother to know.
One person that she cherished and loves so much was her late sister. She left her due to high fever she had.
She's always flash her sweet smile to people especially when she hurt the most.
Minor character
Krystal
SNSD & BiGBANG
Foreword
Jung Sooyeon and Jung Soojung when they were 12 & 6 years old
'ooma! Don't go..Please don't go!! I'm begging you..i promise I'll be good. Don't leave us..Please. Soojungie need you.omma!'
Little girl cried helplessly begging her mother to stay with her. But so sad, her heart cold mother just left without looking at her even an inch.
'eonni…where omma go? Looking at her innocent sister, she wipes her tears away and smile.
'omma…she has a lot of work to do. She will come back to pick us up soon.
Jung Sooyeon and Jung Soojung when they were 15 & 9 years old
'eonnie, you told me that omma will come to pick us. But it's been 3 years already. You're lying right? She abandons us right? Tears were flowing through her cheek.
She wipes her tears and put another smile.
'andwe yo``she's really busy. She wants to give the best for us.'
'Stop lying! You're hurting me and even hurting yourself to put a lie on me. Stop it. eonnie…stop it. apayo'.
Jung Sooyeon and Jung soojung when they were 18 & and 12 years old.
'Soojungie, your temperature is increasing. Your body was burning. Pali we need to take you to hospital.
Hurry hope on my back.'
'Andwe-yo eonni, ahjumma will not let us go. She will get angry and hit you again.
'I don't care. Let her hit me. She will continue to hit me even though I obey all of her instructions.
'eonni..i'm too tired. I want to sleep.'
'Soojungie!'
Jung Sooyeon 21years old.
'Now you can go. Go anywhere you like. I will not take care of you anymore. In fact government didn't provide the fund to kids who already reach 21 years old. Geez….I need to add my orphan list kids. Go away. Don't come back and find me. I don't have money for you.'
''Thank you ahjumma'
She bow politely and give her one last smile that might be the last time that old woman can see.
****
Jessica pov
Finally, I'm free. This is a first time for me to walk and inhale free fresh air. I've never and ever step outside the orphanage. Ahjumma always scold and hit me with broom. I'm free but I'm alone. Soojungie is not here to accompany me. To think of it, almost cause me to cry. But when I remember her last words
'eonni..I'm too tired. I want to sleep. If..If I'm not wake up after this..Please….stay with a smile on your face. it's always makes me calm. Eonnie..yepodaa.'
I smile. And I'll always smile. Don't worry. I can do it! hwaiting. But the first thing is what I should do now. Searching for a job? But I've no qualification since I'm not school since I'm 12 years old. Ahjumma take all of our money to renovate her own house and car.
Aish``` omo. What's that?
I took a leaflet from the notice board.
'JOB VACANCY
HOUSE MAID REQUIERED AND NO EXPERIENCE NEEDED.'
Yes! This is a good opportunity to me. So the person need to be contact is, Mr GD. Lol…what a funny name. But it's okay as long as I got a job. SIca hwaiting!
end of Jessica pov
****
OKAY...MY 2ND FANFIC. SERIOUSLY I DIDN'T PLAN TO WRITE AND POST IT. THE SUDDEN IDEA CAME AND TADA```  . SO I GUESS MY ORIGINAL PLAN FOR 2ND FIC CHANGE AGAIN.. :) ...HOW WAS IT? I DIDN'T EXPECT SO MANY READERS GONNA TO LIKE IT BUT HOPEFULLY WHOEVER READ THIS FIC CAN DROP A COMMENT.
love&peace
choki a.k.a ninie
SUBSCRIBE & COMMENTS
Tweet
^ Back to Top