White Christmas
by ilovesuperjunior1
1008 views | Updated | Created
Tags dongho eunhyuk jessica kyuhyun ryeowook sungmin you | Report Content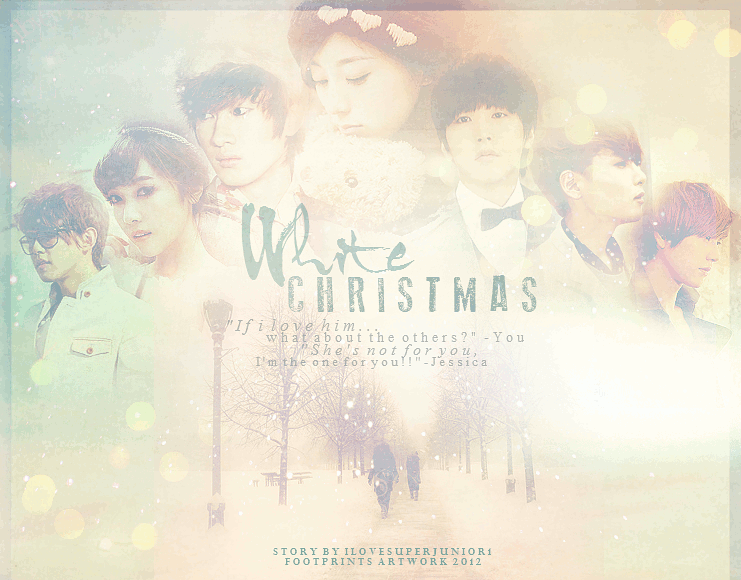 Characters
You, Jessica, Eunhyuk, Sungmin, Ryeowook, Kyuhyun, Dongho, Super Junior, U-KISS, SNSD
Description
You were a girl who always wanted to spend 'Christmas' with somebody you truly love deep down inside since you never really had a perfect Christmas.Then when you were walking outside at an beautiful afternoon you met someone and he gave his number to you ..........until you found out who he really is with his friends you found hope on a White Chrismas Day!
SRRY FOR THE BAD PLOT!
Foreword
You were a girl in Seoul,Korea who has no family accept an aunty who treats you really bad.So you went walking around Seoul in an afternoon and stop at a park to rest until you met this guy who was really nice but you don't recognize him (cause he looks familiar).Then he gave his number to you and made friends with him and his friends until you recognize him few days after.
Character's on the next page :)
I got inspired by lovely day and snow white song by Super Junior so i hope you enjoy this story like you enjoy my other story 'Love Rain'
I written this with my imagination and not by plagiarism cause i want to stay on this site 4ever so yea please enjoy!
Credits to || f o o t p r i n t s. 2nd. POSTER. REQUEST. SHOP || [ NOT TAKING REQUEST ATM ]  for making the most awesome poster ever and if you have a story and you want a poster just click on the link and request if its opened!! But i think you can still request now!!!
Tweet
^ Back to Top