52

The Heir's Love Story

by seohyunkeroro
469 subscribers | 35060 views | Updated | Created
Tags arrangedmarriage seohyun snsd exo kai exoshidae seokai | Report Content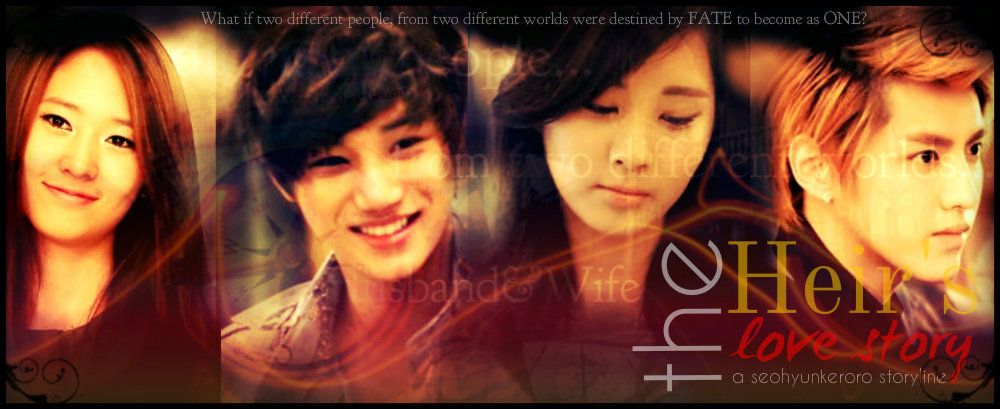 Characters
Kai, Seohyun, Kris Wu, Krystal Jung, Chanyeol, Yoona, Sooyoung, Yuri, Lay, EXO, SNSD
Description
This is the story of the most affluent heir in Asia – Kim Jong-In, the tale of his journey discovering and learning Love, as he lives his married life together with his wife Seo Joo Hyun – a reserved pre-medicine schoolgirl who is arranged to become his wife by their grandfathers.
Though he grew up with the shiniest golden spoon in his mouth, he was pushed to become perfect in everything he does that even falling in-love became a non-existent matter for him. Conversely, she lived all her life striving for her aspirations and as a good daughter with her parents as they live a modest life in a suburb.
Their only similarity  is that both of them never experienced to fall in-love.
Will he treat their marriage as just another requirement for his inheritance? 
Will she be able to reach her aspirations in life after marrying him off and eventually nullifying their marriage?
Or will they eventually fall for each other in the process?
MainCharacters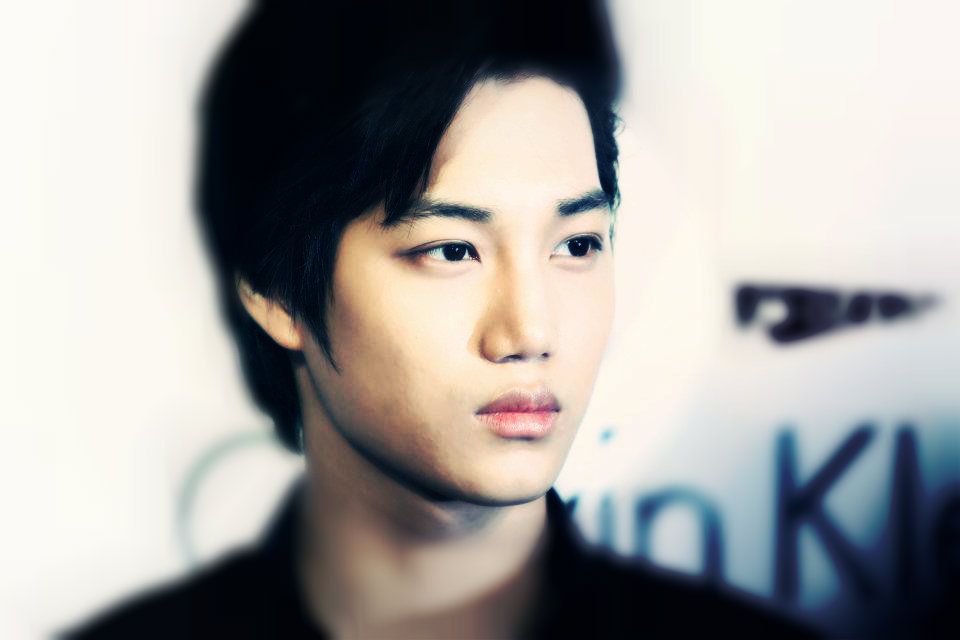 Kim Jong-In is the fifth generation sole heir of the Kim family, the most affluent family in Asia. He grew up under his grandfather's care Grand Master Kim. Though he grew up with so much love from his grandfather, he was also strictly honed by him, and even dictated to take up pre-medical course at Dongguk University for his grandfather's plan to let him meet his wife-to-be Seo Joo Hyun. He is extremely intelligent; he excels in almost everything, often dubbed as jack-of-all-trades for being one of the top A-list students in their university. He is also highly competitive and becomes more conceited when he is challenged; often found competing with his former all-time partner and best friend Jung Soo Jung, who is dubbed for being his female version. He hates losing his cool image in front of everybody, but often loses it in front of his wife. He is occasionally arrogant, and often threatens their household workers by asking them if they still wanted to stay on their work in the mansion when pried by his feelings towards his wife, though he is also close and friends with them. Aside from being an oppressor, he also has his childish side, often defined as his soft-side by his wife; he still has his childish side which shows every time he couldn't deal with unfamiliar situations and feelings. He knew that his parents died in a plane crash fifteen years ago, but then he keeps dreaming of his mother being shot in front of him which makes his memories still a total mystery.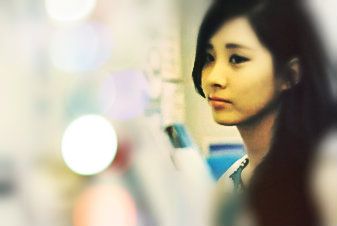 Seo Joo Hyun, who prefers to be called Seohyun, is one of Dongguk University's belles. She is a smart and zealous pre-medicine student, and an overly obedient only daughter of Mr. Seo and Mrs. Seo. She dreams to become a doctor someday, though sometimes wavered due to their family's humble financial status. Her grand father Butler Seo agreed to marry her off to Grand Master Kim's grandson when she comes of age. She declines the marriage initially due to her opposing opinion with the heir, but later agrees to marry him because she doesn't want to disappoint her parents. She's dearly loved though often pulled into pranks by her three older best friend's Yoona, Yuri and Sooyoung for being innocent and kind-hearted nature. She also has this breathtaking charms that draw attention and admiration by the gentlemen around her. Though she is kind-hearted in nature she also has her stubborn side, it often shows when she became Milady Kim, and she has hard time sorting out her feelings towards the heir.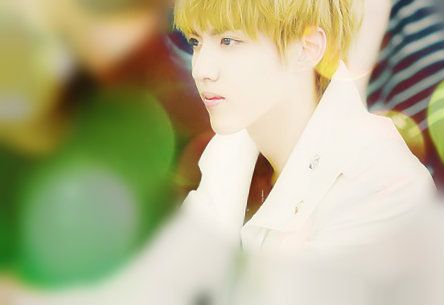 Kris Wu, who prefers to be called by his Chinese name Wu Fan, is Joo Hyun's ethics teacher who is known for being the household's mysterious gentleman. He is hated by Jong-In because of their dreaded past. He is tall in stature, and exceptionally striking that Jong-In easily gets annoyed when his wife has gotten closer with him and started calling him Wu Fan-oppa. He is wise with his words, and often speaks with metaphors whenever he needed to speak since he is silent and introvert by nature. Often wearing his expressionless face he is dubbed as a cold hearted person but he is really caring, and protective.  He has a deep connection with the heir's real past, and holds a part of its mystery.
Krystal Jung often addressed as 'Jung' by the heir. Her Korean name is Jung Soo Jung which she dislikes. She is the Samsung's heiress and is best friends with Jong-In, who is often tandem with her. She is known for being like-minded with Jong-In for also being a top A-list student at Dongguk and for also having an intimidating intelligence. Like the heir, she is also extremely competitive though she always places behind Jong-In, there are instances that she beats him like in Equestrian. She's also dubbed as "Ice Princess" due to her sharp gaze, and chic appearance, add the fact that she really is a snob person. She's also straightforward and unwavering with her decisions when it comes to her aspirations in life, which differ her from the heir who often goes with his grandfather's will. She openly claims her crush towards the heir even in front of his wife and to other people.
Foreword
SpecialThanks
...to MSHey17 for The Heir's Love Story's first ever poster.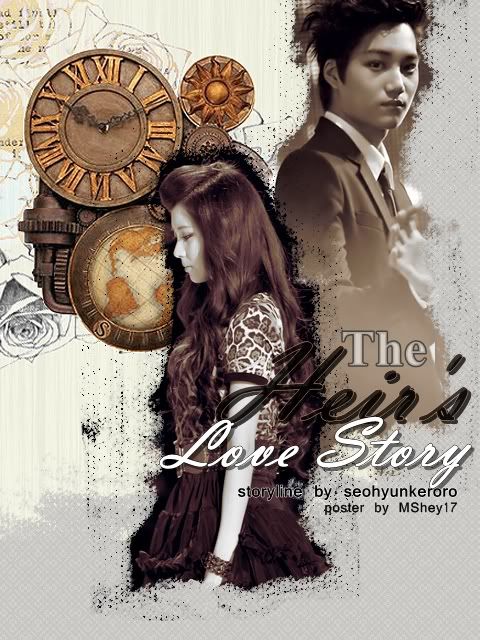 Author'sNote
Please

DO NOT PLAGARIZE.

Thank You very much for your support, enjoy Reading my First Ever Fanfiction.

I love you my Reader-nims. Stay subscribed and don't forget to give me motivation with your comments.
Tweet
^ Back to Top