The Mysterious Gentleman's Mystery
by seohyunkeroro
Tags arrangedmarriage seohyun snsd exo kai exoshidae seokai | Report Content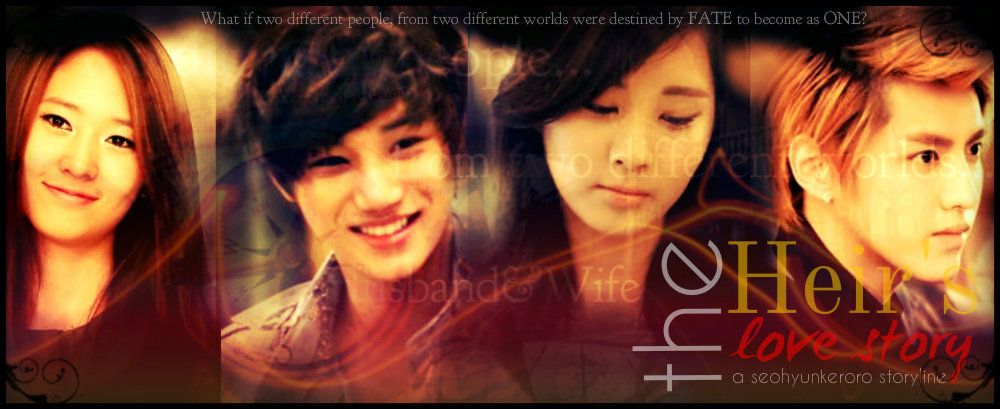 ---
The evening was almost turning dawn when Joo Hyun and her ethics teacher Mr. Wu uttered goodnight to each other. Several days have passed and there was still no miracle that has happened to the husband-and-wife.
Jong-In was busy reviewing with his all-time partner Krystal for the International Medical Quiz Bee that was fast approaching, while Joo Hyun usually intend to go home early focusing herself with her Ethics lessons with Mr. Wu, as they both wait for their hospital designation for internship.
Thus, the two only get to meet each other in their room in the evening once both of their agenda for the day is done; just meet each other and that's all.
"Mr. - I mean Wu Fan-oppa I'm going to bed now, it's already late I still need to attend the last seminar for tomorrow. You too, you better go to sleep now." She was still getting used to addressing him as oppa. She does call the mysterious gentleman Mr. Wu during lessons but when they get to hang out in the enormous balcony of the mansion in the evening that's the time she usually call the latter oppa.
"It's been weeks since I told you to call me that, and yet you're still not used to it?" the mysterious gentleman let out a small chuckle as the latter was still a bit awkward in addressing him that way.
"Okay, take a good rest then Joo Hyun. Good night." he started ruffling the latter's heir.
Certainly, the mysterious gentleman has gotten closer with the milady. He feels most comfortable whenever she's around, and so she was to him.
Being with her he could smile sincerely almost forgetting all distress of his own reality.
Being with him made her a little at ease from being austerely uncomfortable with her husband for their every single encounter each day.
He decided to stay a little more as the milady made her way to their room. He enjoyed the breeze of the night while contemplating for what had happened to his day. Irrefutably, he was thankful for such a peaceful day, he was thankful that he has a peace of mind spending his time teaching the milady her ethics lessons as well as reading books in the balcony and sharing stories with her in the evening.
'Joo Hyun-ah, thank you very much. If it weren't because of you my stay here in this mansion would be full of fear, maybe you have a point that I should take courage to apologize to my brother since I wronged him many years ago, but the fact that I am a Wu all would be put in vain.'
Minutes passed but still he remained there, quiet and enjoying the night sky full of stars when his phone rang inside his pocket. The person who was calling him was his younger brother was Lay.
He then immediately answered the call, sensing the turbulent coming,
"Hello Lay." He said in his usual cold tone.
"It seems that you and the milady are getting closer Wu Fan – gege, is that you're method to get Kim's inheritance?" Lay's tone was indeed calming, but his words are like thousand daggers. "I was thinking of the same thing though, but I really admire you with your cleverness and I don't mind if I get compared by you all the time since I still really need a lot of catching up."
He then looked around anxiously to see his younger brother's presence. "Where are you?" he then paused and breathed deeply. "Look Lay, I'm not here to fulfill Grandfather Wu's request I'm here for my brother and for my brother alone it's been years and he needs to know what happened in the past. For the inheritance I think I can manage to live a simple and happy without it and –"
"All that Lord Wu wants you to get is also for you, aren't you thankful? You're going to get the inheritance in here in time, and you really have the right to get your wealth there, don't you think that's great? You have the opportunity to hit two birds with one stone." the mysterious gentleman was halted with his solemn yet cynical statement.
"Look Lay, I really don't want to do it and I don't have a plan to do it ever." He strived to maintain his composure to the latter. "Everything was wronged in the past, and I don't want to repeat it with dirty schemes like grandpa. You know the story behind the death of his  parents and how I almost killed him - my own brother in the past and it was because I listened to grandpa that time, I became greedy back then and in the end it all went back to me."
"Lord Yunho is your father too." He corrected."If you did it once you can do it now again gege. Jong-In's existence is a grave mistake after all. And nothing's going to change even if you try to mend it now; accept the fact that you've already ruined your relationship with your real brother ten years ago."
"Even so I still need to do the right thing now Lay, I know you're a good child but please don't become too obedient with our grandpa." Though pierced with his younger brother's words he was able to maintain his composure and uttered him humble words.
"Our grandpa? Lord Wu has never been my grandpa, he adopted me and raised me to become your servant. Besides, aren't you the one who told that in my face long ago?"
The latter was right, he made a lot of mistake in his younger life and now that he was starting anew, his past keeps on hunting him.
"Look, like what I wanted to tell Jong-In right now. I'm sorry Lay; I admit I've never been a good gege even to you."
"You don't really have to Wu Fan-gege, I've accepted my fate long ago." he mocked the mysterious gentleman once more. "Anyway, don't worry we'll see each other very soon since it seems to me that you are quite slow making your move to the milady I think I should do it myself."
"Do what?" Wu Fan anxiously asked.
"Don't pretend that you don't know, the most effective way to crush down a successful man is to snatch away the lady nearest to his heart, right?"
"Lay, never set a finger to the Milady or else - " he tried to threaten the latter.
"... Or else what? You'll be the one who would hurt?" the younger gentleman chuckled ridiculously. "Even if you are doing it on purpose or not I've been watching how you get closer and closer with the milady each day. Great moves Wu Fan gege!"
"Where are you?" he furrowed his thick eyebrows and furiously looked for the younger gentleman he was talking on the line.
"There will be no surprise if I'm going to tell you gege, for now I'll be watching you but then see you very soon. By the way, nice move there ruffling her hair?" he then hung up.
"Lay!" he called screeching for his name for the last time.
' Though I have a slim chance to inherit Wu's at least increasing my part won't be bad. You're too dumb for letting all yours Wu Fan-gege.' the calm looking young gentleman thought as he took his last glance of the mysterious gentleman and drove off.
With that, the mysterious gentleman's evening has become completely sleepless, being aware that his younger brother was already monitoring his every move and was planning to implement a scheme towards the milady.
---
Morning came and the husband-and-wife needed to go to school for their last seminar for internship.
"Jong-In-ah." she took the initiative to approach him as they both prepare their bags while waiting for the car.
"Neh Joo Hyun-noona." he was still hesitant to make an eye contact to his wife.
"What time are you going to go home today?"
"I might be late, so you should go home again with yourself first."
"Ah..." she couldn't utter a proper word anymore for being disappointed with his response.
Hence, she needed to understand that he needs to prepare for the competition he was ought to participate.
But instead of their usual Audi executive car, a white BMW top down car has arrived in front of them. It was heiress Jung.
"Need a ride?" she coolly asked the two.
"What are you doing here Jung?" he was indeed surprised with the sudden arrival of his all time partner.
"Dummy, how could you forget that we need to go to Seoul National University Hospital together this morning? The seminar's not for us so you hop in!" she lectured the forgetful heir. She then diverted her gaze to the milady, "You go with us Joo Hyun-unnie, SNH is just a 20 minutes drive anyway."
The mysterious gentleman suddenly appeared running to them,and stopped in front of the milady.
"Joo Hyun-ah." he slightly gasped. "Please take care today, and no matter who approach you please be careful okay?"
Though completely puzzled with the latter's statement, anxiousness was written all over his face, she then replied, "N-neh Wu Fan-oppa."
He then patted the milady's head without even noticing who could witness such act.
Jong-In have seen it all, his wife undoubtedly have gotten closer with her ethics instructor. Truthfully, he couldn't bare to watch it, but what could he do they're at the state of avoiding each other.
The mysterious gentleman then turned his attention to the heir, "You too Jong-In, please take care."
He just earned a cold stare from the Jong-In.
"Let's go Jung." he hopped in the heiress' BMW.
Seohyun's mouth gaped, as the scene has started tearing her apart
---
On their way to Seoul National University Hospital, Jong-In 's fury was too evident to the heiress.
"Chill Jong-In, it won't help. You should have initiated approaching Joo Hyun-unnie in the first place." She tried to mend the latter's feeling. But then, she was not really a good adviser, and her words weren't really comforting the latter.
"Just keep driving, you're too talkative we might get into an accident." He massaged his temples as he gets more and more irritated. "She's a grown up, let her do what she wants to do."
---
^ Back to Top