Her Life as His Wife
by seohyunkeroro
Tags arrangedmarriage seohyun snsd exo kai exoshidae seokai | Report Content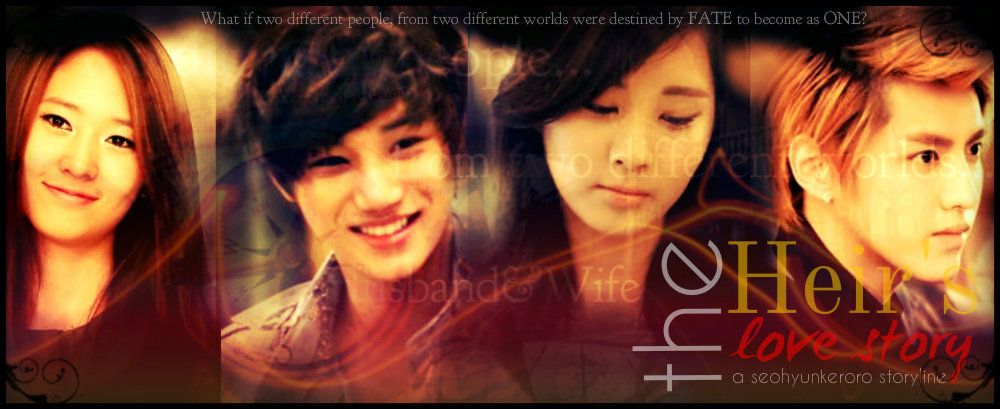 ---
A week has passed since Seohyun became Mrs. Kim of the most affluent household. Her schedule became a lot more hectic as she needs to manage her schooling and press-interviews at the same time. She even started taking dental and dermatology treatments for her teeth and skin.  As the heir ordered the aesthetic crew of the household to take extra care of his wife. These things are the things she never imagined to get, ever in her life.
At first, she thought that those treatments are really not necessary and just a waste of money but she really have to look good at all times since media people are all up to her. Jong-In reminded her to expect that she's going to be a trending topic for a couple of weeks.
'So better be an uninteresting person for the next couple of weeks so you can live your normal life again.' She concluded silently as she was undergoing a teeth-whitening treatment inside the dental clinic of the Kim mansion. She does not like her life to become an open book to the public.
After her dental treatment, Jong-In introduced her to the family's fashion designer Ms. Tiffany Hwang – a former outstanding junior designer of Burberry brand in the United States.
"Seohyun-ssi. This is Ms. Tiffany Hwang the household's fashion designer. From now on, she will be the one in charge of your daily clothes and wardrobes."
"Annyeong-hasaeyo Mrs. Kim Joo Hyun. I'll be the one in charge of your daily wardrobes from now on." The fashion designer greets her with a noticeable eye smile.
"A-annyeong hasaeyo Ms. Tiffany Hwang. I'm Seo – I mean Kim Joo Hyun, I'm very pleased to meet you." She shyly greeted as she was star struck with the beautiful designer, and as she hears her Mrs. Kim title once again.
'Do people really have to call me Mrs. Kim most of the time?' she thought, not even thinking that it will be a lot more often as the world is just starting to know her perhaps, when Wikipedia makes her biography profile. 
"Omo Kai-ah, seems that your beautiful wife is still not used of using your surname." The fashion designer chuckled.
"Huh?" he unknowingly feel pressured, "L-let her be Tiffany-noona."
'Kai?' the young lady silently wondered. But her facial expression said it all.
"Oh, I usually call this kid Kai. I've known him since he was young, seems that he's extra nice and extra careful to you, Joo Hyun-ssi." The fashion designer indirectly teases the young lady as she started patting the young heir's head.
"Tiffany-noona, what do you think you're doing?" he asked with a protesting look.
"Omo! My little Kai is a grown up man now. He doesn't like me patting his head any longer. Or you just want to appear tough in front of your wife? Huh Jong-In-ah?" she flashed her bright eye smile once again to the young lady as she kept on teasing the young gentleman.
"Tiffany-noona, it's embarrassing." The heir protested in a low tone for the second time, and poked Tiffany's side that tickled her.
It was her first time seeing him being close and being playful to a female, he is not even that bright whenever he is with her. She was really not used to it. Maybe because she never saw Jong-In hang out with females at Dongguk, nor even have a set of companions he always hangs around like her three unnies.
"Don't misunderstand, okay? Jong-in's really a brother to me." Tiffany was more like a psychic than a fashion designer at that particular moment. Before, she could ever think of feeling envious, she already warned her.
She let out a shy smile upon hearing the older girl's statement.
"Go to your wife's side Kai-ah. You are not supposed to dig on other girls in front of her." Tiffany teasingly lectured the young gentleman.
"Who am I digging on? You?" the heir let out a devious smirk. "C'mon Tiffany-noona."
"And never show your not-so-gentleman side towards your wife like that!" the fashion designer jest again and turned to the young lady for the last time. "Joo Hyun, please take care. I'll see you around. I have a lot more things to do upstairs. Feel free to visit me on the third floor if you need anything, okay? Bye! Bye!." She shot an eye smile for the last time and left.
---
While they were on their way to a magazine photoshoot, Seohyun initiated a conversation.
"Seems that you're really close to Ms. Hwang."
"Ah, Tiffany-noona. Quiet much. Why do you ask?"
"Nothing, I just noticed it. She's even calling you with a pet name."
"Kai?" he asked. "Yes, she's used to calling me that ever since. Well, everytime we speak to one another. But not when the elders are around. We've been friends since I was 8." His little hype of talking about Tiffany was made known.
She then had the feel that Jong-In might have a secret liking towards the fashion designer.
"Jong-In-ah. Do you, be any chance came to like Ms. Hwang?"
The young gentleman was taken aback with the question of his wife.
"Mwo?" he drew back, "What kind of question is that? His face started to feel hot.
"Arayeo, arayeo Jong-In." she exclaimed as she understood her husband's gesture.
"Well, that was when I was still in middle school." He shyly confessed.
"See. I was thinking the right thing." she confirmed her suspicion and went soundless for a moment.
"Waeyo?" he asked perceiving her sudden silence. 'Are you jealous?' the thought instinctively got into his mind.
"Huh? She certainly have spaced out.
"Why do you ask?"
"I just got curious." She replied in a low tone.
The young man unexpectedly poked her cheek, "Hay, are you jealous?
He finally spoke out his instinctive thoughts.
"I'M NOT!" she blurted in a surprisingly annoyed tone.
Jong-In was taken aback with her reaction. It was his first time seeing Joo Hyun getting annoyed with such a small matter, because they usually argue with arguable matters: like school experiments, and their marriage. And she's not the type of girl who would react on things easily.
"Okay. I'm going to shut my mouth." he then behaved on his seat like a little kid who was given a sermon by his mother.
"Well, I'm not." she repeated in a nicer tone. 'Goodness, did I just shout on him?'she thought, reflecting on the way she answered his question just a minute ago.
---
The photoshoot started at exactly 12noon. The couple will be the cover of September-October issue of Elle Magazine.
While Joo Hyun was being coached by the stylist and photographer on how to project in front of the camera, Jong-In was the first who posed in front of the camera.
He was wearing a sleek-black tuxedo accented by a light-pink rose on its chest-pocket, and carrotcut skinny trousers that projected his long-legs. His good looks were meant for an heir. Top it of that he knows how to pose properly in front of the camera because he's not just the heir of the Kim's company; he is the visual of his family's company.
Few moments later, Joo Hyun was asked to get ready for her turn since the photographer was almost done with the finishing touches of Jong-In's photographs.
It was her first time facing the cameras for a professional photo shoot, add the pressure that it is for a bi-monthly edition cover of a famous magazine. Her heart almost jumped out of her chest for feeling tensed.
She was wearing a dainty white tube wedding-gown accenting her slender arms and vivid collarbones, which also has overflowing long-extension skirt that was touching the ground, but also has a shorter front-skirt that accented her long legs as the cut of the front part was an in above her knees.
And her long brown hair was let flaunted and was made wavy with a few big curls. The make-up artist preferred not to put a lot of make-up for she is already a natural beauty.
Jong-In was resting on a seat while drinking milk tea bought by a crew in a nearby teashop when his wife came to him and approached him.
He saw a goddess walking towards him. 'She's a goddess, my wife.' the first two things that came into his mind the moment he saw her that afternoon.
"Jong-In-ah, what should I do? It's my turn." she asked him nervously.
He then put the milk tea down on top of the table beside him and stood up, then held her on her shoulders for comfort.
"Relax, it's going to be fine." he said in a low tone.
"But I'm not sure if the photos are going to turn out good like yours." she was still hesitant.
He was looking for the most appropriate words to utter in order to boost his wife's confidence. He was undeniably captivated with the way she looks at that time but it will be awkward to say such appraisal for him, and add the fact that he's not the type to give complements. 
'Should I tell her that she looks so beautiful right now?' he thought for a second but eventually hesitated. 'NO! Of course not. She might misunderstand.'
"You look beau -" the word almost came out voluntarily from his mouth. Good thing he have keen tongue breaks. "Joo Hyun, you look fine. There's nothing to be afraid of, those were just cameras."
"Mrs. Kim, please be ready in a minute." the photographer called her name for her turn.
"I'm gonna be there in a moment. Now go."
Seohyun gathered all her courage and went on the spotlight for her first ever photoshoot.
Her first poses were a bit awkward, but as the photographer showed interest with her natural beauty they let her strike posses which are comfortable for her and soon it went on naturally.
She was able to grasp the confidence when the photographer praised her consecutively for her several poses.  
Jong-In was secretly watching her from a distance, when the operations manager of the September-October issue of the magazine saw him, he was told to join his wife for the couple shots.
'There will be a session for that, and I thought there will be partner shots? But no couple shots?" he slightly protested. As the contract they've signed stated that there will be not couple shots that will be featured if they modeled for the upcoming issue.
"The company is willing to triple the pay for this edition just for you two." the operations manager reasons out. "Gosh Mr. Kim, dont you realize that you marry an angel? You're too lucky to complain."
The make-up artist immediately gave him a re-touch and changed his tuxedo in a leather black suit that gave him a very manly vibe.
"Is Mr. Kim ready?" the photographer asked the make-up artists.
"He's done, photographer-nim." one of the make-up artists answered.
"Mr. Kim, please join Mrs. Kim now." the photographer called him.
"As in now?" he asked protesting. "Aren't you going to let her change her outfit first?" he let out a clever excuse to prolong the time.
"Oh, okay. Make-up crew please give Mrs. Kim a re-touch and kindly remove the extension-skirt of her wedding gown."
The make-up crew did what the photographer told them for a few minutes.
Now, Jong-In cannot make any pretext to excuse himself.
"Please join Mrs. Kim now, Mr. Kim." the photographer instructed him."
"As in now?" he protested once again.
"Yes Mr. Kim. Please join Mrs. Kim now."
The two of them strikes several casual poses together. But as the photo shoot went on, and as the operations manager held on his word to triple their compensation of the photo shoot they have no option but to eventually do the couple shots that the production team wanted them to do.
"Now Mr. Kim, please stand at the back of Mrs. Joo Hyun and give her a hug from her waist, then put your chin while projecting that you're looking at her from your peripheral view." The photographer instructed.
The heir then stood behind his wife and shyly wrapped an arm on her waist. "Joo Hyun-ssi, mianhe. I know it's really uncomfortable for you." he whispered to her.
"Mr. Park, would you please make it more realistic?" the photographer instructed him with an obvious pissed tone.
"Mianhe Joo Hyun-ssi.' He apologized again as he wraps another arm on her waist and put his chin on her bare shoulder.
"Let's just do it naturally so I will be fast." Joo Hyun said to him softly before the camera captures them again.
The other couple shots went smoothly.
For the very last pose the photographer requested, "Please stand in front of each other. Mr. Kim, kindly hold Mrs. Kim's face with both of your hands and give her a passionate peck on the nose."
"Bwo? I thought there will be no kissing!" this time he complained shouting.
"Mr. Kim, it's not like I'm instructing you to make a lip-lock here. I don't really understand what's your problem and why are you acting that way!" the photographer already burst out his annoyance with the heir's bad cooperation.
"Jong-In-ah, promise I'll be fine. Let's just wrap this up, so we can go home." Joo Hyun spoke to him once more to ease him.
"Okay, but promise me you're not gonna be angry with me after this." He softly whispered to her as he holds her face closer.
"Okay, I promise."
As he comes closer to her he was tempted to take a peek of each details of his beautiful wife's face. He thought it will be impossible for him to give her a peck on her nose, but at that particular moment he realized that he just wanted things to get into slow motion as the two of them remains in that position.
And the camera captured the memorable scene.
"Very good! Perfect wrap up! Perfect wrap up!" the photographer exclaimed as everybody in the studio clapped their hands seeing such a beautiful scene of the couple.
"Jong-In-ah." She called him shyly as she still feels his soft lips on he tip of her nose. She then pushed him shyly.
"Uh." And eventually he came back to reality.
"It's done already." She said almost whispering.
"Mianhe." He apologized, and just held his nape for realizing that he got carried away.
---
When they finally got home, Butler Kang enthusiastically welcomed him together with the other servants.
"Welcome home young master, milady. How was your day today?" the old butler asked.
"It's tiring." The heir bluntly replied.
"It was tiring but I have experienced new things today, so it's still good though." The young lady entertained the old butler's question.
"Good to hear that milady." And the old butler got both of their attention. "Please follow me in the guest receiving area. Milady's ethics instructor has finally arrived just this afternoon from China."
The heir's eyebrows instantly furrows as he hears the name of the country. 'Did I hear Butler Ho Dong right? He's already here? That can't be!
And as soon as they reach the guest receiving area, a tall image of a well-refined mysterious-looking gentleman welcomed them.
He was silently looking at the scenery of the garden of the mansion from the wide windows when he turned to them.
"Young Master, milady let me leave you two here with Mr. Wu." The head butler exited.
"Kris-hyung." His eyes widened seeing the mysterious gentleman that was standing in front of them.
"Nice to meet you again, Jong-In." the tall-gentleman greeted the heir as he approach them.
"Pleased to meet you Milady Kim." The tall-gentleman greeted the young lady formally bowing his head and bending half of his body, like a prince greeting a prince for the first time.
"A-Annyeong hasaeyo Mr. Wu." She greeted tongue-tied for the mysterious gentleman's commendable manner.
'Of all the people, why you?' Jong-In thought as he tries to figure out the reason why out off all ethics teacher available in the world they've gotten Mr. Wu as his wife's ethics instructor.
---
^ Back to Top