Game Over?
by AnneTOP
Tags choiseunghyun skydragon topbom ygfamily aliencouple springtempo 2ne1bigbang | Report Content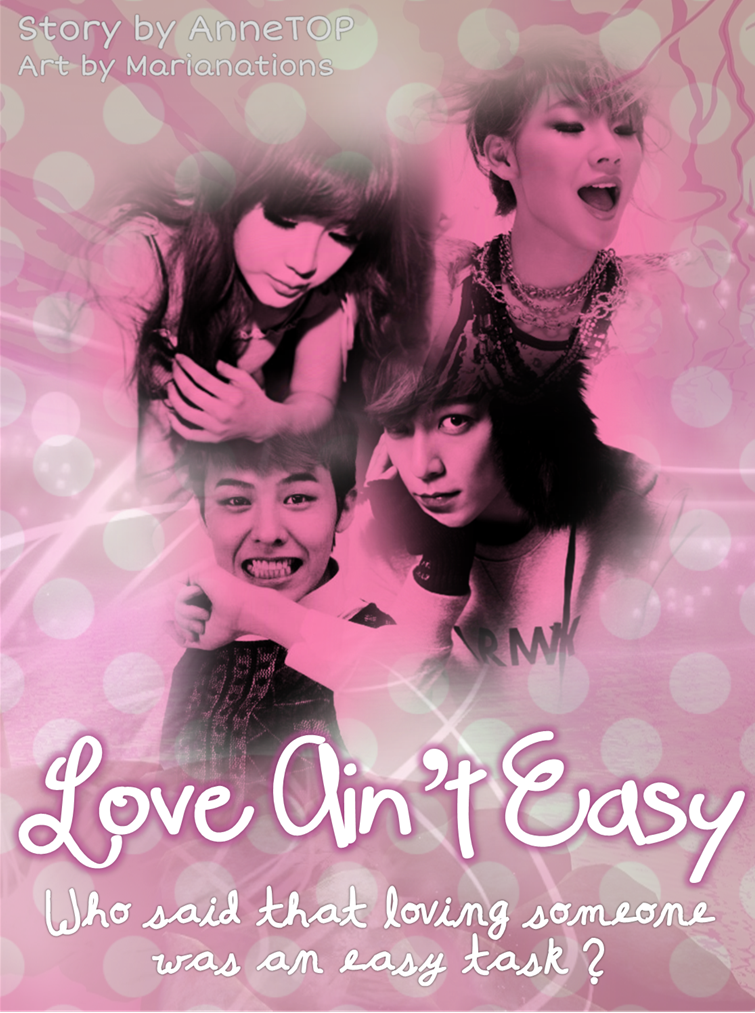 Chapter 36
Author's POV
"I already told you Terrence what you do will ruin you! Didn't I?" Heechul said with frustration in his voice.
"Don't call me Terence! He's fucking dead oppa!!" She yelled at him as she wailed like a child.
"How can he be fucking dead if he still scares the shit out of you????" He's now losing his temper with his sibling.
"Oppa! What should I do??? He'll ruin meeeee…" her wails louder.
"You know from the beginning what you're doing is wrong. I guess this will be your karma. Your career." He said as he stood up.
"And please don't drag me into this. I never missed to tell you that you are wrong." He added before she left her crying her eyes out.
"O-o-oppa…. Mianhe… oppa…." She said under her sobs.
Bom's POV
"Hey dictator! What happened to you last week???" I greeted as I answered my phone.
"Mianhe. My brother got in trouble. Mianhe Bommie.." his voice kinda down.
"It's nothing. No need to say sorry. So is he okay now?" I asked.
"Mianhe Bom…" he continues.
"Aish! Why are you being like this?? You're worrying me." I scoffed at him.
"Let's date."
"Bo??" I asked.
His sudden statement shocked me.
"Let's date. Us. Sorry for the sudden but I really like you Park Bom…" he trailed off.
TOP's POV
"Neh hyung I'm here already with Ji Yong…. Will Chae and Bom be here also??... I heard from the staff… Ani~ it's okay…" I hung up the phone as I let out a sigh.
"Hyung it'll be fine!" Ji cheered me up.
"I don't know…" I suddenly felt nervous.
"Are you going to announce it here?" he asked.
"No. She's here how can I do that." I snapped.
"She'll know it anyway." He said as he played on his phone.
"Not here. Not in front of her." I whispered.
"So when will you announce that you're leaving the group?" he said with bitterness on his voice.
"Don't put it that way Ji." I held his shoulder and gave him a bear hug.
"Hyung you're unfair!" he scoffed at me.
"Mianhe dongsaeng!" I hugged him tighter as I kissed his forehead.
"Yah! Is this my goodbye kiss already???" he pouted at me.
"Aigoo~aigoo! Kyeopta!" I laughed at him.
"Yah oppa let go of Ji!" I heard Chaerin.
I looked at her direction and saw Bom behind her.
She's looking at me but her face is unreadable.
"Oh Chaebabe! I missed you!" he said as Chae sat beside him.
"Missed me? I thought you found someone else already…" she said as she eyed me with her cat-like eyes.
"Well almost… hyung here is lea~" I nudge his side telling him to stop.
"I miss you really!" he suddenly changes his words.
"B-bom you can sit here." I stuttered as I stood up.
"No it's okay." She said flatly.
"I'm going outside you can sit here…" I said before I left.
I let out a deep sigh as I went around the SBS studio.
We're here to do an episode of Strong Heart.
This might be my last broadcast.
I'll miss the atmosphere, my fans, doing performances.
I'll miss everything.
Especially her.
"TOP…" I heard that familiar annoying voice again.
"You really want to lose your career." I said flatly.
"Can we talk? Please." She's now standing in front of me.
I looked up to her and saw her eyes swollen.
"So you were crying. Thinking about your career huh?" I mocked.
"I'm really sorry… I will stop here now…" she said as her tears runs down.
"Don't cry in front of me. I won't pity you." Disgust running over my body.
"I promise this will be the last time I'll cross you… but please keep it as a secret… I know I've done wrong… I'll talk to her and tell her everything…." She pleads.
"Don't ever talk to her…. You've done enough… I'll keep it as my deepest, darkest, and most disgusting secret…. But be sure you'll never cross our paths again…" my voice is dark and threatening.
"Arasso… I'm sorry again…" she said before she left me.
I'm glad that she's off my back now.
She's my bad karma.
I shudder every time I remember her.
Remember us. Ugh!
Nightmare I tell you.
Author's POV
"Strong Heart!!" the guests and the hosts chorused as the program started.
Everyone was having fun when suddenly Leeteuk opened the issue about Bom and Heechul.
"Bom-ssi I heard you and Heenim still see each other?" he started.
"Really??... Wow…Ooohhh…" teasing was heard from the guests.
"Are you dating now?" Lee Seung Gi teased.
"Aniyo! Ani~ It's not like that!" Bommie blurted out as she giggles.
"We go out as friends… like siblings… you know!" She explained.
"We don't know!" Leeteuk teased.
"He's always late on our rehearsals, where do you take him??" Leeteuk teased again that made almost everyone laugh but in the corner someone is not laughing.
"What are you saying Leeteuk?? We only hang out three times a month!" Bom muttered with flushed face.
"Are you heading to a much deeper relationship?" Seung Gi asked.
Bom's POV
"Are you heading to a much deeper relationship?" Seung Gi asked.
'Yes. I guess so. He asked me out.' I wanted to answer that but somethings holding me back.
"Aniyo~aniyo.. We're just friends. Really and plus when I date someone I won't deny it. I'll be glad to tell you all." I tried to be cheerful as I felt him looking at me.
"TOP-ssi's face is serious! Are you jealous??" Yang Se Hyung suddenly said.
"Ohh… I heard they also had an issue…" Leeteuk said.
I gulped as I felt chill all over my body.
I don't know how to handle this.
My head turned to his side and looked at him his face was dead serious but suddenly he changed his expression. He smiled though it didn't reach his eyes.
"It's not like that!" he blurted out as he waved his hand.
"What happened between you 2?" Leeteuk asked.
"TOP-ssi what did you feel when that issue came?" Seung Gi asked him.
TOP looked at me with serious face and suddenly he smiled again.
"Honestly I was shocked." He laughed.
"I was shocked too! Then I started teasing him!" I butted in and faked my laugh.
"Really??" Seung Gi asked.
I looked at TOP whose still smiling.
"Neh, I told him when we met at YG~ Yah! TOP! You didn't even told me that we're dating!" I exclaimed as I laughed along with them.
I felt fake. I'm lying to everyone. To my fans, my family, and my friends.
'Mianhe yeoreobun.'
"I said to her~ Noona I didn't even know!" he added as he laughed really hard.
He's good in this.
I looked at him and saw his eyes almost red.
His laugh. I missed it really bad.
The show ended and everything went back to normal again.
Here I am in the dressing room. Alone.
I'm surprised that I can joke like this today even with him sitting beside me.
Am I happy coz I'm with him today?
Or am I really moving on and slowly forgetting him?
I don't want to forget him.
My feeling for him is still in my heart.
But I can't feel any pain right now.
"Bommie…" my heart pounded when I heard him called me.
I turn to look at him and saw him standing behind me.
The look on his face made my heart flutter.
His eyes full of love. Like the way he looks at me.
"N-n-neh?" I nervously asked.
He didn't answer instead he held my hand and dragged me outside.
I didn't resist.
Our hands intertwined together.
It felt heaven for me. My heart is flying. The butterflies on my stomach are back again.
This time they're having a tequila party.
My heart racing as we ran together outside the building.
Our hands holding each other.
---
Update before going to school :)
Omo~ What will happen???
Skydragon next! ( or next next :"> )
---
@ChibiCheonsa I hope you know now :)
@Yuraaa No prob chingu :"> Yeah, he looks younger now though I love his silver and mint hair the most ♥
Really?? Yey :D Glad to know that it's better <3
@cikjue_2688 Not a long holiday exactly. It's more than that :)
Heechul is okay it's just his sibling.
:))) Don't worry :)))
^ Back to Top