Don't Let Go
by DumboMato
Tags sad sweet you zelo runaway | Report Content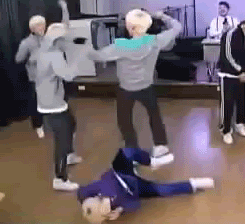 [Your POV]
Ah! I'm so tired! I got a job at the cafe and it's so boring! I get up from my bed, I hear noises in the kitchen. I walk over to see what's going on.
"~~~~! You're awake! I found some leftovers from dinner! Let's eat!" Zelo seemed excited today.
"Is there an occasion?" I asked, tilting my head.
"I'm taking you somewhere today, so you have to eat a lot!" He smiled and shoved a plate to me. I ate happily and dressed into some fresh clothes.
"Where are we going oppa?" I asked.
"Secret, but we're going to the mall first, okay?" He grabbed my hand and we went out. Surprisingly, B.A.P was out here too. 
'I thought it was just us.' I sighed and followed Zelo. We walked to the subway and bought some tickets. We stood at the back of the bus, I was standing in a tight corner. The guy in front of me was staring at me, he smirked.
"So, what's your name? Are you single?" I rolled my eyes and tried to ignore him, but he was getting on my nerves.
"Look, she's taken." Zelo oppa was standing in front of me, he grabbed my hand. The guy just pouted and turned around. Zelo turned to look at me, still holding my hand. "I'll hold your hand so no more guys bother you, be careful, okay?" I nodded and we walked out of the bus.
I looked around the mall. It was so big compared to the ones I usually go to. I mouthed the word wow, I guess Zelo read my lips because he snickered.
"Big?" He said, smiling at me.
"Yeah." We went in and walked around. "What are we buying here?" I asked, looking around.
"Clothes. For you." I turned around.
"For me?" I pointed to myself, he chuckled.
"Of course, you only have four outfits in your bag." We walked into a store that wasn't too crowded. We picked out some jeans, t-shirts, hats, and shoes.
"You like them?" He was looking at me while I was staring into the bag. I nodded happily.
'Best boyfriend ever!'
-------------------------------------------------------------------------------------------------------------------------------
[Zelo POV]
It felt good to see her this happy. She was smiling a lot and was really cheerful.
"Thank you Zelo oppa!" She cooed, she sounds so cute. I put my arm around her shoulder.
"Your welcome, but you'll pay me back, right?" I smiled at her.
"What?! How much is it?" She looked shocked.
"I'm just kidding." I chuckled, she nudged me slightly making me giggle.
"Yah, it's not funny." She pouted.
We walked out of the mall with a lot of bags. We went back in the subway and appeared at an amusement park.
"Wah! AMUSEMENT PARK!" She was cheering and jumping around with Youngjae hyung and Himchan hyung. I giggled and joined them. I've never felt so happy, when I'm with ~~~~, she always makes me smile, right from the beginning.
"I love you, babe."  I heard myself whisper.
"Huh?" Uh-oh, did I say that aloud? "Did you call me babe?" She was all smiley, I was blushing. "You did! I'm your baby!" She gave me a tight squeeze and let go.
We lined up and got in. It was nice, there was a lot of rides. ~~~~ jumped all over the place. "Oppas! Let's go to the roller coaster first!" We followed her as she skipped to line. We got in the car and put our seatbelts on. Two people per seat, so Daehyun hyung was all alone in the back.
"This isn't fair." He pouted, we all laughed and quieted down before it began. ~~~~ had her arms up and was yelling, I did the same. 
'Ah, ~~~~, I love how you're just so crazy.' After we got off, we went to gift shop. Hyungs were trying on weird hats, ~~~~ was with them too, wearing a pikachu headband. 
"Get this one, it's cute on you." I smiled and she ran over to the line. She came back and put the headband on me.
"It's looks better on you, pikachu." She smiled at me.
"Pika-pika!" I was attempting on imitating pikachu, she laughed and dragged me to the ferris wheel. Hyungs were talking and ran away. "Yah! Where are you guys going!" We were all alone on the ferris wheel. We sat down and it started. 
"Wah! Oppa, hold me, please! I'm afraid of heights." I chuckled and put my arm around her. I held her tighter as we got higher. "Don't let go." She closed her eyes and leaned closer to me.
I was so happy at the moment that I didn't want it to end, I didn't want to let go of ~~~~. I love her.
------------------------------------------------------------------------------------------------------------------------------------
[Your POV] 
We left the amusement park and went into the subway. I said goodbye to B.A.P oppas and went in the apartment. Zelo was sitting on the couch so I went to sit by him, but before I could start walking over, the phone rang. I answered the phone and a deep voice was there.
"Annyeongsaeyo?" I asked nervously.
"Is this where ~~~~ lives?"
"Ah, yes. May I ask who this is?"
"This is the police."
'BWOH! THE POLICE!
"~~~~, who is it?" Zelo oppa was looking at me, concern in his eyes.
"It's nothing, it's okay oppa." He turned around looking relieved.
"Why did you call?"
"Your mother called saying that you left without warning and that she wanted to know where you are."
"Uhh..." I can't lie to the police! "I-I'm in... uh... Seoul."
"Thank you, you will be coming home tomorrow to prove you are safe and your parents will decide what they want to do with you."
"Tomorrow?" I asked, surprised.
"Yes, tomorrow, be here or we'll send a search party for you."
"N-neh, thank you." I have to get ready. How will I explain this to Zelo?!
"Z-Zelo oppa..." I let out a sigh, I have to tell another person close to me I'm leaving them too?!
~~~~~~~~~~~~~~~~~~~~~~~~~~~~~~~~~~~~~~~~~~~~~~~~~~~~~~~~~~~~~~~~~~~~~~~~~~~~~~
How is it? Is it getting more exciting? How do you want it to end:
-Go to Yongin and get punished, leaving Zelo
-Stay with Zelo and endanger him
I'm getting excited!
Oh, and can someone tell me how to get posters?
^ Back to Top