"Be careful Minho!"
by KoffeeNuts01
Tags 2min fluff jongkey romance children 2minjongkey | Report Content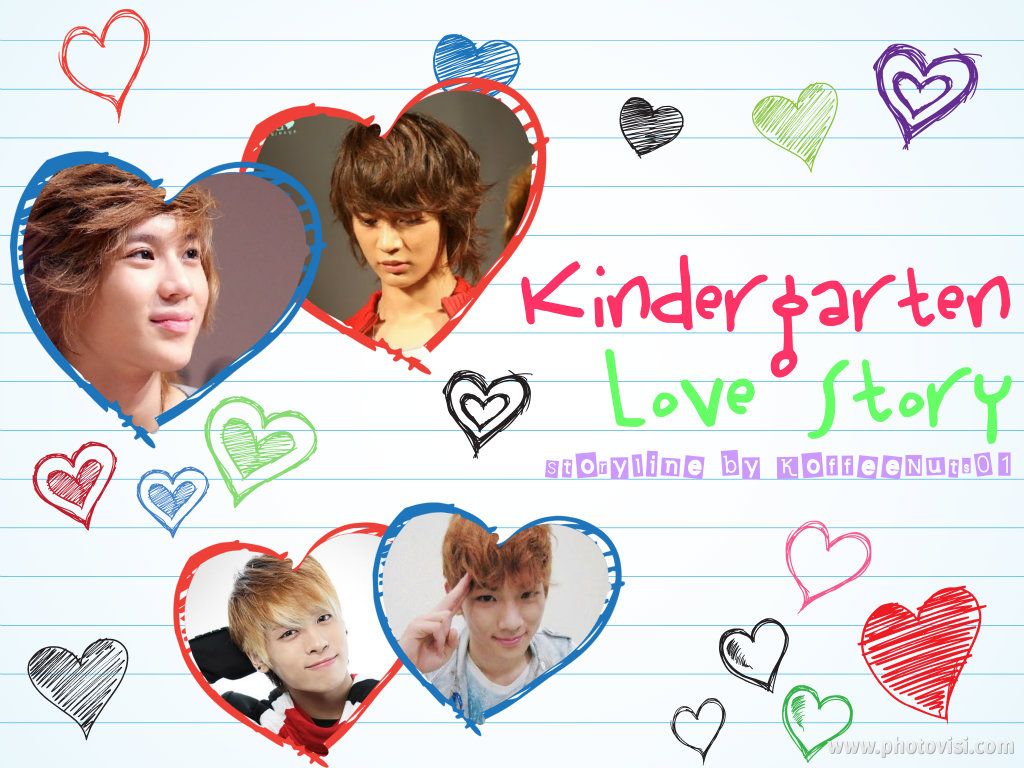 "Let's just stay here for a while and you can teach me the numbers, okay?"
Taemin felt Minho's breath trickle on himself. Ooh! Minty! A blush crept on his face. He noticed Minho's cheeks were turning a bright crimson too. Minho tried to calm himself down and walked back towards his seat next to Taemin's.
W-what made me d-do t-th-that? I've never even t-talked before.
"Uhh... okay so.. what do you want to learn?" Taemin asked once he finished keeping away his stuff.
"I-I don't k-know... just.... oh! I don't know how to minus."
"Ahh subtraction is pretty hard. Okay, so let me see you try to answer this question first." Taemin wrote down the question on a piece of paper with a pencil that he left on the table to teach whatever Minho needed to be taught. He handed the paper over to Minho.
"Five minus three? This is hard... f-four?"
"Aniyo hyung.. You are my hyung right? How old are you by the way?"
"I-I'm f-fiv-five"
"You are my hyung! I'm four! Okay, so hold out youur hand and show me five fingers."
Minho obliged and held out his hand showing all five of his long fingers. Taemin took Minho's hand into his own which sent a little tingle up his spine. His hands are so warm. Once again his cheeks turned a bright pink.
"Uhh... so, it's five minus three. You uhh.. t-take aw-way three from five. Here you h-have five fi-fingers." he lifted his hand to Minho's face to show him.
"Y-yeah.."
"Now take away three fingers from the five."
"You want me to cut off my fingers?" Minho asked in a rather shocked yet mellow voice.
"What?! No! Just fold in you fingers."
"Ohh.. okay." Minho folded in three fingers just how Taemin told him to. "Now what?"
"Count the remaining fingers."
"Two. I still don't get it..."
"Aishh jinjja.. Like this..." Taemin explained everything again to Minho who was listening very closely until he understood. "Do you get it now?"
"Umm... yeah, I think so."
"Okay, good. What's eight minus five?"
"Those numbers are too big..."
"You might be older but... aishh nevermind."
"Yah! Fine, then... the answer is...three." Minho replied boldly.
"Wow! Correct! You're getting really good."
"T-thanks..."
There was a short moment of silence only to be broken by Taemin.
"Hey, there's ten minutes left for play time. Wanna go play?"
"I'm kinda tired... how 'bout we go to the kitchen to grab a snack instead?"
"Okay!" Taemin replied enthusiastically.
At the kitchen ~
"Wow! I've never been here before! Well I just got here today so ofcourse I haven't." Taemin said as he fled of to explore the spacious room.
"You... wanna tour?" Minho asked in a very low tone while fiddling his fingers.
"Oh yes! I would love too!" Taemin ran back over to Minho. he grabbed his hands causing the latter to blush again for the uptenth time today. "What are you waitong for? Let's go!"
"Ah... neh." Minho pulled-or led- Taemin towards a few cupboards with snacks and ingredients for cooking. He showed him where the teachers eat; which was a room with a small dining table for five in the center. He showed him the stove then went to the fridge. Minho opened the fridge and dug through it.
"Minho hyung, what are you looking for?"
Minho pulled his head out of the fridge and handed Taemin a small yellow-green bottle. "Here. Drink this."
"What is this?"
"Banana Milk. Haven't you drank it before? I'm not a big fan but it's pretty good."
"Actually, no. Thank you."
Minho replied with a smile and a nod. Minho continued the tour while Taemin poked the straw into the bottle. He took a sip and..
"HUWAA!!! This is the best drink ever! Why didn't I know about this sooner?"
Minho just stayed quite and let Taemin get excited. Minho pulled Taemin towards the oven.
"Oh, Miss Yuri! What are you doing? I thought you said you had work to do." Taemin asked while walking towards her, still hand in hand with Minho.
Miss Yuri got up from crouching infront of the oven while reading a cookbook. "I uhh... already finished them! So I'm making cupcakes. Do you wanna help? I'll excuse you from your next class."
"Oh yes please! Minho, come on! It'll be fun!"
"I.. I g-guess." Minho's reply was barely audible but Taemin and Miss Yuri still heard it.
"Great! Extra helpers! Okay kids, can you help me get the flour and the sugar?"
"Neh! Minho, you go get the flour, I'll get the sugar."
Minho nodded in reply. Taemin set of on his quest to find the sweet white crystals. Minho was about to walk away when someone put a hand on his shoulder.
"Wait Minho. Can I ask you something?
"Sure Miss Yuri."
"How do you feel about Taemin?"
The question caught Minho by surprise. He didn't expect the question. "Uhh.. Just l-like the o-ot-ther people..."
"But you don't talk to the other people like how you talk to Taemin."
"I... I..."
"That's okay Minho. You can answer when you're ready. Now go get me some flour please."
Minho slowly nodded and headed towards a cupboard. He's been in the kitchen to help a few times so practically knew where everything was. He came back a few moments later with a packet of flour in his long arms. Taemin arrived a few minutes later with a jar of sugar in his small, chubby hands. They handed them over to Miss Yuri who gladly accepted them.
"Thank you kids." She crouches back down infront od the oven like before. "Okay, so first I'm gonna preheat the oven. Minho sweety, can you please plug in the mixer?" She asked while pointing towards the mixer on the counter.
"Neh Miss Yuri." Minho obidiently did what he was told to do. He climbed on a stool so it would be easier to reach. Taemin follpwed behind.
"Be careful Minho!" Taemin said as Minho wobbled up the stool.
"I-I'm dine." Minho pluged in the mixer into the wall socket, maybe a bit too hard. "Woah.. WOAH!" Minho lost his balance and fell to the side where Taemin was standing.
"I'll catch you!" Taemin stretched his arms out, ready to save the froggy prince. Taemin was stronger than he seems. He caught Minho perfectly but still failed to keep himself balanced. He feel to the ground, butt first, making Minho who was in his arms now on top of him. They stared at each other for a good minute or two until Minho quickly got up and recollected himsefl, Taemin getting up a few moments later.
"What was that thud? Was anybody hurt?" Miss Yuri came rushing in from the other room. She was gathering up a few other ingredients.
"Oh no Miss Yuri. Minho here was just being a klutz and fell down. Don't worry, he was only 2 feet up and I caught him anyways." Taemin explained with a really big but noticably shy grin.
"Well, okay. But if anybody gets hurt, tell me straight away. That's a rule and a promise."
"Neh, arasso~!"
Okay so sorry that this was up reeeaaaaalllllyyyyy late. I knew I said I'd tripple update but my sister... afsaglkjgb =.=  You'd understand if she's your sister. So I think this chapter is a bit longer than my usual ones? Maybe? I don't know. I'm typing this up with my dad macbook so it feels different o.0 anyways, I HOPE YOU LIKE IT ^^
AND TEEN TOP'S HERE!! BUT I CAN'T GO TT^TT
^ Back to Top