5

Oxymoron

Completed!

by LeeahnChuneil
105 subscribers | 5760 views | Updated | Created
Tags angst elvin kevinwoo ukiss elikim humor angstsometimes | Report Content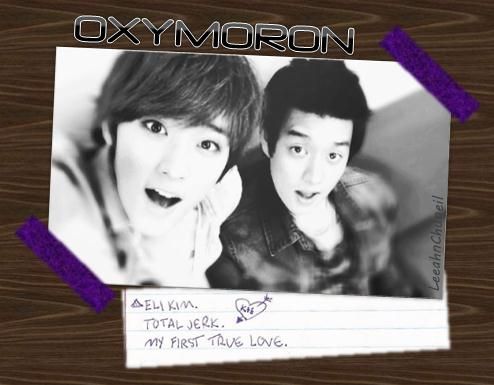 Characters
Eli, Kevin, Dongho, Xander, Soohyun, Kiseop
Description
Kevin Woo is the kind of kid Eli Kim typically steers clear of. Dark. Closed. And weighed down with more baggage than he wants. But what if Kevin is exactly what Eli needs?
Foreword
Kevin Woo has had a hard life. His sister died of cancer when he was eight, and his parents were killed in a car crash at twelve.  Hana, a family friend, took him in. All through middle and high school, he was constantly teased and put down about his sexuality. Kevin always took the pain silently. Sometimes he even resorted to cutting himself to relieve himself of some of it. After several years of this torture, Kevin snapped. "I can't take it anymore," He wrote shakily on a scrap of paper. "They win. I know I'm making the world a better place by following through with this. I apologize to anyone who cared." He then closed himself in the bathroom with a bottle of anti-depressants. Luckily, Hana found him before it was too late. After lots of therapy and carefully administered medications, Kevin was getting better. Hana moved with him to South Korea, hoping for a new start where no one knew his name. Kevin made a friend, Xander. He was one of the only two people who really knew what he was about. But Korea did not provide the liberation Kevin so desperately craved. The bullying started up again, and it hit him hard. Kevin was straining to keep away from the perfect, silver blade on the edge of his tub every day. He missed bleeding. It reminded him that he could still feel.
Eli Kim is the exact opposite. Everything to him was black and white. He always let people know exactly how he thought and felt, and never worried about anything. His life was carefree, and he liked it that way. Kevin fascinated him, though. How a person could be so closed and alone. So what would happen when they actually crossed paths? Would one force counteract the other?
"We're like fire and ice. One can't exist without weakening the other. We're like a walking oxymoron."
Tweet
^ Back to Top