No need "sorry"
by anahus
Tags eunhyuk kyuhyuk kyuhyun yaoi dramaandromance | Report Content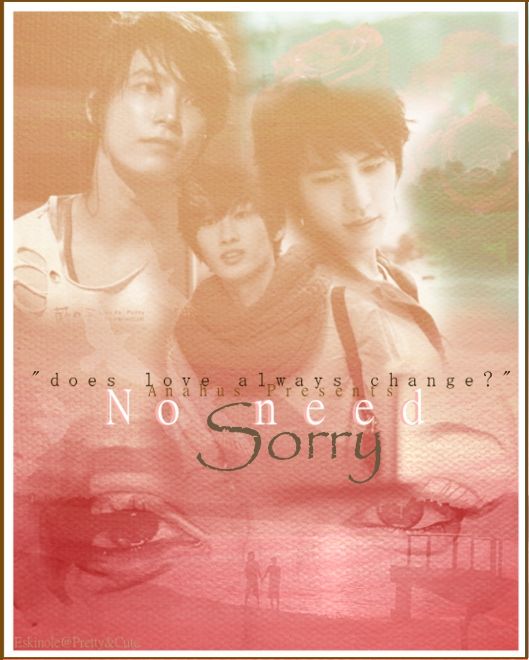 -the next day at school-
Nobody POV
Kyuhyun can't stop thinking about the phone call he got yesterday afternoon, he clueless who will do that.. he doesn't even know what the stranger mean.. what he has done.. he absolutely know nothing, and the worse, the stranger seem like threatened him..
what does he mean by that..
"
I bet you don't want anything happen to ur friend right..?

"
he recalled the stranger word.. 
"friend??" he said silently, only himself could hear..
kyuhyun rage.. too many question were playing in his mind right now, he can't even think properly, as he scared the stranger really mean what he said..
kyuhyun let out a heavy sigh.. sign as he tired thinking about it, but he couldn't help.. he cannot stop thinking until he know what the stranger want, and the reason behind it..
he was looking at the teacher in front, 
but his mind does not focus entirely to the information that is given by his teacher.. he lost in his thought for whole class in the morning..
at the same time, he didn't know that someone is watching him all this time..
kyuhyun deep in his thought until recess.. when the bell rang, he got up and out of the class..
as always, he wait for eunhyuk down the block at first floor, 
he sense someone walked toward him, he turn and saw siwon approached, he just give a small smile to the latter..
"where you go? I thought you followed me behind" he asked
"yeah right, and why did you left me?" 
"sorry.." only that he manage to say.. 
trying his best for not be seen like there is something that interferes his
"mind telling me what bother you?" siwon asked, make him surprise at the latter question
"right,right.. cho kyuhyun.. I'm not blind, I know something disturbing you.." siwon said, looking at him..
"seriously.. nothing bother me, it just you who think like that.."
kyuhyun said, assure..
before the letter could say anything more.. he asked siwon about the text the latter sent him..
"anyway, why you wanna meet me after school today? something important?"
"wait until the school finished.." siwon answered.. 
"why?? just tell me now.." kyuhyun replied, bit anger.. he tired to wait until that time, he wanna go home fast
"........................."
siwon didn't reply, make kyuhyun more burning
"yah! I'm talking to you.." 
siwon look at him smiled.. but still didn't say a word
"you pissed me off, I'm straight home after school! that's it.." he said.. folded his arm
but his action just gain a smirk from the other..
they wait for eunhyuk and donghae almost 10 minutes, finally the 2 boys appear.. laughing along the way..
"hey.. sorry we late.." donghae apologize
"yeah,yeah.. whatever.. let's go, or we will go back to the class with famine later" kyuhyun said derogatory and walked away
eunhyuk who froze at his stood started to chase him and followed by donghae and siwon walked behind.. siwon
just chuckled seen the scene infont of him
"what's wrong with him??" donghae asked
siwon shrugged.. didn't think wanna tell donghae what happen earlier.. 
~~~
~~~
after get the food, the four of them sit and eat in silent and a bit awkward.. 
during that time kyuhyun just keep quiet, not saying a word.. eunhyuk began to worry, he does not like this kyuhyun.. the latter
 always vibrant when with him.. he was very happy when Kyuhyun believe and forgive him, and the latter didn't think something rubbish 
about him and donghae.. 
but now, he does not know what caused it.. he has already apologized for being late just now, but kyuhyun said 'it's nothing'
when he asked him what was wrong, the same answer he got..
so, he decide to let the latter alone for now, maybe after school or later he will try to asked him again..
then, donghae break the silence..
"kyuhyun-ah.. for what happen that day..yo-.." donghae word cut by kyuhyun 
"nevermind.. I know it.." kyuhyun answered, not looking at the other
"I know..but.. I want to.."
"but I want you to know that.."
"don't you hear me..?" kyuhyun asked.. his head lower, looked at the dish, almost whisper
"don't you hear me?? I say NEVERMIND! just stop fucking talk about that.." kyuhyun burst,
stomping his hand on the table.. make all students turned towards them, eunhyuk and donghae shocked while siwon apologize to the students, telling them nothing happen..
"I'm going back to the class" he said again, left the table
he didn't want to talk about it.. 
he hate it.. he didn't want to remember the scene that
 cut his heart,
when he remembered, he was afraid he would lose the one he love.. he freakin scared for that to happen,
he didn't want it to happen.. he already has so much in his head right now and he don't want to think about it, about what had happen.. he cannot deny that he was hurt to see intimacy between eunhyuk and donghae, as before.. they way along, and laugh.. he can't lie himself that he felt very jealous to see the situation.. he was unable to incurring for a long time.. unable..
eunhyuk followed him.. it's been a long time since he saw kyuhyun like that, he feel uneasiness.. he followed until he reached of kyuhyun arm.. at the time, kyuhyun stop.. but still didn't turn to looked at the person who hold his hand.. they in the hallway..
"kyu..." eunhyuk called..
"go back to cafeteria.. u might starve in the class later.." kyuhyun said, make the latter tears pool in his eyes, ready to fall down on his flawless cheeks..
eunhyuk feel hurt to see kyuhyun like this, he hate himself more when he can't do anything for kyuhyun, otherwise the latter always and still care about him so much.. over himself.. showing how much the other love him.. 
"kyu.. what's wrong? tell me.." eunhyuk convince
"nothing.. really.."
"stop lying.. you just burst your anger just now, and you say it's nothing?!" eunhyuk said, still hold kyuhyun arms..
"........................................................................"
seeing kyu didn't reply.. eunhyuk hug him from behind.. sooth him, kyuhyun froze, love it at the same time, love the warm between them, love the warm that the latter give him.. love the warm from the pair of arms that hugging him.. 
but he immediately awake.. when he hear what the latter said into his ear..
"I love you..." eunhyuk sudden confess..
_________________________________________________________________________________________
sorry for the cliffhanger..


I will update.. yes,yes..


thank you for reading! I'm so happy *bow*


leave anythink you thought in the comment box! love to hear from you ^ ^

^ Back to Top