No need "sorry"
by anahus
Tags eunhyuk kyuhyuk kyuhyun yaoi dramaandromance | Report Content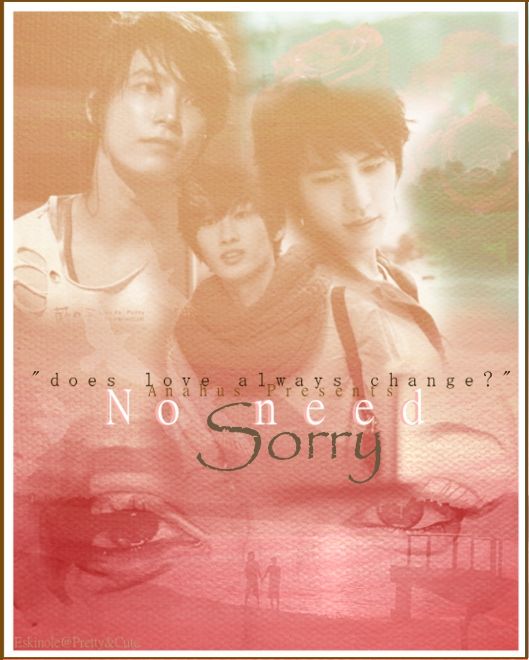 Hyukjae POV
"hyukk.. my dear, it's not a big deal, she only stay here for a month"
"one month?! you speak like it just a day" I said, furious
I still insist not want to be left alone with my cousin, inara.. who lives in Japan, but came to Korea for her holiday, visiting us..
my mother will follow my dad because there something that my mom need to do, 
since my mother was working in the Ministry of Finance, maybe there is something related to document verification or important papers.
I don't know.. and I don't wanna know too.. urghh
I never live together with a girl before.. it must be awkward.. seriously =="
"I have know, there must be something.. why dad suddenly back.." I said, 
crossed my arm over my chest 
"dear,dear.. you father only tell me after he arrived.. I know nothing about this too"
*sigh* "okay, fine.. I don't mind you going with dad.. I can stay alone, about inara.. she can stay with grandmother.. much better, right?" I said, hopefully my mom will agree
"she will.. but after she finished her things here"
I looked at my mother.. more bright.
"means she will go to grandma house?"
"ah.. you should tell that she only stay to settle her things" I said with a tone of relief
but my mother's expression turn to straight and asked me 
"why? you seem didn't like her?"
"no~! is not that, I-i.. erm.. just little discomfort.. you know" I answered, not know how to explain
"okay.. but be nice to her while she's here okay?" my mom said about to leaving my room
"and we're leaving this tuesday" my mother said again and wish goodnight to me before closed the door.
I lay on my bed, flip the book sheets.. trying to make revisions, as tomorrow's schools.
but I think I just looked blankly at the page, don't even know what I'm reading about,
I cannot focus.
I got up and sat on bedside
"am I over gross just now?"
my parents are busy talking, and I can hear they laugh sometimes, while I just sit back and eat my food..
only occasionally 
I glanced at inara who smiled and laugh with my parents..
I used to have feelings for her once, 
but all is old story, all the feeling's gone when we rarely met after she moved to Japan.. 
we still tried to stay in touch after she moved and I only seen her pictures sent by email, and it does not hold when we suddenly lost contact.
"lee hyukjae..!" I stopped my thought when I heard my father call and see them looking at me with puzzled expression
"you dreamy at the dinner table.. no wonder you are getting thin" my father 
said
"You hear me what I told you just now?" I just looked at him with wondering face
"your mom will follow me.. there is something I need your mom to do for my work" he told and I just nodded
"not sure yet, around one month maybe"
"wow.. that long, I'm sure you will take the opportunity to honeymoon again.. hahaha" I said, teasing my parents
"why not" my mother answered smiling, looked at my dad
"we go for work" my father replied firmly but calm
my father is a strict.. but I think this time, he only want to hide his embarrassing.. hahaha XD
"and during that period, inara will stay with you" my mother interrupted, make me stop laughing
"huh..? what? why?" I asked, frown
"to make sure you meals properly everyday, I didn't want you to be more skinny than now" my father simply said
"don't need to dad, I know how to take care of myself" I said, pleading
"I don't think so" my father stood up and left the dining table
I can feel my father deliberately do this to me, but why? I'm not a little boy anymore, which should be supervised all the time, 
I'm 19 years old for god sake.. I swear this really annoyed.. 
I looked at the food, lost all the appetite. 
"I'm done" I said and went to my room
but I really don't like the way my father had.. treat me as I'm 5 years old kid,
I absolutely don't need anyone to look after me.. really,really don't need
however, I still need to apologize to inara, she would misunderstanding that I'm not like her presence here,
it's totally not what I mean.. indeed I'm feel uncomfortable, but not like I hate her.
I went to her room.. knock on the door, she opened and looks surprised to see me standing there.
"hey.. you buzy? am I disturbing you?" I said peeking into her room
well, I'm trying hard not to look awkward
"oh.. no,no.. I'm not.. come in" she invited
I walked into her room.. and sat on the chair next to the bed while she sat on the bed.
I noticed there were a number of novels on the table.
"look like you love reading" I said, looking at the books
she turn to looked at the back before looking at me again
"ohh that, haha.. yes, I love reading so much" she said, smiling at me
I smiled back but still didn't said anything as I don't know how to start, lucky she started it first.
"so, what bring you here?"
"I wanna say sorry" I hesitate to continued 
"about things in the kitchen earlier.. I hope you not misunderstanding it"
she smiled "I'm not.. don't worry"
"really? I'm glad if you say so, I just.. don't like the way my father assume and treat me like I'm a kids" I said, hated 
"haha.. I understand that.. but, sorry.. oppa you really looked skinny now.. appropriate for your father to worry"
"but, he don't need to do that,  I didn't even feel myself thin"
she just laughing at my statement.. and 
we talked for a while before I get back to my room and dozed.
------------------------------------------------------------------------------------------------------------------------------------------------------------
nobody POV
kyuhyun was on the line, talking with someone
phone conversation:
kyuhyun: I don't know what you talking about
unknown guy: don't make it worst cho kyuhyun.. I bet you don't want anything happen to ur friend right..?
kyuhyun: friend? who?? what do you mean? 
unknown guy: think cho kyuhyun.. think
the stranger hung up make kyuhyun frustrated. 
hell..! what does he mean??
_________________________________________________________________________________________
so.. it's not  
arranged married.. 
thank you again for reading
anyway.. I'm craving for 6jib! yeah! it's super amazing.. I'm addicted already XD 
^ Back to Top