No need "sorry"
by anahus
Tags eunhyuk kyuhyuk kyuhyun yaoi dramaandromance | Report Content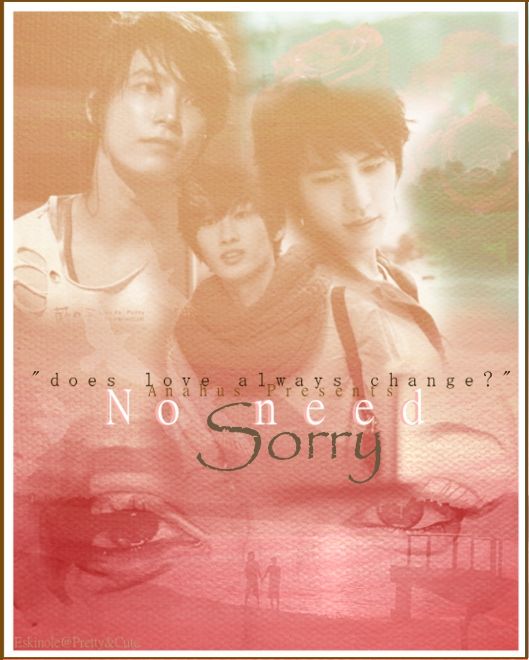 Hyukjae POV
"you better not do anything ridiculous lee hyukjae, be nice on your first day at college.."
*sigh* "yea,yea mom.. you talking the same thing for fourth time already.." I said, finish the last scoop of fried rice prepared by my mom.
"how can I stop with your 'too good' behavior?? and if anything happen, I'll not hesitate to cut all your pocket
"what?? no mom~!! don't..! please..!! I promise.. I will be a good boy as you wish" I said with shock tone and
look at her with my puppy eyes.. "maybe you should trust your son from now on.." I kissed my mom on cheeks 
and left for college, I'm not going to make her worry about me since I'm a big boy now..
oh. Hi, let me introduce a little about myself first before we go further.. I'm Lee Hyukjae, nah.. you can call me 
hyuk or eunhyuk, sweet 19, living with my mother, nature playful *wink* and today is my first day in college..
honestly, I'm bit nervous......
relax hyukjae.. there nothing to worry about anyway, just be a good boy like ur
mom told.
. 
my house is not so far from college, so it's not a problem for me to go to college by walking, I can 
take public transport if I feel lazy to walk, but for today, I prefer to walk to get used myself with route to college,
at the same time, thinking about being nice on my first day.. 
just now I'm having breakfast with my mom and 
she keep teliing me to be good at college.. aishh, life will get boring if we not having fun sometimes you know.. I
said sometimes.. it's not like I'm going to burn the whole college.. =="
after about 15 minutes walking, 
I reached the
front
gate of
Inha
 college, big.. and nice.. let just skip that part..
I went
right
past the
gate
, and I could 
feel that there are
 pairs of eyes watching
 me, there you are.. very "nice
"not again.."
I
grumbled
alone
.. even this not my first time being watching like a 'super star', but I
really,really,really hate this..
well, who can keep their eyes away from me since I'm hot enough to make the girls especially.. droolls over me..
"mwahaha.." I laugh at my own thought.. then, someone greet me from behind.. "hyukkie.." I turn
"sorry I'm late..
" he said, panting 
"it's okay kyu..let's go, or we will late for our first class.." I smile and we start walking to the registration placed.
that's my bestfriend, Cho Kyuhyun.. we know each other since we was 7, our parents are friends because my
dad and his dad are business partner, he's a nice guy, really,really nice one.. he just like me, can 
make
the girls
fascinated by
his
handsome
appearance
, 
distinctive
style
and his 
adorable
mischievous. 
however,
the girls were
somewhat
unfortunate as
he was not
interested in 
them, 
instead
he did
declare
that
he
loves
me
some time ago.. he want to be my special boyfriend.. 
wait, did I say boyfriend? yes he is.. he's a gay..
so what? I'm a gay too.. but in my case, it's not because I'm not interested in girls,
I
have had
relationships with 
several
girls
before,
but all
does not last long.. I'm not sure with my feeling and
I
do not want
played
his
feelings

, so I tell him to 

continue with the

 

friendship. 

even though

 

he

 

subsided

, and 

not

 

forced

, 

but

 

I could feel

 
"I'm sorry kyu.. I just.." 
"It's okay eunhyuk, no need sorry.." he cut my words, I can see deep into his eyes, there is disappointment and sadness found hidden that is not shown by his.  it's made ​​me feel extremely guilty.. felt like I had disappointed my best friend that I known more than 12 years.. but I also do not want lose this precious friendship..
without realized, tears were flowed on my cheeks and the thing I knew after that, kyu hugged me tight..
"no hyukkie.. don't cry.." I try to stop my tears "I know you love this friendship and I love it too.." he lift my chin and we stared into each other eyes for second.. "whatever it is.. as long as you happy, that's enough for me.. no need sorry, I don't want your sorry.."   
-end of flashback-
love is something we never can expected it.. who, how, when, why.. right? so, gender never be a matter for anybody to fall in love with.. as long it sincere, pure and 
endless.
________________________________________________________________________________________
first chapter done! I can't believe.. I'm dreaming or something?? :O hoho ~ I'm not.. xD
thanks a lot for the encouraging comments.. I really appreciate it.. with all those comments, I successfully completed the first chapter :')
thanks a lot.. *bow*
and please comment on this too.. because feedback will help me a lot to improve my writing for next and next chapter..
*I know now, why people always said the first chapter always boring.. because It is =="  
^ Back to Top