2

Perfect Diva vs Hot Diva

by winterTears and JangSooMin |
709 views | Updated | Created
Tags eunjung key shinee tara | Report Content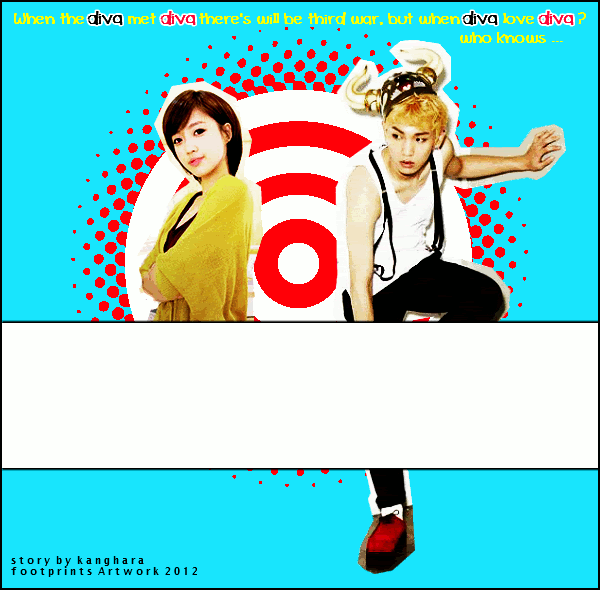 Characters
eunjung, key
Description
the perfect diva, Ham Eunjung is gorgeous, intelligent and bags of money in her pockets ..
the hot diva, Kim kibum is handsome, brilliant and gold around him ..
both are diva .. one is girl, another is guy .. but when diva meet diva .. the world had come to the end ..
 both can't see each other's face or school is exploded ..
both can't hear each other's voice or north and south korea will be war ..
both can't look each other's things or its gonna be third world war ..
but when diva suddenly had feelings with diva .. what are they gonna do ?
Gif : credit to the right owner
Poster and background : credit to Footprints Poster Shop
Foreword
Starring :
Ham Eunjung
the Perfect Diva
hate snake
loves to shopping
hate dark
Kim Kibum
the Hot Diva
hate teddy bear
loves to shopping
hate thunder
Shinee
 Lee Jinki
Lee Taemin
Kim Kibum
Choi Minho
Kim Jonghyun
hottest guy in the school
rich, handsome, smart
TiARA
Ham Eunjung
Lee Soyeon
Park Hyomin
Lee Kyuri
Jeon Boram
Park Jiyeon
the perfect girl in the school
beautiful, smart, rich
======================================================================
and well .. its just a new story and didn't know when I should stop making new story ..
anyway, this story might be updating after 24 OCT 2012 ..
and my brain can't stop working from making new story ..
sorry if this annoyed you ..
well, thank you for subcribe [ if you are ]
and thank you for willing to wait  ...
___________________
I'm going to help in writing this fic. Maybe in Key's part(mainly because Imma Locket :D ) kanghara will make Eunjung's part. So anyways, we hope that you guys would enjoy this fic!!
Tweet
^ Back to Top