Going Crazy
by DarkFallenAngel
| Updated | Created
Tags friendship ljoe romance you kimjaejoong | Report Content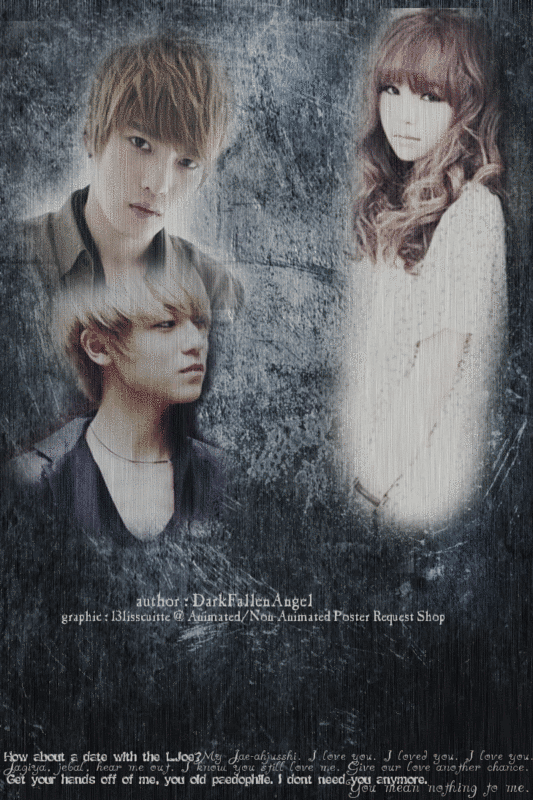 Characters
OCs; You; L.Joe; Kim Jaejoong
Description
What would you do, if your mother was pregnant?
Oh sure, yes you'd be happy for her... or will you?
What if... the father of your mother's child is...
I don't know...
...Your boyfriend?
What would you do now?
---
~Characters~
Lee ~~~~~/you (place your name where ~~~~~ is) - You're a simple 16-years-old teenager who is sooo in love with your boyfriend, Kim Jaejoong. Though there is such a big age gap between the two of you, you don't care... The two of you are just so in love~~ But... what do you do, when you find him cheating? With your young mother who is just a few years older than him?
Lee MinRi - your mother. She cares little for you. She is quite selfish. She gave birth to you when she was 15, as she was quite the slut in highschool. She doesn't even know who the father is. Still a slut now. Knows that you and Jaejoong are dating, but still chose him as a playtoy... and now she's pregnant.
Kim Jaejoong - Your ex boyfriend. Regrets deeply for cheating because he loves you so much, but must take full responsibility as your mother's pregnant.
Lee Byunghyun/L.Joe - He's the new kid in town. He was attracted to you the moment he met you. He's sweet, caring and funny. Will he be the one to pick up your shattered heart?
P.S. More characters to come... but these are to mains.
Foreword
It's me again, with one of those random ideas that lingered around my head since last year. Aish. I should finish my other ffs, but I can't help myself. I just soo love writing random stuff... LOL.
Please don't plagarize or copy because I'M WATCHING YOU!~~ hahahaha
Read, enjoy, subscribe and comment!~ ;)
Tweet
^ Back to Top