Powers
by dbskgirl4ever
Tags fantasy friendship romance exo exok exom | Report Content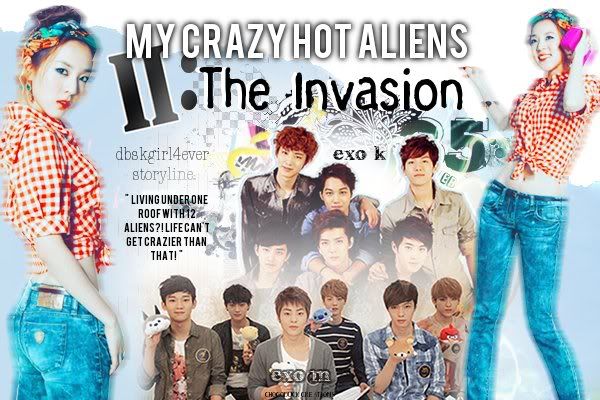 http://www.youtube.com/watch?v=w1ds3KD0YVM&feature=related
-----
Exo-M glanced at each other and nodded.
Xiumin lay back against the sofa with a proud smile, "You already saw mine. My power is frost. I can freeze the room in less than 30 seconds."
"Why don't you freeze yourself then?" D.O. muttered next to you. You gave him a look to not be rude and he scowled. You turned to the next Exo-M member.
Lay felt all eyes on him and straightened up. "Um, you already saw my power, too. I healed your knee…" He quietly mumbled then turned a shade of red.
"Oh yeah. Thanks for that, by the way." You smiled and he turned red even more.
Chanyeol snorted and crossed his arms jealously *Don't smile at him like that! He'll fall for you like how I fell for you!*
You looked at Chen. "I have power over thunder." He said.
Your eyes widened. "PUHAHA!" Exo-K burst into laughter at once.
"I don't find that amusing in any way…" Chen raised an eyebrow.
"STAR IS GOING TO HATE YOU!" D.O. pointed at him then exploded into another round of laughter.
"Why?" Chen furrowed his eyebrows in confusion and worry, "You don't like thunder?"
"I don't think anyone does…" You mumbled then shrugged, "It's not thunder so much that I don't like. I used to not like rain but I'm okay now." You glanced at Exo-K and exchanged meaningful glances with them. Suho smiled and squeezed your hand reassuringly.
Kris noted that and arched an eyebrow *What connection do they share that I don't know?*
You looked at Tao, "What about you?" He arrogantly smirked, "I control time."
Your mouth fell open, "Control time?! How?!" That seemed like such an unusual power, and you couldn't help but be fascinated. He casually shrugged, "I can make the time stop and the life forms around it stop also." "So if you stop time now, will I be frozen in this state?" You asked, slightly afraid but mostly enthralled. Tao shook his head. "Not unless I have you in my time frame. When I mostly used my powers, Exo-M was unaffected by it. So everyone can't move but the people that I choose. So it would be wise for you all to be nice to me~" He giddily laughed.
Exo-K rolled their eyes. You bobbed your head in understanding *That's pretty cool…* Your eyes turned to Luhan. "What power do you have?"
*Telekinesis.* Chanyeol already knew.
Luhan didn't reveal his power. Instead, he showed it to you. Luhan reached one hand out. All of a sudden, you felt very light. *Something feels strange. Why do I feel as if I'm floating…?* You looked down and shrieked. *I'M FLYING?!* Your body was floating mid-air. You kicked your legs but you couldn't come down. Luhan kept you floating there like a cloud.
"STAR! STAR!" Exo-K panicked. Chanyeol snarled, "PUT HER DOWN AT ONCE!"
Luhan shrugged and transferred you towards the right. "What are you doing?! Where are you taking me?!" You squealed in panic. *To your rightful place.* Then Luhan moved you right in front of Kris. Your eyes widened as you came face-to-face with him.
Kris intently gazed back. He didn't stop Luhan nor persuade him further.
Then Luhan abruptly dropped his hand and released his control from you. You went plunking downwards immediately.
Kris reflexively held out his arms and you dropped into them.
*Ohmygod. There went my heart.* You silently exhaled in relief but froze. You realized you were still in his arms. You slowly looked up to meet his eyes once again.
Exo-K stared at the two of you. Luhan smirked *And that, my new comrades, is who she really belongs with.*
Chanyeol gritted his teeth. He wished he could have a superpower, too, so that he could wipe out these invaders from his life forever.
The bell rang and you became flooded with relief. *Saved by the bell!* You wriggled and Kris let you down.
You ran over to the door with a flushed face. After taking a deep breath, you opened the door. "Pizza and chicken is here." The delivery boy said. "I'll be right back with my wallet." You darted off into the kitchen.
Xiumin came to the door and curiously examined the boy. He blinked, feeling defensive by the way Xiumin was staring at him, "Yes?"
Baekhyun smoothly appeared by the door with an apologetic box, "I'm sorry. He's a little out of it." He leaned towards Xiumin and hissed, "Don't stare at humans like that. They feel awkward!" Xiumin shrugged and walked away. Baekhyun shook his head and pulled out his wallet, "How much?"
By the time you came back, the delivery boy was gone. "Eh?! Where'd he go?!" You asked, baffled. "I took care of it, Star." Baekhyun said. You grew grateful and thanked him.
"Let's eat!" Sehun forgot about the hostility for a moment and opened one of the pizza boxes on his lap. Lay and Chen glanced at each other. Were they supposed to eat, too? "What are you doing just sitting there? Aren't you going to eat?" You asked.
"What is that anyways?" Xiumin sniffed the food.
"Pizza. It's…human food. Just try it. I'm sure you'll like it." You glanced at Sehun who was stuffing his face with his 3rd slice already. "Sehun, aigoo, slow down! Nobody will steal your box!" You shook your head. He glanced around, chewed a bit more, and then swallowed.
You looked at the rest of Exo-M, "Well? Aren't you going to eat?"
After a wary pause, Exo-M joined the table. Luhan waved his hand and a few chairs from the kitchen set themselves in the living room. You raised an eyebrow, "You better use your telekinesis to take all this back into the kitchen, araso?" Luhan shrugged and picked up a pizza slice. You rolled your eyes and shook your head *That conniving alien! Ugh!*
"Come and eat, Star." Suho waved his hand. "For the last time, it's Soulmate. Get it, right." Xiumin said. D.O. and Chanyeol sent him dirty glares. You sat next to Kai and opened a box of pizza. He handed you a plate and you thanked him.
Kris watched the two of you interact. *He's Kai. He's always the one that is with her.*
You had something on your lip and Kai wiped it away with his thumb. "Messy." He lightly pushed your head but there was an affectionate smile on his face. "Ow! Hey! Don't bother me while I'm eating. You don't even bother dogs while you're eating." You took a big bite of the pizza and he laughed at you.
Kris pinched his eyebrows together. He didn't like how the two of you were close. Too close for your good.
"Oh, yeah. You don't even know what our duizhang's power is." Xiumin grinned.
"What is duizhang anyways?" Sehun asked.
"It means leader, oh ignorant one." Xiumin answered and Sehun frowned. *I'm not ignorant!*
Xiumin turned back to you, "Aren't you curious what your future husband's power is?" He winked and you choked on your pizza. Kai immediately patted your back. He shot Xiumin a warning glare, "I would appreciate it if you wouldn't spout such nonsense to her while she's eating."
Xiumin protested, "It's not nonsense. It's true. According to the prophecy-"
"Xiumin." Kris warned.
"Shutting up." He pretended to zip his lips.
"Which one of you is the leader?" Chanyeol growled. Exo-M all turned to Kris.
Chanyeol narrowed his eyes *So you're the culprit who is trying to steal my Star away from us.* He stood up and pointed right at him, "You and me. Outside. Right now."
Kris raised an eyebrow. He wasn't the type to be intimated by anything, nonetheless a temperamental alien who had no superpowers. Kris and all 187 centimeters of him fluidly stood up.
You immediately came in the middle, "Hey, hey. Remember rule #1? No violence? That applies to both of you."
"I don't like him! He's unworthy to stay here!" Chanyeol hissed.
"Not liking me just because I'm destined to be Haebin's soulmate doesn't make you any better either." Kris lowly growled.
You whirled around to face him, "Whoa there, cowboy. Slow down. One, I am NOT your soulmate. I don't remember ever signing up to be such a thing. Second of all," You gave him an odd, suspicious look, "How do you know my name?"
"Like we've been saying ever since we met you, you're his soulmate. He knows everything about you." Xiumin exasperatedly sighed.
*And that's not creepy at all…STALKER!* "And I'll say this for the last time I AM NOT ANYBODY'S SOULMATE!" You stomped your feet.
"Are, too." Xiumin made a face. "Don't fight your destiny. Learn to accept it."
You glowered at him with blazing eyes *Is he seriously going to play this game with me?*
Kai took your arm and pulled you back, "That's enough. Chanyeol, don't keep picking fights with the other side. They're not worth it. And the rest of you," He eyed Exo-M, "Star isn't your Soulmate so quit saying that before I kick you out of this house myself. Let's just eat in peace."
The room turned quiet again. Then Sehun snickered, "Yeah, because Star is our destiny."
Luhan waved his hand and Sehun's pizza flew right out of his hand.
"HEY! I WAS EATING THAT! STAR!" He whined.
Luhan smirked and exchanged hi-fives with Tao.
You covered your face *What have I gotten myself into?*
^ Back to Top