Chapter 8
by taefanyisreal
Tags snsd taeny yulsic | Report Content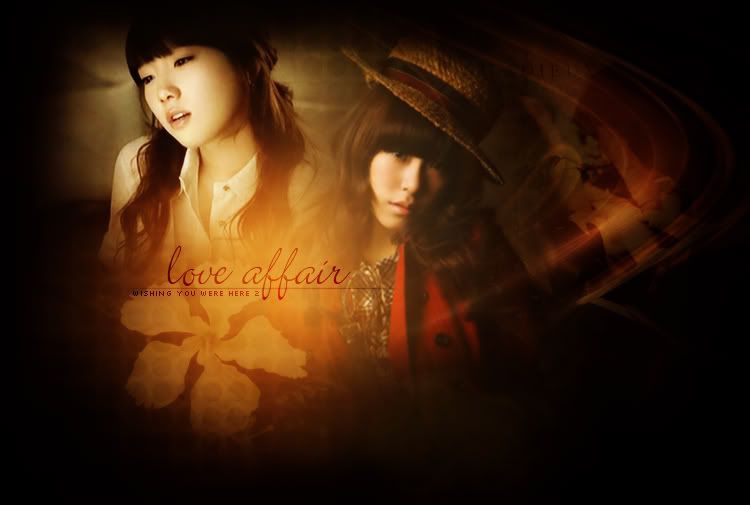 "Who are you to be in my house?!" A loud voice of a man screamed from behind Jessica.
Startled by the loud scream, Jessica turned around to face the man who seemed to be in his twenties.
"I can explain! I-"
"What's going on Hyukjun?" A woman's voice entered the house as her figure slowly appeared in front of Jessica's eyes. Once she saw a small skinny girl in pajamas standing inside the house, her eyes widen.
"And who are you, miss?"
"I'm-"
"Woah, who do we have here?" Another voice was heard, interrupting Jessica from answering their question.
"Why are you in our house?! Answer!" The man by the name Hyukjun yelled once again and startled Jessica.
"What's with all the commotion?" A soft whine entered the scene. It was no other than Yuri who was disturbed by the noises.
"Yuri?"
"Oh, umma, appa, oppa!"
"Yuri-ah~" And for the very first time, Jessica ran and stood behind Yuri like a frightened little girl who has just been bullied.
"Oh, so you are Jessica, Yuri's?friend." Mrs Kwon said, after Yuri explained everything to them.
"Then why didn't you just say so?!"
"Oppa!"
"Be quiet, Hyukjun. You're scaring the poor girl." Mrs Kwon scolded at her son and slapped him over the head.
"Umma!"
"I was about to explain myself, but I kept getting interrupted by people coming in." Jessica clarified.
"See? She had her reasons. You were too reckless and rude." Mrs Kwon scolded her son again. "Well, you girls go clean up then come out for breakfast."
"Yes ma'am."
***
At the breakfast table, Yuri and Jessica sat next to each other. Facing them on the other side of the table was Yuri's mom and her brother, Hyukjun; while her dad was sitting at the end of the table.
No one has said anything and the air was silent and awkward.
"So Jessica," Mrs. Kwon broke the silence. "You must not eat a lot since you look very skinny."
Yuri scoffed. "You must be kidding umma. All she does is-" Sadly, she was never allowed to finish her sentence after she felt the icy, deadly glare from the girl sitting next to her.
"Well, we haven't really heard too many things about you from our daughter," Mrs. Kwon spoke again. "Why don't you tell us about yourself?"
"Um...well, there isn't much about me to say." Jessica answered. "Why don't you tell me more about your daughter? Her childhood?"
"There isn't much about my childhood, don't bother."
"Don't be rude, child." Mrs. Kwon scold then turned back to Jessica. "Hmm?her childhood. She wasn't a very obedient child when she was young. She would run off to places and would worry the whole family." She described. "Ah, and when she was young, she would always sneak into my room while I was changing."
"Umma!!!" Yuri yelled as her face turned pink from the memories of her embarrassing childhood. And just as she thought, Jessica, who was sitting beside her, was laughing conservatively; she didn't want to look improper in front of Yuri's family.
"So she was perverted since child." Jessica joked which caused laughter amongst everyone, excluding Yuri.
"You guys are so mean." Yuri protested.
"So how long are you guys staying here for?" Mr. Kwon inquired.
"I believe we are leaving today." Jessica answered in place of Yuri seeing that she was still upset and embarrassed from the joke earlier.
"Aww, why don't you guys stay longer?" Mrs. Kwon suggested.
"Umma, they have school." Hyukjun responded. "Right, Yul?"
"Maybe next time." Jessica said.
After bidding their farewells, the two girls left the Kwon resident and headed back to where Taeyeon and Tiffany should be, the Kim's house.
***
Over at the Kim's house, Taeyeon was still sleeping when Tiffany has begun to open her eyes. She stretched her arms out a bit the n turned to her right where her lover was lying; her waist still wrapped in Taeyeon's arm. She stayed in that position and watched Taeyeon, whose eyes were still closed and was unaware that someone was watching her.
I'm sorry, Tiffany thought. Slowly her eyes began to get teary as she continued to watch her lover. She soon felt the movement and looked away to wipe her eyes.
"Yah, what are you doing?" Taeyeon softly asked.
"Ah....nothing. I'm just rubbing my eyes." Tiffany responded and quickly smile.
"Babo." Taeyeon remarked then leaned closer to the girl next to her and laid a soft kiss against her cheeks. "Good morning, Fany-ah."
"Good morning Tae-Tae-ah."
After lying there with each other for another while, the two girls got up to get ready. They had breakfast with Taeyeon's family then quickly packed their things to return to Seoul. Yuri and Jessica made it in back in time to join Taeyeon and Tiffany as they packed their things.
About an hour later, the four were found at their seats on the bus back to Seoul. The bus ride this time was quiet. All four of them were exhausted and it showed in their tones, attitudes, and silences. Jessica was the first one to fall asleep. Her head rested comfortably on Yuri's shoulder who eventually fell asleep also leaving Taeyeon and Tiffany still awake.
The two sat there next to each other, not talking, just sitting there when Taeyeon suddenly brought Tiffany to her embrace.
"What's up?" Tiffany asked out of curiosity to her lover sudden movement.
"It's cold in here, I just want to keep you warm in my arms." She responded.
"With your little body?" Tiffany chuckled but found herself leaning in even closer to Taeyeon.
"Hey, at least it's better than not having this little body hold you, right?"
"Sure."
"Fany-ah," Taeyeon softly called. "You've been acting strange lately, what's the matter?" She questioned and awaited for the answer. After a few seconds took place with no response, she assumed that her girlfriend has fallen asleep since she could not see her face. She shook her head then leaned back against the seat and closed her eyes.
It appeared that Tiffany wasn't sleeping. When she felt that Taeyeon has leaned back, she opened her eyes again. She just wanted to avoid the question, since she couldn't answer the question truthfully anyways it was best to not answer it at all.
Sixty minutes passed by. She couldn't fall asleep and sat up straight, removing her body from Taeyeon's arms. It was still cold in the bus due to the air-conditioner so she put her hands together to keep them warm. She looked at the scenery through the windows and gazed upon it.
Yah, she told herself. Stop showing your worries to her. You have to hide them well. You have to show her your happiness. You have to forget what has happened and enjoy the remaining times with her. She then turned back and looked at Taeyeon, who was still sleeping peacefully.
"What's with you acting so strange lately?" Jessica voice caught Tiffany attention and made the latter turn towards her.
"Why aren't you sleeping? You love to sleep. Go back to sleep." Tiffany instructed, once again to avoid that question.
"I do love to sleep. But I also love my friends and care about them." Jessica stated.
"Friends? I'm your only friend."
"Stop trying to avoid my question." Jessica declared. "What's the matter?"
"I...will tell you later."
"Does it have to do with that strange phone call during your visit in the states?"
"Maybe."
"Well...good enough."
***
It was around 6PM when the girls got back to the university. Tired, exhausted they quickly went into their rooms and crashed on their beds.
Knock. Knock.
"Jessica go open the door." Yuri whined as her body stretched out on her bed.
"Are you really asking me to open the door?" Jessica asked sarcastically while still laying on the bed comfortably.
The knocking continued.
Yuri grumbled but gave in. "This is what I get for having sleeping beauty, a lazy one to be exact, as a girlfriend and roommate." She muttered under her breath. She looked at the peek-hole and saw that it was Yoona. "Hey, what's up?" She asked after she has opened the door.
"Unnie, we're going out for dinner, wanna join?" Yoona asked.
Yuri raised her eyebrows. "Join, or pay for you guys?" She asked skeptically then quickly noticed another girl besides her. "She must be your roommate, Seohyun?"
Yoona nodded and Seohyun bowed respectfully.
"How did you guys know that we're back?" Yuri asked.
"Oh, we were sitting near the entrance and saw you guys came in." Yoona answered.
"What were you guys doing sitting out there?"
"Just...sitting?" Yoona responded with a questionable expression on her face.
"Right."
"Anyways, so do you want to join us?"
"You never answered me. Join, or pay?"
"Join." Yoona answered. "But you can pay too if you want." She smiled.
Yuri looked at her cousin skeptically again. She knew that smile. She's seen it too many times. She's up to something, she thought. "Fine. I'll get Jessica. You guys go ask if Taeyeon and Tiffany want to join us."
***
The girls have just made their orders, and their waitress has just walked away. It wasn't a fancy restaurant, just an ordinary Korean restaurant. They sat at a rectangular table with Taeyeon, Tiffany, Yuri, and Jessica sitting on one side facing Yoona and Seohyun on the other.
"Yuri unnie," Yoona suddenly called and caught Yuri's attention. "So there's this unnie that I'm close to in the dance club, she's going clubbing on the 22nd to celebrate her birthday with some friends, you guys want to come?"
"I knew you were up to something." Yuri asserted."Let me guess, you want to go and want me to keep it from your parents."
"Please?" Yoona whined.
"I haven't been to a club. I want to see how it's like." Tiffany suddenly spoke.
"Yeah, let's go with us Fany unnie." Yoona excitedly suggested.
"What do you think, Tae-Tae ah?"
"Uh..." Taeyeon hesitated. She didn't like the idea too much. She didn't like the thought of other guys looking Tiffany in a dress, since knowing her girlfriend well enough, she figured that Tiffany would be in some sort of really short and revealing dress. On the other hand, she thought. I could also be looking at her in that dress.
"Tae-Tae ah~"
"Uh..yeah sure, if you want." She quickly responded.
"Well, I guess I'll go too." Yuri stated. "What about you, Jess?"
"Yeah, I'll go." Jessica answered and surprised the rest. She then leaned over and muttered into Yuri's ears. "You think I'd let you go alone so you can check those club girls out?"
After hearing what Jessica has just said, Yuri had a huge grin on her face. I should make use of her jealousy more often, she thought.
"So we're all up for it?" Yoona asked to confirm. Everyone nodded. "Seohyun-ah, I think we should go shopping for dresses tomorrow." She proposed.
"Yes unnie." The quiet, obedient girl finally spoke.
"Hmm, I also need to look for something nice to wear too. Let's go to the mall tomorrow." Tiffany said.
"Sure." Taeyeon responded. This should be interesting, she thought.
^ Back to Top