Chapter 2
by taefanyisreal
Tags snsd taeny yulsic | Report Content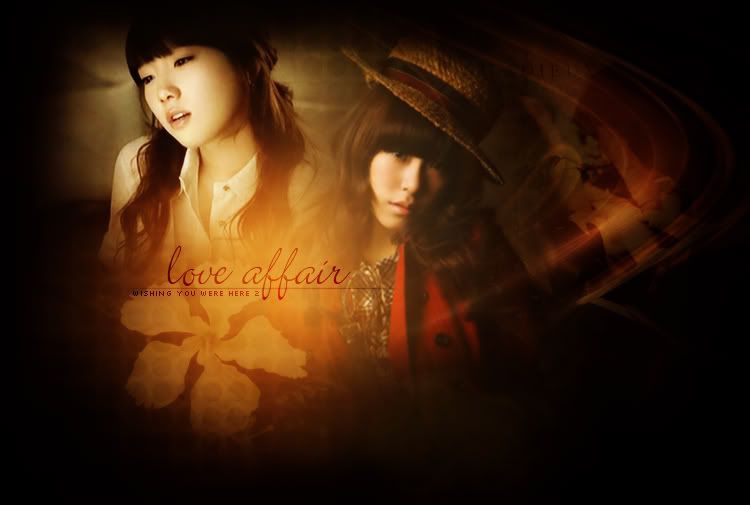 Tiffany slowly parted her lips from Taeyeon's releasing the passionate kiss that they had just shared. She lifted herself up above Taeyeon's body though her eyes were still locked to Taeyeon's. After smiling to Taeyeon she landed her body on the bed. She then wrapped her arms around Taeyeon's waist and rested her head on her right arm. "You don't know how much I missed you." She stated and hugged Taeyeon tightly.
"I know…"
Taeyeon stroked Tiffany's hair with her only free hand smiling at her dorky "wife". "Because I missed you just as much." I missed you even more since Yuri and Jessica continuously bragged about their relationship. I was jealous of them since you weren't here with me.
"…" Silence swept the room as the two girls lie on the bed holding on to each other.
"Tiffany ah…are you just going to sleep like this?" Taeyeon suddenly asked and nudged the silent girl besides her. "You haven't changed nor showered."
"Don't interrupt the mood, Taeyeon ah…"
"No. You go shower you dirty little thing." Taeyeon commanded and pulled the already dozed off Tiffany out of bed. "Come on, go shower. You haven't showered for at least 17 hours, go."
"How about…you and I…shower together?" Tiffany winked.
"What?!"
"You did say you wanted to take our relationship forward."
"Should we…?"
After hearing what had just slipped out of Taeyeon's mouth, the bewildered Tiffany's eyes popped wide opened. She blinked a few times before snapping back to reality. "Ya…"
"I was kidding. Now go shower." Taeyeon instructed and gave Tiffany a slight push.
"Ok." Tiffany responded. "But you should push our beds together while I shower. I mean, don't you want to sleep with me?" She gave Taeyeon her wide mischievous smile again.
"Why me?"
"Because you're my man."
Taeyeon turned her head around to hide the wide grin that appeared on her face. "Ok fine." She replied.
***
After nearly an hour of reading her favorite English book to Yuri, Jessica felt that her eyelids have gotten heavier and heavier. "Yuri ah…" She called and placed the book down on the desk next to her bed. She looked down only to find that Yuri's eyes are closed and that she has fallen asleep comfortably on her lap. Smiling at the pretty face in front of her eyes, she stroked the owner's hair calmly.
"Yuri ah…you're such a good kisser…but your acting is not nearly as good." Jessica said casually as she continued to stroke Yuri's hair. "It's hard to hold that smile in isn't it?" No response from Yuri. "Ya, go back to your bed and sleep." Still, no response from Yuri. "If you want to sleep with me then at least turn around so I can lay down as well."
Just as Jessica had expected, Yuri slowly repositioned herself parallel to Jessica's body. "You're so sly." Jessica remarked as she lie her back down on the bed next to Yuri.
"I love you." Yuri whispered to Jessica's ears then wrapped her arms around Jessica's waist holding her tightly.
"I love you too." Jessica responded. "Just make sure you don't interrupt my sleep." She added followed by Yuri's chuckle.
"Ah!" A scream was heard from the bathroom.
"Aish, what are they doing in there?"
"Don't mind them, just sleep."
***
"Ah!"
"What happened?!" Taeyeon asked and without any second thought, she opened the door to the bathroom. By the time she could see anything, she was already greeted with Tiffany's intensified hug.
"Bug! Bug! Bug!" Tiffany screamed holding onto Taeyeon tightly.
After registering what Tiffany had just said, Taeyeon noticed the filthy insect crawling on the floor. It was a cockroach. A big one too. She quickly pushed Tiffany to the side and grabbed a broomstick behind the door. After a continuous beating by the broomstick, the giant cockroach now stayed motionless. Taeyeon poked the cockroach to make sure it is dead like how she wanted it to be. Then she grabbed a large amount of toilet papers and used them to pick up the flat insect on the floor. Flushing the toilet she disposed the insect and the toilet papers used to pick it up. Once she turned back around to check on Tiffany, she noticed that Tiffany was actually covered only by a towel around her body. Her eyes widen and her cheeks flushed.
"What?" Tiffany asked. "Do I turn you on?" She winked.
"I don't know what you're talking about." Taeyeon responded turning her eyes away from Tiffany. "Get dressed and go to sleep." She instructed before walking out of the bathroom.
Tiffany came out from the bathroom after a while in pajama pants and a pink t-shirt on. She had a huge and mischievous grin on her face gazing at Taeyeon's body that was lying on their joined bed. She quickly ran and jumped on the bed when Taeyeon suddenly stood up.
"My turn to shower." Taeyeon stated then made her way into the bathroom leaving the disappointed Tiffany on the bed with an upset expression on her face.
***
Morning came and woke Taeyeon up. She started to open eyes and quickly felt her inability for movement. By the time she has completely opened her eyes she realized that Tiffany's head was on her left arm and both Tiffany's arms and legs were wrapped around her body. Geez am I her pillow? Taeyeon thought. She shook her head in disbelief then began to observe Tiffany's sleeping face. Gosh she even pouts when she sleeps. Taeyeon chuckled softly then uses her right hand to clear Tiffany's bangs from her face to be able to see her face even clearer.
Staring at Tiffany's face, Taeyeon couldn't help but to smile. Why was I such a fool before? Without you my life would've been a failure. She thought and stroked Tiffany's hair. She enclosed the gaps between their faces then laid a soft kiss on Tiffany's cheek and quickly pulled herself away once she felt movements.
"TaeTae, I love you."
"What?"
"TaeTae, I missed you a lot."
"Ya Tiffany, are you sleep talking?" Taeyeon asked in soft whispers to Tiffany's ears but received no response. Once again she shook her head and continued to watch Tiffany sleep. She then suddenly felt the urge to find out what time it was and looked towards the clock. It read 9:02AM. "Tiffany ah, wake up. It's already 9." She called and nudged Tiffany.
It is unknown to her whether or not Tiffany heard Taeyeon's call but she leaned in even closer against Taeyeon's body and tightened her grip on Taeyeon's body. With Tiffany's face now directly facing her chest, Taeyeon's cheeks quickly flushed in pink. The tickling feelings caused by Tiffany's breath on her chest are now screaming out her wild thoughts. Taeyeon quickly shook it off then pushed Tiffany's back onto her arm, easing the crazy thoughts that ran through her mind.
The push that Taeyeon gave Tiffany actually woke her up as she began to rub her eyes. "Good morning." Tiffany mumbled while trying to open her eyes to the bright morning. "Taeyeon ah, why are you cheeks so red?" She asked once she was able to completely open her eyes.
"No it's not!" Taeyeon exclaimed and looked away. "It must be your eyes. They're…they're not used to the brightness yet." She reasoned refusing to tell the truth.
"No, it still looks red to me."
"I'm going to get ready." With that, Taeyeon stood up from the bed and went straight to the bathroom doors.
"What's with her?"
***
After an hour, all four of the girls were found eating breakfast in the university cafeteria.
"I want to do something before school starts." Tiffany spoke in between her spoonful of cereals.
"Like?" Jessica asked.
"We can go to the themed park again." Taeyeon suggested.
"We always go there, boring." Yuri commented.
"How about we go to the countryside?" Tiffany excited suggested then shoved her cereal bowl to the side.
"We can go to my house."
"Oh…I see where this is going to." Jessica stated then rolled her eyes. "You want to go see your parents-in-law."
"Oh yeah…I didn't think of that! I get to see your family TaeTae ah!" Tiffany screamed excitedly catching the attention of many pairs of eyes around them. Finally, noticing that all eyes were on her, she quiet down and sat still.
"When should we go?"
"Today!"
^ Back to Top