Chapter 7
by taefanyisreal
Tags jeti snsd taeny yulsic | Report Content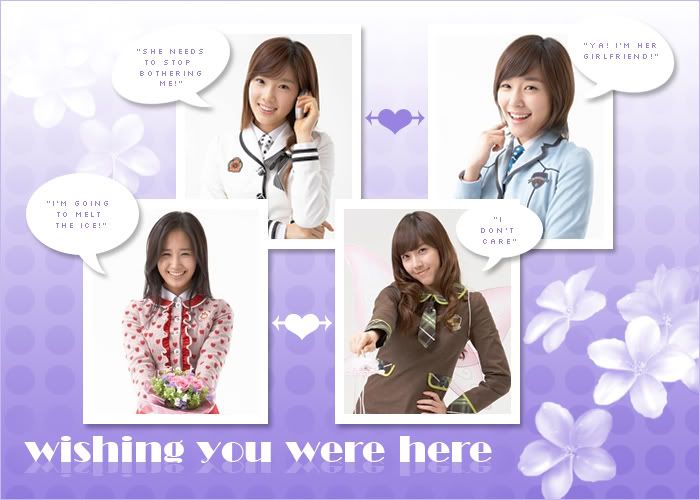 Tiffany put her bags down then with the box still hiding from Jessica, she left the room again. Obviously she has bought a new phone for Taeyeon and is now looking for her. She knocks on the door of Taeyeon's and Yuri's room. No one answered. She knocks again. Still no one answered.
"Maybe they're down the cafeteria?" Tiffany wondered then headed for the cafeteria. But before reaching the cafeteria, she saw Taeyeon and Yuri leaving the cafeteria, heading towards her direction. Perhaps they were returning to their dorm. Just when Tiffany was about to call out Taeyeon's name, Junsu came out of no where and got Taeyeon's attention. She saw Yuri walked away leaving them alone then Taeyeon and Junsu walked towards the stairs away from the crowd. Without knowing why, Tiffany had sneaked behind the door close by and overheard their conversation.
"What is it, Junsu?" Taeyeon asked.
"I got something for you." Then he pulled a box out from behind him. "I know that you don't have a phone anymore so I bought you this." Junsu said then handed the box to Taeyeon as he smiles to her.
Oh my gosh, he bought her an iphone! Aish that guy. Tiffany thought as she looks down at the phone she bought Taeyeon. I'm sure that iphone is better than this pathetic phone.
"Woah! It's the cool iphone that was on those commercials!" Taeyeon got really excited about the phone, but then calmed down again.
Just look as how happy she is. I guess she won't want my phone anymore. Tiffany thought and sadly walked back to her room.
"Junsu, I don't deserve this kind of present from you. I can't take it." Taeyeon handed the box back to him.
"It's no biggie. As long as you like it, it's okay. Just take it. Well, I have to go now." Avoiding of getting rejected, Junsu shoved the box to Taeyeon then quickly walks away.
"Junsu! Junsu!" Taeyeon shouted but Junsu just kept walking away. She sighs then walks back to her room.
***
"So what did you guys talk about? Did he ask you out?" Yuri asked as Taeyeon came in the room.
"Don't tease me. I'm already annoyed. He gave me this iphone but I don't want to take it." Taeyeon said as she puts the box on her desk.
"Oh, that phone is really expensive! You can listen to music and surf the internet on it." Yuri complimented the phone as she looks at the box.
"I know, but if I take it, it's like giving him hope. And I don't want that." Taeyeon reasoned.
***
"Where did you go again? With that box? Don't think I'm blind, I saw it the first time." Jessica interrogated Tiffany as she came in the door with the cell phone box in her hand. Tiffany didn't answer and just sat down on her bed leaving the box on her bed. By the time Jessica noticed Tiffany's sad face, she realized something must have happened. She didn't say anything. She's never like that unless it's something serious. Jessica thought. "Tiffany ah, what's wrong?" Jessica asked as she stood up and sat down on the bed next to Tiffany.
"Nothing. Nothing's wrong. I'm fine." Tiffany replied and forced out a smile on her face.
"Alright then, but if you want to talk, you can always talk to me ok? Just not when I'm sleeping or when I'm eating." Jessica joked as she stood up and walked back to her bed. I know she's not fine. I can tell that her smile was forced. I've known her long enough to be able to tell the difference between her hyperactive smiles and her forced ones. But I won't force her to tell me now. She thought.
Tiffany lied down on her bed and faced the ceiling when she thought to herself, Jessica's right. What's wrong with me? Why am I acting this way over a person I've just known? Aish forget it, Tiffany. You're A ok! Yeah! I'm the Fany Fany Tiffany, I will always be happy. And she smiled again to herself.
"Tiffany, lets go out again tonight. What do you think?" Jessica suggested, thinking that it would make Tiffany feel better. "And maybe we could invite Yuri and Taeyeon too, since you like it when there are more people."
I knew Jessica was trying to make me feel better and if I refused it would only convince her that there IS something wrong with me. Tiffany thought as she replied "Are you serious, Jessica? Of course! Yay!"
***
It was dinner time and there was no way Jessica could miss such a crucial time of the day. She and Tiffany went to the cafeteria and to have dinner when they saw Yuri and Taeyeon and invited them to sit with them.
"Hey Tiffany, Jessica." Yuri said as she sat down on her chair.
"Would you guys want to go with us to the shopping center after dinner?" Tiffany excitedly asked.
"I'm interested! You, Taeyeon?" Yuri turned to Taeyeon and asked excitedly.
"Yeah, I'll go." Taeyeon replied.
So after they finished eating dinner and getting their things, the four of them took a taxi to the shopping center.
"Hmm…I think it would be better if we split up since we might not like where the other person want to go." Yuri suggested.
"Yeah, that's fine. Let us trade phone number so we can regroup later." Tiffany said as she pulls out her phone.
"Here is my number," Yuri showed Tiffany her phone and she and Tiffany exchange their numbers.
"And here is mine," Jessica exchanged number with Yuri.
"Yeah, just in case she goes off to some hotel or restaurant without telling us." Tiffany joked only to find Jessica's slap on her shoulder.
"Well, in that case. I'll just stick with Yuri since I don't have a phone." Taeyeon said surprising Tiffany.
"You… don't have a phone?" Tiffany surprised and asked again.
"You know that I don't." Taeyeon reinstates herself.
I don't know why but when she told us that she still doesn't have a phone, it made me smile. Tiffany thought to herself as she smiled and Jessica took notice of her smile.
After that, they split up and shop in pairs. Taeyeon with Yuri and Tiffany with Jessica. That night, Jessica noticed how Tiffany shifted from forcing out her smiles to the hyperactive Tiffany that she has always known. She felt that it had to do with Taeyeon somehow but couldn't figure out what it is. When it was time to regroup again, Taeyeon and Yuri came back with a few bags in their hands and so did Tiffany and Jessica.
"Are you girls ready to go home?" Tiffany asked.
Yuri takes a look at her phone and it was already 10 PM. "Yeah, it's getting late. We should head back now."
And as they walk out of the shopping center to find a taxi, Tiffany rushed to Taeyeon's side.
"So, you haven't gotten a new phone?" Tiffany asked.
"Where do you think I have the money to buy a new one?" Taeyeon gave Tiffany a sarcastic reply. Although she meant to sound mean, it only made Tiffany smiles.
Gosh, she IS weird. Why would she smile at my sarcasm? Taeyeon thought.
"That's great." Tiffany mumbled to herself.
"What did you say?" Taeyeon asked.
"Oh, nothing. Just nothing." Tiffany denied then smiled at Taeyeon again.
And for the first time, Taeyeon couldn't hold her smile in and smiled at Tiffany. But it wasn't because she thought Tiffany was cute. She smiled because she doesn't know what she's going to do with this hyperactive weirdo next to her. She is truly amazingly… weird she thought as she shook her head in disbelief.
^ Back to Top