Chapter 25
by taefanyisreal
Tags jeti snsd taeny yulsic | Report Content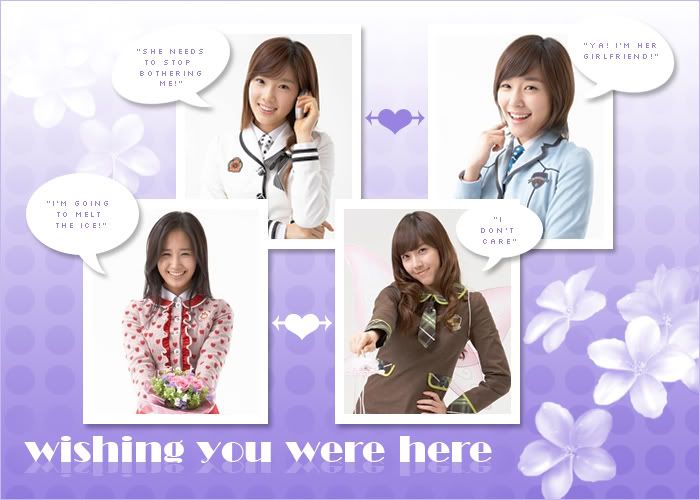 Morning came and Tiffany with Jessica and Taeyeon were found eating breakfast in the cafeteria. Yuri was nowhere in sight.
"Where's Yuri?" Tiffany asked seeing how Jessica didn't seem right.
"Yuri and Yoona went to the theme park together this morning." Taeyeon replied.
"Theme park? That early?"
"Yeah. They used to always be together before moving to Seoul." Taeyeon explained.
"I'm going back to read now." Jessica declared and stood up right after she finished eating her bowl of cereal. Whether she really wanted to go back to her room to read was unknown, though it was obvious that when Yoona was mentioned her mood was even worse.
After Jessica had gotten out of the cafeteria, Tiffany turned to Taeyeon and asked. "Ya, so who's this Yoona?"
"Eh? Why do you care?"
"Can't you see? Yoona totally interrupted Yuri and Jessica's date last night." Tiffany responded. "So who is she to Yuri?"
Taeyeon chuckled, Now Yuri is going to know how I feel when interrupted when she wants to be with someone else. "She's Yuri's cousin."
"Oh…it's just her cousin." Tiffany showed signs of relief. "Hey, how about we join Yuri and Yoona at the theme park?" She excitedly suggested smiling her way out.
"No."
"Please?" Tiffany pouted.
"Don't you still have homework to do?" Taeyeon asked avoiding Tiffany's pout.
"No, I finished it while waiting for you the other night." Tiffany replied with an excited smile still on her face.
"Hey, what are you guys up to?" Sunny's voice was suddenly heard.
"Oh hey, Sunny, hey Sooyoung! You guys want to go to the theme park?" Taeyeon asked with a smile when she saw Sunny and Sooyoung.
"Yeah! I'd love to." Sunny replied with a smile though she noticed that Tiffany didn't look happy at all. Actually she was pretty disappointed that Taeyeon had just told her "no" but when Sunny came, it was a different story.
***
Well, as expected, Sunny was Taeyeon's riding partner during their time at the theme park. Sooyoung and Jessica were riding partners since they always try to sneak off to eat while Tiffany was the only loner. She had to watch Taeyeon being happy with Sunny next to her while riding behind them with a stranger.
"Taeyeon unnie!" Yoona's voice was heard catching Taeyeon's attention.
"Oh, Yoona! Yuri!" Taeyeon shouted back. "You guys having fun?"
"Yeah, definitely! Right, Yuri unnie?" Yoona responded happily as she looks back at Yuri.
"Yeah." Yuri responded. "When did you guys get here?" She asked as her eyes catch Jessica standing next to Sooyoung. "Hey, Jessica." She said but Jessica only gave Yuri a slight nod.
"We just came about an hour ago." Taeyeon replied.
When suddenly Sooyoung screamed. "Mandoo (dumplings?)!!! Jessica let's get some!" Then she dragged Jessica along with her.
Yuri seems like she was about to say something…or held Jessica back but hesitated when Jessica didn't even give Yuri any eye contact. She was then get pulled by Yoona excitedly pointed to a rollercoaster.
"Yuri unnie! Let's go on that one!" Yoona shouted.
"Oh, that ride was very fun! Last time we were here, Taeyeon and I rode it twice!" Tiffany excitedly responded then remembers how fun she was when she was with Taeyeon.
Yup, as expected Tiffany was left with a stranger again while Yuri, Yoona, Taeyeon, and Sunny had their riding partners. And since Sooyoung and Jessica were always together off in their food paradise, Yuri and Jessica never had a chance to talk to each other. Even if they hadn't gone off, Yoona was always with Yuri and thus, Yuri never had a chance to talk to her either ways. After staying there for the entire afternoon, the girls headed back.
***
"Jessica, am I that annoying?" Tiffany asked while lying on her bed in the room with Jessica. "Or else why does Taeyeon always tell me that." She pouted.
"You can be." Jessica responded truthfully. "But I dislike the way she's talking to you like that. I'm sure anyone can find a better way to handle the situation." She added with anger in her tone.
"Should I just give up on her?" Tiffany asked out of the blue as she sat back up on her bed. "My patience is running low. She doesn't seem like she's getting any of my hints. And all she ever does is hurt me. Do you know how much tears and pains I've kept inside of me?" She exclaimed and slowly her voice cracked as drops of tears slips down her cheeks.
Seeing Tiffany crying because of Taeyeon, Jessica wasn't able to stay still. She quickly gets up from her bed then sat down next to Tiffany and lets Tiffany's head onto her shoulder while wrapping her arms around Tiffany's shoulder. "I know. I know how painful it is to see the person you love so oblivious to your love for them." Jessica sympathized. I know this because that is how I feel every moment you're with her. Don't you know how much it hurts me as well? Jessica thought as she continues to console Tiffany.
"Don't you know how jealous I am of you and Yuri? You guys are so cute with each other. Why can't that happens between me and Taeyeon as well? Why?" Tiffany continued to cry on Jessica's shoulder.
"Tiffany…" Jessica paused. "It's okay. You will find happiness one day. And remember, you can always count on me." She said.
After a while of crying on Jessica's shoulder, Tiffany agrees to stop crying and went to bed. Jessica too headed for bed though she wasn't able to sleep. She too wanted to cry like Tiffany but she can't show Tiffany her tears. Kwon Yuri, you're a promise breaker just like I am. You said you'll always be there when I need you, but where are you now? Are you with Yoona? Is she more important to you than I am? Jessica thought as she slowly pulls out her phone and typed up a message. "Yuri, meet me in the cafeteria as soon as possible." But Jessica hesitated then closed her phone without sending the text. I shouldn't bother their precious time together. Jessica thought then pulled the blanket over her head.
***
Unfortunately for Yuri and Jessica, Yoona also stays on the same floor as them, meaning their classes are pretty much the same. Throughout the school day, Yuri was busy with Yoona around her. Jessica took notice of everything and unknowingly avoided any possible eye contact from Yuri. Finally, it was time for tennis practice. However, Yoona wasn't interested in tennis and joined the dance club instead.
"Jessica, I'm sorry I couldn't go to the movies with you last night." Yuri apologized as she hits the ball to Jessica.
"It's fine. It wasn't me who wanted to go anyways. It was Tiffany being naughty and replied to your texts." Jessica replied coldly to Yuri and returns the ball.
"Oh." Was all that came out of Yuri's mouth. Wait, so it was Tiffany the whole time? Not Jessica? Yuri thought with much disappointment in her heart. "Would you want to go out to dinner with me tonight?" Yuri tried again.
"I'm sure Yoona will like it better if you take her instead." Jessica replied coldly.
Did Jessica just deny my invitation to FOOD? Wait, could it that she's jealous? Yuri thought. Jessica is jealous of Yoona? She smiled. "Ah, yes. Yoona would like it." Yuri replied.
"Then take her instead! Why bother asking me?!" Jessica exclaimed and slammed her racket against the ball, almost hitting Yuri. Although she knew she had almost injured Yuri, she ignored it and left the court.
Yuri smiled confirming her beliefs that Jessica is indeed jealous. Noticed that Jessica left the court, she quickly chases after her. "Jessica!"
"What else do you want?"
"You didn't let me finish my sentence." Yuri shouted. "Yoona would like it but I didn't say that I would, did I?" She added causing Jessica to stop walking away. Yuri let out a smile and quickly rushes to Jessica's side. "I would prefer it much more to have dinner with you instead." She said.
"And why would you?" Jessica asked with a hint of a smile on her face.
"Because I can bribe you with food in exchange for anything since you're so easy to trick." Yuri joked.
"Ya! You're a jerk!" Jessica exclaimed then starts hitting Yuri's shoulder.
Even though Jessica's hitting her, all Yuri felt was happiness. She grabs Jessica's hand and pulled her for a hug. "Ya, and you're an ice princess…that's been melted by the great Kwon Yuri." She whispered to Jessica's ears and continued to hug her.
^ Back to Top