Chapter 22
by taefanyisreal
Tags jeti snsd taeny yulsic | Report Content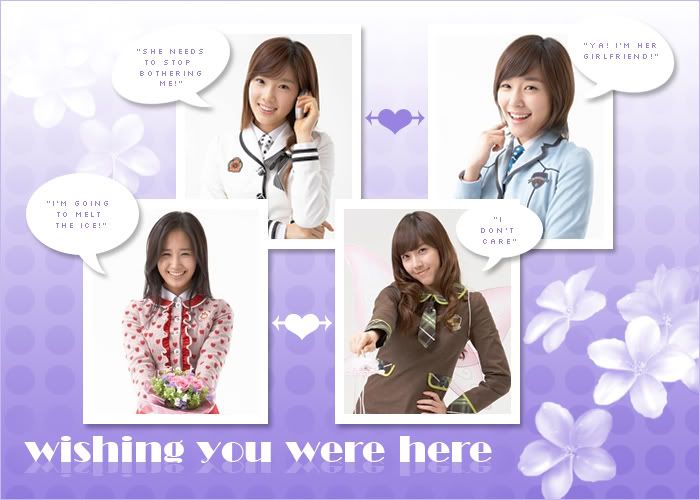 The next day, Taeyeon returned to classes again. Although she was limping along the way, Tiffany was always there to help her. Soon Taeyeon was able to recover fully.
Tennis practice was just over and the four girls returned to their dorms to shower. Tiffany was the last one to shower and thus finished last. Once she finished drying her hair, she quickly came over to Taeyeon's and Yuri's room.
"Where's Taeyeon?" Tiffany asked looking around the room then made a pout.
"Uh…" Yuri hesitated. "Taeyeonnie…went out with Sunny and Sooyoung." She answered. "She didn't tell you?"
"What?! She went out with Sunny and Sooyoung and didn't even tell me?!" Tiffany grumbled with a frustrated face. Then she pulled out her phone and dialed Taeyeon's number. "Your call has been forwarded to an automatic voicemail." She dialed again and the same thing happened. "Ugh!" Tiffany grumbles again as she walks back to her room.
***
"That movie was so good!" Taeyeon remarked as the three of them walk out from the theater. "And Kang Dong Wan was so cute in it." She smiled.
"Yeah the movie was really good." Sunny agreed. "Hmm, I'm hungry do you guys want to eat something?" She asked.
"I do!" Sooyoung shouted in agreement. Both Taeyeon and Sunny laughed at Sooyoung and headed for a restaurant near by.
And as the three walk towards the restaurant, Taeyeon took out her phone and turn it back on. Once she saw the screen of her phone, her eyes widen and her jaw dropped. 52 missed calls?!?! 18 voicemails?!?! And 22 text messages?! What the heck? Was there an emergency? Wait…they'res all from Tiffany. Taeyeon thought as she looks through her phone. Then as she was about to read one of the text messages, her phone rang. It was no one other than Tiffany. "Hello?" Taeyeon answered.
"Ya! Kim Taeyeon! Where were you?! Why didn't you pick up my phone calls?! Why didn't you return my text?! Oh wait, your phone was off. Why was your phone off?! Why didn't you tell me you were going out with Sunny and Sooyoung?! Are you trying to avoid me? Or hide from me?! Ya! Kim Taeyeon! Aren't you going to answer me?!" Tiffany shouted from the other line. So loud that even the other pedestrians near by can hear. If Taeyeon hadn't held her phone 3 inches from her ear, she might have gone deaf.
"Ya!" Taeyeon shouted back. "First of all, lower your voice! You're about to make me go deaf!" Taeyeon stated. "Second of all, I couldn't have answer you because you had your little monologue there, how am I suppose to answer you?! Third, I turned off my phone because I was in the theater thus I didn't get any of your calls or texts. Anyways, I'm going to eat with Sunny and Sooyoung before we head home so I'm going to hang up now. And don't you call back or else I swear you won't be alive the next morning." With that Taeyeon hung up without letting Tiffany say another word. She then turned to Sunny and Sooyoung and smiled shyly. "Sorry about that."
"You guys are just like husband and wives." Sunny joked.
"Don't tease me, you know we're just a fake couple." Taeyeon responded. "She is so annoying sometimes." She added.
***
"Ya!" Tiffany shouted in her phone but it was too late, Taeyeon had already hanged up. "Ugh!"
"Are you really going to wait for her?" Yuri asked as she sits on her bed reading a book.
"Yup!"
Yuri shook her head. "What's Jessica doing?" She asked.
"Sleeping." Tiffany answered. "Ya, Yuri. Why are you so interested in Jessica? Do you like her?" She raised her eyebrows and questioned Yuri.
"What are you talking about?" Yuri replied acting dumb.
"You know what I'm talking about." Tiffany smirked.
"What about you? Do you like Jessica?" Yuri asked and paid close attention to what Tiffany has to say.
"She is my best friend of course I do." Tiffany replied.
"What do you think of her?"
"In what area?"
"Um…her looks? Her personality?"
"Well, you know. Jessica wasn't nicknamed the sleeping beauty and the ice princess just because of her hobby and her personality. She is truly beautiful." Tiffany described. "Never mind about me, what do YOU think of Jessica?" She questioned Yuri back. "I can tell by the way you look at her that you're in love with her."
Wow you're so observant when it's about other people's business and not so much about yourself, just like Taeyeon. Yuri thought in her mind as she rolled her eyes at Tiffany. "What about you? I know you are in love with Taeyeon. In fact, the whole world knows it." Yuri tried to change the subject.
"What? Is it wrong to love someone?" Tiffany responded then her mood drop as she added, "If only she was one of those people who knew."
"It's okay, Tiffany. She'll figure it all out one day and you guys will be together." Yuri encouraged Tiffany.
And so Yuri continued to read her book while Tiffany lay down on Taeyeon's bed waiting for her to come home. Thirty minutes passed. When Yuri turned over to check on Tiffany, she had already fallen asleep. Yuri chuckled lightly. At that moment she thought of something then quietly get off her bed and went over to Tiffany's and Jessica's room. Once she was over there, she saw Jessica sleeping on her bed again. "Jessica," Yuri whispered next to Jessica's ears. "Want to get some ice cream with me?" She asked quietly. Suddenly, Jessica sat up and surprised Yuri. Her eyes were still closed.
"Ice cream? What time is it?" Jessica asked as she slowly opens her eyes.
"It's only 8." Yuri replied. "And tomorrow is the weekend so we don't have to worry about staying up late." She added.
"Ok. Let me wash up a bit." Jessica said as she gets off her bed and headed toward the bathroom.
***
After Yuri and Jessica had gotten their ice cream they sat at the table to enjoy their ice cream.
"Jessica ah, you need to start learning how to say hi people." Yuri said as she licks her ice cream cone.
"I do."
"No, you introduce yourself when you first meet someone and that's about the only time when you say hi." Yuri rebutted but Jessica was uninterested in listening to the lecture. "Let's practice by saying 'Hi Yuri.'. Come on say it." Yuri commanded.
"Why?"
"You promised you would give me a chance to melt the ice. And this is the first lesson, now do it." Yuri demanded. Jessica refused to do it by shaking her head.
"I'm a promise breaker." She responded.
"If you don't do it, I'm going to tell Tiffany that you've been secretly in love with her." Yuri blackmailed Jessica and noticed how her eyes widen and slowly and unwillingly agree to Yuri's demand.
"Hi, Yuri." Jessica forced out in her cold and unwillingly tone.
Yuri rolled her eyes as she heard Jessica. "You better do it right."
Even though she made a face, Jessica gave in and repeated, "Hi, Yuri" in a more friendly tone.
"Good. Now say 'Hi, Yuri' again with a sweet smile on your face." Yuri directed.
"Ya! You don't know what you're asking for." Jessica whined.
"I'll buy you another ice cream cone." Yuri added.
"Deal."
Yuri smiled seeing how easy it is to get Jessica to do something. "Then do it."
Once again she made a face then finally did what Yuri asked for. "Hi, Yuri." Jessica said with a sweet smile on her face. A smile that wouldn't have happened in a million years if Yuri hadn't bribed her for it.
Jessica's sweet smile led Yuri in a wonder land as she smiled back to Jessica. Woah. Jessica just smiled…Jessica just smiled! To me! I will never forget this moment in my life. Yuri thought as she dazed out on Jessica's smile.
"Ya. Yuri ah!" Jessica called as she waves her hand back and forth in front of Yuri's dazed out face. "Snap out of it. I know I'm pretty but do you have to be so obvious?" She stated.
Finally, Yuri snapped out of it when she heard Jessica calling her. "You? Pretty? Keep dreaming." Yuri said. "I was dazing off because of that cute boy that just walked by behind you." She added, lying about what had gone off in her mind just a while ago.
"Eh?" Jessica turned around and saw no one. "Where?" She asked.
"He's gone now."
"Whatever. Aren't you going to buy me another ice cream cone?" Jessica questioned as she finished off the cone that she had.
^ Back to Top