Chapter 20
by taefanyisreal
Tags jeti snsd taeny yulsic | Report Content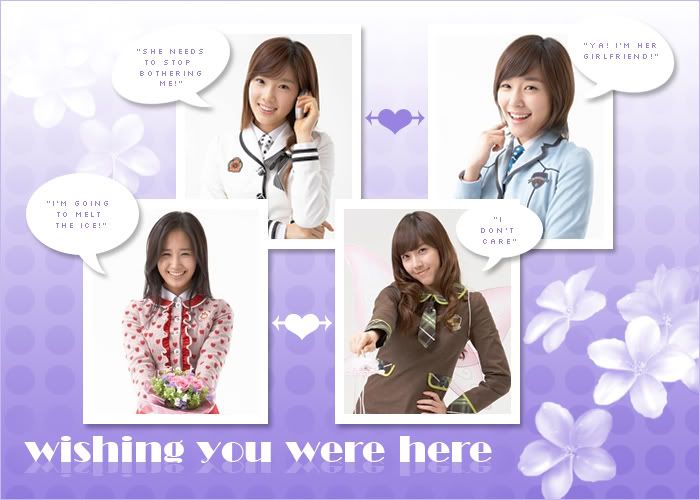 "Jessica! Jessica!" Yuri continues to scream as she chases after Jessica. She wasn't going to let Jessica be by herself knowing what she has just seen. She sped up and step in front of Jessica facing her. When she could see her face, Yuri was surprised to see all the tears on Jessica's face. "Jessica…"
"Leave me alone!" Jessica yelled then pushed Yuri aside and walked forward. Just as she was about to continue walking, she felt a tight grip on her wrist pulling her back. It was no one else but Yuri. Please let me go. Jessica thought.
Once Yuri got a grip of Jessica's wrist, she pulled her back and hugged her tightly. Though Jessica struggles to break free, Yuri wasn't going to let her go by tighten up her grip even more. Soon, Jessica gave in and cried on Yuri's shoulder.
"No one was like her." Jessica cries. "No one cared about me enough to get to know me, but she did. Because of her, I felt as though in my life there was a bit of warmth. Though I never show it but only with her do I feel like I'm a warm-hearted person. I love her, Yuri ah."
"You're doing good. Just let it all out. Just cry as much as you need to." Yuri advised as she pats on Jessica's shoulder and forced a smile on her face. Hearing Jessica's words, it just tears her heart apart. Although she knew it all along, with Jessica confirming it herself only worsen the pain. But what hurts her the most right at that moment was the sight of Jessica's tears. Each drop of tears that dripped from Jessica's eyes is like a stab in her own heart. I can't show her my pains. I have to show her that I am strong, and that I can give her comfort. Yuri thought as she continues to calm Jessica down.
After another minute of crying, Jessica slowly releases herself and looks at Yuri. "Yuri ah…" her voice cracks.
Yuri didn't say anything and just places her hands on Jessica's cheeks. Then slowly she uses her thumbs to wipe Jessica's tears away. After she finished wiping Jessica's tears away, Yuri looked into Jessica's eyes and smiled. "Don't run away again. If you ever need a shoulder to lean on, come to me. I will always be there for you if you ever need me." She stated.
"Yuri ah_"
"Not only can I be a shoulder for you to lean on, I can also be the next person to melt the ice in your heart and in your life. I promise I will make you feel warm again, and not only when you're with me but also when you're with just about anyone. Just give me a chance to do so, huh?" Yuri asked as she looked deeply in Jessica's eyes with as much sincerely as she could show. Jessica looked back at Yuri then slowly nodded and hugged Yuri.
I know this is so wrong but it felt so right to finally open my heart for Yuri. I know it's wrong knowing how I gave in to my weakened heart but I just can't bare this pain anymore. I need someone to ease the pain in my heart, and that person is Yuri.
"Yuri and Jessica to court number 3. I repeat Yuri and Jessica to court number 3."
"I think they're calling us." Yuri said as she lets go of Jessica's hug. "Are you ready to hit?" She asked. When Jessica nodded, both of them headed back.
With Tiffany and Taeyeon gone, on the bench were only Sunny and Sooyoung who continued to watch their teammates. After the four girls introduced themselves, the game begins. Their opponents were definitely a lot better from the previous ones but if Yuri and Jessica try their best, it wouldn't be too bad. And as it seems, both Yuri and Jessica tried their best at this game. Neither of them was losing their concentration and stayed in the game the whole match. After much sweat and effort, Yuri and Jessica won by 8-5.
***
"Is she okay?" asked Tiffany with her worried face again. She couldn't help but to be so worried about Taeyeon.
"Her ankle is sprained, that's all." The nurse replied as she wraps Taeyeon's ankle up.
"See, I told you it wasn't that serious. You were just freaking yourself out." Taeyeon said.
"I've wrapped her ankle so she should be fine now. Just try not to walk on that leg, okay?" The nurse advised.
"So you mean she'll need crutches or how else can she walk without using that leg?" Tiffany asked.
"Yes," The nurse replied. "But I suggest you to not attend class tomorrow if you're going to need to be walking at all. You shouldn't use any strength on that ankle within the next twenty four hours or else it'll get worse." She added.
"Thank you nurse." Taeyeon thanked as she struggles to get off the patient bed in the nurse office.
"Ya! What do you think you're doing? Stop!" Tiffany demanded then bends over in front of Taeyeon.
"Ya, what are YOU doing?" Taeyeon asked mocking Tiffany.
"Get on, I'll give you a piggy ride back since you can't use your ankle." Tiffany said widening Taeyeon's eyes.
"You?! Give ME a piggy ride?" Taeyeon questioned.
"How else do you think you're going to get back in your room? Do you want to just walk and damage your ankle even more?" Tiffany reasoned. Taeyeon rolled her eyes but gave in to Tiffany's demand and got on her back. "Gosh, you're heavy for your size." Tiffany remarked.
"Hey! Then let me off!" Taeyeon shouted.
"No!" Tiffany responded then slowly carries Taeyeon back to the dorm. Although it took her quite a while to go up the stairs, she was able to make it to the dorm. "Luckily we only live on the second floor." She said while dropping Taeyeon on her bed. She breathed heavily then drops herself on the bed as well next to Taeyeon.
"You're the one who asked for it." Taeyeon mocked looking at the panting Tiffany next to her. "Ya, go shower or something. You've been sweating the whole day and now it smells so bad." Taeyeon commanded.
"You say it like as if you're not smelly." Tiffany rolled her eyes. "Fine, I'll go take shower. And once I'm done, I'll help you shower." She winked then hops off to her room to prepare to shower.
"What does that suppose to mean?" Taeyeon blinked in confusion. "Wait, is she telling me that she's going to shower for me?!" Taeyeon asked herself in shock. Just then the door slowly unlocks and Yuri came in. "What happened? You looked brighter today." She asked.
"Nothing." Yuri replied with a smile and just sat on your bed. "How is your ankle?" She asked, remembering what happened during their game.
"I'm fine. I just sprained my ankle that's all but Tiffany made it sound like such a big deal." Taeyeon replied as she stares at her ankle. "Where's Jessica?" She asked.
"Oh, she's in her room. Probably sleeping again." Yuri responded.
"Sleeping? Doesn't she hate it when she's all sweaty?"
"Oh, we took our shower in the locker room knowing it would take forever for all of us to shower back here." Yuri replied as she lies down on her bed. "Didn't you notice I was wearing a different outfit?" She asked Taeyeon back.
"Oh, I see." Taeyeon said. "Wait, you guys took a shower…together?!" She asked causing Yuri to jump up on her bed.
"Ya! What are you thinking?" Yuri yelled and knocked Taeyeon's head lightly. "Get your mind out of the gutter." She demanded. "There are more than one shower stall in the locker room."
Wow, what was I thinking asking that? Is it because Tiffany had just told me she was going to 'help' me shower? Taeyeon thought in her mind as she smiled nervously back at Yuri. "I wasn't thinking dirty, it was just the way you said it." She blamed Yuri.
"Ya Taeyeon. It's still early, we should all go do something fun." Yuri excitedly suggested. Taeyeon didn't say anything and just stares at her ankle. It took Yuri another second to remember that Taeyeon had sprained her ankle. "Oh…I'm sorry." She apologized.
"TaeTae, I'm done showering!" Tiffany shouted as she walks out from the bathroom to Taeyeon's and Yuri's side. "Now let me help you shower." She added widening Yuri's eyes who was just sitting there. "Oh, hey Yuri!" Tiffany smiled once she noticed that Yuri was also in the room.
"No wonder you asked if Jessica and I showered together. `Cause you guys were going to!" Yuri mumbled to Taeyeon's ears. After hearing what Yuri had to say Taeyeon quickly shakes her head and hands denying it.
"What's wrong?" Tiffany asked with a curious face seeing how Taeyeon shook her head. "Anyways, let me help you shower. You're so smelly." She said as she help Taeyeon gets up.
"You guys have fun. I'll go check on Jessica." Yuri stated then quickly went to Jessica's side not wanting to see what Tiffany and Taeyeon were about to do.
"What are you doing?" Taeyeon asked as she struggles not to get pulled into the bathroom by Tiffany.
"What else?"
^ Back to Top