Chapter 17
by taefanyisreal
Tags jeti snsd taeny yulsic | Report Content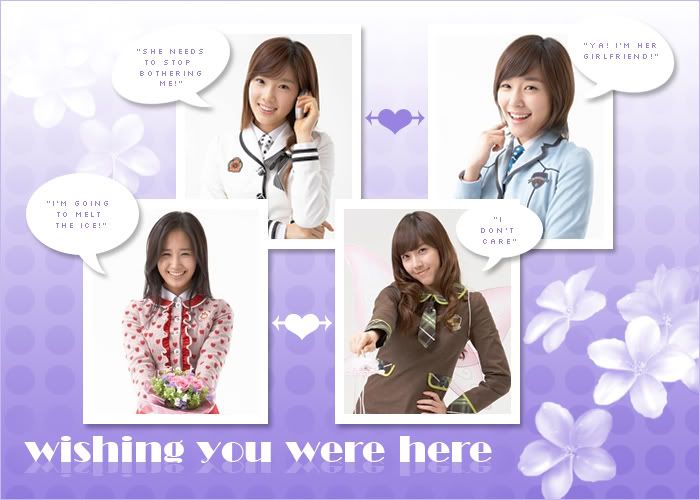 After a while of staying in Yuri's embrace, Jessica has finally calmed down. She released herself from Yuri's embrace. "Did I trick you?" She forced out a cold smile. "I knew you were waiting for me to be emotional so acted out for you. Take it as my gratitude for your sweatband. Did you really think that the Ice Princess would actually cry? Don't be a fool." She chuckled then walked back to the bench.
"If it makes you happy to call me a fool then go ahead!" Yuri said as Jessica walks away. "Me, a fool?" She chuckled. "Babo, you can't lie to me. But if you're not ready to tell me, I won't force you to. Just know that I'll always be there for you." She whispers at the sight of Jessica's back walking away. Slowly she too walks back to the team's bench.
***
"Sunny and Sooyoung, hwaiting!" Taeyeon screams as Sunny just scored a point for her team.
"Ya, Kim Taeyeon. You never cheer for anyone else! Why are you cheering for them?! For HER!" Tiffany protested angrily at Taeyeon.
"Ya, Hwang Miyoung. You need to stop giving Sunny this tone of yours. What did she ever do to you?" Taeyeon scolded at Tiffany.
"She did many things to me." Tiffany mumbled.
"What?"
"Why are you always on her side? I'm the one who's your girlfriend!" Tiffany whines causing the people around to stare at them.
"Ya, be quiet. People are staring at us." Taeyeon demanded. "And remember, we're just a fake couple." She added.
"Kim Taeyeon, I hate you!" Tiffany yelled and stood up to walk back to the other bench where Jessica and Yuri were playing.
With Tiffany's yell, everyone around stared at Taeyeon. It was both curious stares and the annoyed stares.
"Sorry," Taeyeon bowed and apologized. She ignored about the fact that Tiffany walked away and continue to watch the game.
***
"Jessica! Yuri!" Tiffany shouted as she sat down next to Jessica. "How did you guys do? Sorry, I had to go somewhere and couldn't watch you guys play."
"We won." Jessica stated calmly.
"Jessica, why are you eyes red? Did you cry?!" Tiffany quickly noticed and asked.
"You're kidding me. Why would I ever cry? It's my contacts, they're not feeling too good." Jessica lied denying the fact that she did cry.
"Oh, okay."
Just then Tiffany saw Sunye walks past her. She thought of something then quickly followed Sunye.
"Sunye!" Tiffany shouted catching Sunye's attention.
"Hey Tiffany, what's up?" Sunye turned around and asked.
"You know Junsu right?" Tiffany asked. When Sunye nodded she continued, "Can you spread a rumor to him for me?"
Sunye shifted her eyebrows, "Eh?" After seeing Tiffany's secret weapon, her pair of puppy eyes, Sunye finally agrees. "What is it?"
"Can you please tell him that you heard from somewhere that Taeyeon and I are just a fake couple? And we only act as a couple in front of him." Tiffany asked.
"Ookay? And why do you want me to tell him that?" Sunye questioned.
"Just do it, please. Pretty please?" Tiffany nags.
"Alright then, I'll tell him that." Sunye said. "Well I have to prepare for my next match so I'll talk to you later." She added and part with Tiffany.
Ya, Kim Taeyeon. I will never let you go to that Sunny girl. Tiffany thought with an evil smile on her face.
***
"Yuri, are you coming with us?" Taeyeon asked as she gets ready to go out with Sunny and Sooyoung.
"No, I'm tired from today's tournament. You guys have fun." Yuri replied lying on her bed reading a book.
Knock. Knock. Knock. Someone knocks on the door and Taeyeon walked towards the door and opens it.
"Hey, are you guys ready?" Sunny asked excitedly with Sooyoung behind her.
"Yeah, I'm ready. Yuri said she's tired so she won't be coming with us." Taeyeon replied.
"What about Tiffany?" Sunny asked.
"Forget her."
"Why what's wrong? Oh yeah, I heard you guys argue while we were playing. Is everything okay with you two?" Sunny questioned.
"Don't worry about it. She's always immature like that." Taeyeon answered. "Let us go." She suggested.
"Um, ok."
"Going somewhere fun without me?" Tiffany's voice was heard from inside the bathroom. Then as soon as the door opens everyone could see Tiffany walking out.
"Hey Tiffany, join us!" Sunny invited Tiffany when she sees her.
"Thanks for the invitation Sunny, but then again I don't think Taeyeon could go anywhere without me." Tiffany smiled then linked her arms with Taeyeon.
"You guys are so cute." Sunny complimented and smiled at them. "Let's go then." She suggested.
Though Taeyeon wasn't expecting Tiffany to join them, Tiffany did end up going with them. Sunny though, does not seem to notice Tiffany's jealousy and continues to be nice to both of them. The whole night, Tiffany never gave Taeyeon a chance to have a full solid conversation with Sunny. And although Taeyeon had warned her many times not to do so, Tiffany ignored her warnings completely. Finally it was getting late and the girls return to their dorm.
"Ya, Hwang Miyoung! What is your problem?" Taeyeon yelled as the two entered Taeyeon's and Yuri's room. "Why do you always act so immature? Grow up already!" She continues to yell at Tiffany.
"You'll never realize it, will you?" Tiffany cried as she storms through the bathroom doors back to her room.
"Right! Just run back to your room and cry! That's all you'll ever do!" Taeyeon shouted then sat down on her bed. "Did you see that? How immature can she get? I knew she was trouble the first time I met her." Taeyeon pointed at Tiffany to Yuri then sighed.
"What did she do this time?" Yuri asked.
"Like every other time! Always being rude to Sunny and interrupts our conversation the whole night!" Taeyeon replied.
"She's right."
"What?"
"You'll never realize it." Yuri continued.
"What are you saying?" Taeyeon asked.
"Do you really need me to tell you? She's jealous!" Yuri replied. "Haven't you notice that whenever you're around Sunny, you completely ignore Tiffany and everyone else? Even I sometimes feel like I'm no longer your best friend." She continues then gets up from her bed and walks over to Tiffany's room.
"Where are you going? Are you mad too?" Taeyeon asked.
"I'm not that narrow-minded. I just want to go calm Tiffany down." Yuri replied then walks through the bathroom doors to Tiffany's and Jessica's room.
^ Back to Top