Chapter 15
by taefanyisreal
Tags jeti snsd taeny yulsic | Report Content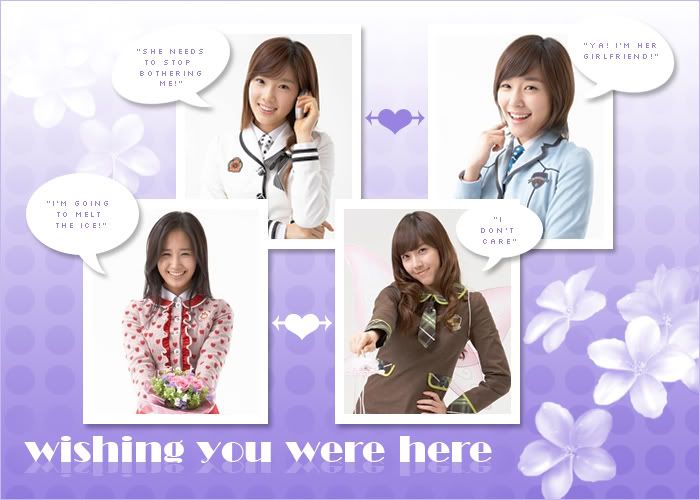 Morning came and woke Tiffany up from bed. Still sleepy she finds her way to the bathroom. After she washed her face she started to brush her teeth, still with only half of her eyes open. Suddenly, the door from Taeyeon's and Yuri's side of the room busts open. Tiffany was shocked then as she looks clearly, she sees Taeyeon enters the bathroom. Tiffany quickly rinses her mouth and wipes her face.
"Ya, you scared me. Who was the one who asked if I didn't see the occupied light last time?" Tiffany scolded at Taeyeon who just kept walking towards her.
"Tiffany ah…" She paused. "I have something to ask to you…" Taeyeon said softly as she steps forward, facing Tiffany at about only about 1 foot from her face. Their eyes are locked into each other's.
Tiffany's heart starts to beat fast since they were standing so close to each other. Her hands start to tremble. "What…is it?" Tiffany asked nervously. Oh my gosh. I've only felt this way when I saw her in the bathroom last time. What's going on with me? She thought.
"If…" Taeyeon hesitated then slowly holds Tiffany's hands bring them up to her cheeks. "If I tell you that I…that I like you more than just a friend…how would you react?" Taeyeon asks nervously still holding on Tiffany's hands.
"Huh?" Tiffany questioned softly. Her heart is beating too fast for her to be able to think clearly. "I…I don't know_"
Just when Tiffany was about to finish her sentence, Taeyeon pulled Tiffany in for a kiss on her lips. Tiffany's eyes widen to Taeyeon's action but did not resist. Finally Tiffany closed her eyes giving in to Taeyeon's kiss and kisses her back.
***
"YA! HWANG MI YOUNG!!! What are you doing on my bed?!?! Ok, ok, I give up. I'll wake up. Stop kissing me already! Ya!" Jessica shouted as she pushes Tiffany, who was lying next to her on her bed, away from her.
"Huh?" Tiffany asks wiping her eyes. When she opens her eyes and found herself lying on Jessica's bed she was shocked. "Why am I on your bed?" She asked.
"You tell me!" Jessica yelled and wipes her cheeks. "Please don't ever try to wake me up by kissing me." She demanded.
"Kissing you? Why would I kiss you?" Tiffany asked with a clueless face.
Jessica raised her eyebrows. "Oh…you must've sleep-walked and got on my bed." Jessica assumed. "So you must have kissed someone in your dream then! Who was it?!" Jessica asked.
It finally hit Tiffany what Jessica is talking about. Wait. Was it that kiss that Taeyeon gave me? It was a dream?! "Ah…I was kissing…Dennis O! Of course!" Tiffany made up and smiled. "And you just had to ruin the moment!" She added.
"Eh? If I didn't wake you up, you would have taken advantage of me." Jessica said, rolling her eyes at Tiffany. "If you didn't wanted to wake me up then I'll go back to sleep. Don't ever get near me like that again." She demanded.
"Whatever. Ok, go back to sleep then." Tiffany said as she stood up and went back to her bed and lie down. Why did I have such a dream? She pondered. And the whole thing felt so real. My heart was pounding and my hands were trembling. And her kiss was...Ya, Tiffany what are you talking about? It was all a dream…a dream Tiffany. And nothing else.
After lying on her bed thinking about the dream for a bit, Tiffany fell asleep again.
***
"Let's ask them to join us." Yuri suggested as she and Taeyeon get ready to go eat breakfast.
"Why? They can go whenever they want to." Taeyeon replied.
"Come on, we're roommates with them. It's courteous to ask." Yuri nags then finally Taeyeon headed in the bathroom.
"Ya, you two! You guys want to get breakfast with us?" Taeyeon shouted from the bathroom. After 30 seconds, no one answered so. Thinking that they couldn't hear her, Taeyeon decided to open the door to their room. As she was opening the door, she heard and felt a bump.
"Ow!" Tiffany growled and rubs her forehead.
"Oh, sorry. I didn't know you were right there. Why didn't you answer?" Taeyeon asked
Tiffany finally lifts her face to see that it was Taeyeon standing in front of her. Just then her dream flashed back in her mind, widening her eyes. Tiffany, snap out of it. It was just a dream! Tiffany thought. "Uh…I…uh…we'll be ready soon." Tiffany responded though she didn't actually answer Taeyeon's question.
"Um, okay..."
After a while, Tiffany and Jessica got ready and join Taeyeon and Yuri to eat breakfast. Once the girls were in the cafeteria, Taeyeon quickly took notice of Junsu's appearance. She quickly gave Tiffany a smile and linked arms with her.
Tiffany was surprised then turned around to question Taeyeon's behavior "What are you doing?" In fact, she was quite nervous when Taeyeon touched her. Her heart felt like it's beating faster. She finds herself stuttering when she asked the question.
"Junsu's over there." Taeyeon signaled to Tiffany. "Why else would I link our arms?" She added.
Tiffany looked around and saw Junsu. "Oh," she replied. With Taeyeon linking arms with her and being so closed, she was once again reminded of her dream. She felt some sweats were about to drip down from her neck as she swallowed. Taeyeon looks so hot today. Omo. What am I saying? Tiffany thought as she continues to walk with the group.
"Ya, Tiffany. What's wrong? Are you okay?" Taeyeon asked as she put her hand on Tiffany's forehead. "You're sweating a lot."
Taeyeon action obviously intensified Tiffany even more. Tiffany continues to stare at Taeyeon's face and continue to sweat like as if she has just exercised for two hours under summer's sun. Her heart beats even faster than before. "Taeyeon ah…I don't think I will be eating with you guys...I'll be back in the dorm." Tiffany weakly replied as she runs back towards the dorm.
"What's wrong with her?" Yuri asked seeing Tiffany had just run off.
"I don't know. Maybe she's sick?" Taeyeon assumed.
***
Once Tiffany got in her room, she went to the bathroom and washed her face. Ya Tiffany. What are you doing? Why are you acting like this? And that dream, why does it keep repeating in my head whenever I face Taeyeon? Tiffany thought as she splashes her face with water. After thirty seconds she wiped her face with a towel then went back to her bed. This has never happened before. Not even when I was literally drooling over Dennis' half-naked pictures. What is wrong with me? Do I…like girls? No, definitely not. There were many pretty girls that were in my life but none of them made me felt this way. Or is it that I might just like…Taeyeon? Ah, I'm so confused. What am I going to do?
Just then Jessica had just come back from eating breakfast with Yuri and Taeyeon. It seems like she hasn't eaten yet since she was carrying 2 to-go boxes in her hand.
"Ya, Tiffany. Are you ok? Since you didn't eat, I brought back breakfast for us." Jessica said as she shows Tiffany the too boxes.
"Jessica, help me."
Jessica was shocked by Tiffany's words and quickly placed the boxes down on the table. Then she walks over to Tiffany's bed and sat down next to her. "Ya, are you okay? What's wrong?" Jessica asked.
"Ah, it's so weird. I don't know what's going on. I have these weird feelings that I've never had. And I'm just so confused! Help me, Jessica! Help me!" Tiffany whines.
"Woah, hold up. You're just saying a whole bunch of stuff. Slow down and tell me the whole story." Jessica requested as she held onto Tiffany's hands calming her down.
"It started last night when I have this dream…" And so Tiffany told Jessica about the dream and how she felt afterwards. "Do you think that I like her? Or why else do I feel this way?" Tiffany asked as she shakes Jessica's arm.
"Well let me ask you one question. If Taeyeon were to kiss you, like in the dream, would you want to kiss her back?" Jessica asked.
Tiffany thought about it for a while then finally responded with a "Yes." Then calmly she continues, "I think I've found the answer now. Thanks Jessica." She smiled. "This is why you're my best friend! Promise we'll be best friends forever!" As she finishes her sentence Tiffany wrapped her arms around Jessica's shoulder giving her a hug.
"Yeah, I will always be…your best friend." Jessica said then forced out a smile. Her tone though, did not sound like she was any bit happy. To be exact, it sounded bitter. "Ok, I'm hungry. Let's eat." Jessica suggested as she stood up from Tiffany's bed and grabbed the to-go boxes.
"Were you just trying to calm me down as fast as possible so you could eat?!" Tiffany questioned raising her eyebrows. "Just kidding. I know you wouldn't do that. Let's eat then." She smiled again and joins Jessica at their little table.
^ Back to Top