The Day After Today?
by sweetukulelegirl
Tags chunji infinite ljoe myungsoo sunggyu teentop you | Report Content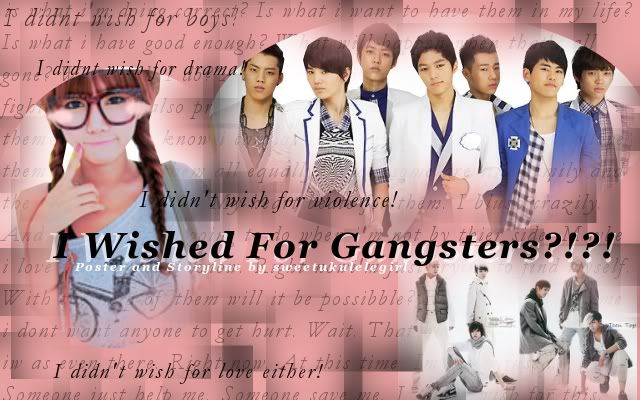 A/N: I'm not the best at Chapter Titles. So sorry if the chapter titles don't make sense whatsoever... Enjoy the update :)
----------------------------------------------------------------------------------------------------------------------------------------------
I was the first one awake I suppose I went downstairs and thought for a second in the messy kitchen. Plates scattered everywhere. I looked at the time 5am. "Earlier than usual…" I stretched and began to clean. I got done at 6am so I got ready for school. I then came back and prepared breakfast.
"Noona~" Sungjong sang skipping to the kitchen. "Whoa!" He stared. "You cleaned the kitchen!"
"Oh morning Sungjongie." I stared. "Yeah."
"You didn't have too~" Sungjong hugged me then prepared the plates.
"Ah it's a habit…" I blushed.
"The habit must be broken then!" Sungjong said placing the plates down on the table.
I laughed and flipped the pancake.
"Pancakes!" Sungjong called from downstairs. His voice echoing through the house. "Made by ______!" At that moment there were so many footsteps Sungjong fled the area to the kitchen to take his seat.
"Good morning _____!" The 6 of them called as they sat down. I stared as I placed pancakes into the center and they all attacked.
"You're not going to eat?" L stared as he poured syrup.
"I don't normally eat in mornings." I shrugged. "Doesn't bother me. Brings a smile to my face knowing someone appreciates my food." I smiled laughing.
"Its amazing!" Dongwoo and Sungyeol said in unison.
"Ah these have chocolate chips." Sungjong happily ate.
"Mine have blue berries." Hoya said surprised.
"I made chocolate chips, blue berries, and normal." I nodded my head. "There was plenty of time. And you guys had the ingredients so…" I shrugged.
"You are an amazing cook." Sunggyu said eating 3, 1 of each.
"Gomawo." I smiled happily humming.
"By the way." WooHyun stared. "You don't have any clothes do you?" Everyone stared at him. I kind of got what he was saying. "Since your house burned down…"
"Oh yeah." I nodded my head. "Everything I owned was destroyed in the fire."
Everyone exchanged glances. "Moving on." Sungyeol smiled. "Let's finish and get to school."
"Neh~"
I placed my bag over my shoulders. "My phone will probably go out of service…" I stared at my flip phone.
"Why do you think that?" Hoya stared.
"We had a family plan." I explained. "And now well… that my family is gone… I guess my phone no longer will be of use to me." I shoved my phone back into my bag. "Not like it matters…. I only had a phone to get orders from my unnies and auntie."
"Oh so they were mean to you?" Sungjong stared.
"You can say that." I shrugged.
"Well you have us now!" Sungyeol smiled.
"Thanks." I smiled. "You guys have phones too?"
"Yeah but we only have each others numbers. We just recently got our phones." They all showed me their phones. None of which were flip phones.
"Ah. Cool!" I smiled. Sungjong was lost in thought for a while. "I think I'll get ahead first." I stepped.
"Why?" Sungjong tilted his head.
"Uh…" But I ran off before they could hear my answer.
"Because we're still transfer students we don't know _______'s school status." L said.
"She's not liked." Sungjong said. The 5 of them looked at Sungjong. "They called noona the school loser."
"What?" Dongwoo's eyes widened. "Why they…" He clenched his fists.
"Won't be forgiven." Hoya finished nodding his head.
I opened my locker and cringed at the fresh maker writings.
SLUT
YOU DID THE NEW TRANSFER STUDENTS!
DROP OUT ALREADY
FAKE
I slammed my locker shut in disbelief and sighed.
I sighed and thought. "I'll probably go get my phone disconnected after school before going to work."
"Noona~" Sungjong sat next to me. "You suddenly ran off…" He pouted.
"Mianhae." I smiled tapping my pencil.
"After school do you have work?" Sungjong stared.
"Yeah but I plan on disconnecting my phone soon." I nodded. "I can go without a phone." I smiled.
"But what if you get lost?" Sungjong exclaimed shocked.
"Then I get lost?" I questioned. "Not like it matters."
"Of course it matters!" Sungjong shook me. The bell rang and the teacher came in.
"Where are we going?" I said at lunch, Sungjong dragging me somewhere I don't know. "The cafeteria?" I tried to guess.
"No the roof." Sungjong said.
"Why the roof?" I stared.
"Cause hyungs are on the roof for lunch today since you made us lunch." Sungjong smiled as we walked up to the roof.
"But why?" I stared.
"You'll see!" Sungjong smiled. "And stop starring at me!"
"Fine!" I puffed my cheeks and continued walking up towards the roof.
"Hyungs!" Sungjong smiled.
"Sungjongie~ _______!~" The 6 of them smiled.
"Why are you more excited to see noona than me?" Sungjong wined.
"Cause we see you everyday." Hoya smirked causing WooHyun to chuckle.
"You're going to see noona everyday too!" Sungjong flailed his arms and I stared. I maneuvered around and sat next to Dongwoo.
"Why was I brought to the roof again?" I tilted my head in confusion.
"Oh right I almost forgot!" Sungjong smiled.
"What is it Sungjongie?" L said I turned my head to see he was standing behind me out of nowhere. I flinched slightly then looked at Sungjong.
"Let's get a phone for ______!" Sungjong smiled. The others exchanged glances. Sungjong looked me. "How does that sound ______?" I stared blankly.
"Can I think about it?"
^ Back to Top