Not So Happy Birthday Pt.1
by sweetukulelegirl
Tags chunji infinite ljoe myungsoo sunggyu teentop you | Report Content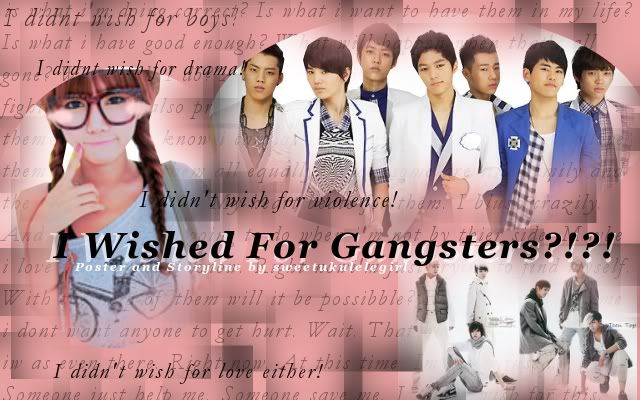 A/N I totally forgot about her haircut (Check back to like chapter 13?) So i'll make sure to add it in somewhere in the next few chapters. Enjoy the chapter~
-------------------------------------------------------------------------------------------------------------------------------------------
"_____…." I heard someone whisper.
"Noona~" I heard again. I squirmed and tossed to the other side of my bed.
"She's not waking up…"
"Oh let's have someone sit on her!"
"Not a chance!" I bolted out of bed into the bathroom. Only to see shirtless WooHyun and L. "Aish!" I blushed red.
"Not a great way to start your birthday is it?" WooHyun chuckled as L tossed a t-shirt over his head.
"Oh right." I said suddenly realizing it. "It's my birthday."
"Did you really forget?" Dongwoo said as I walked out of the bathroom. I nodded my head. "Who forgets their own birthday?"
"Apparently I do?" I questioned my answer. Sungyeol pushed me downstairs and I saw Sunggyu in front of a boiling pot and Hoya eating cookies.
"Hope you don't mind. Its just ramyun."  Sunggyu stared at me. "You have a big day." He winked.
"Eh. Why?" I tilted my head stealing a cookie from Hoya's plate.
"Just trust us on this." Hoya smiled.
"I trust you guys." I smiled. Hoya chuckled and continued eating his cookies.
My phone buzzed and I immediately dropped my chopsticks and freshly cooked ramyun fell onto my lap. I yelped.
"Birthday bad luck?" Dongwoo stared.
"Most likely." I said wincing slightly as Sungjong wiped the noodles off my legs and L came and put something cold on my lap.
"Not a great way to start the morning." WooHyun sighed. "Whose the text from?" He said before looking at the others.
"He's a little early." L whispered playing with the ramyun.
"The earlier we start the better." Sungyeol whispered back. "Jealous."
"Shut up choding." L said before stuffing his face.
I grabbed my phone. "Oh from Chunji oppa." I tilted my head. "He wants me to hang out with him right now."
"Oh noona you should go!" Sungjong cheered.
"Eh." I said shocked then I had a curious smirk. "What are you up to? Are you setting me up?"
"Of course not!" Sunggyu said. I turned to him. "You haven't hung out with Chunji in a while."
"Whatever." I rolled my eyes before hopping off my seat. "As long as it's fine with you guys." I smiled. "I'll be home before it gets too dark." I nodded my head. I jumped up the steps to get ready.
"She'll be fine." Sunggyu said.
"What do you mean?" Sungjong stared.
"Well it's about that time of the year where thugs go after girls, you know." Sunggyu shrugged. "I'm a little skeptic."
"Noona will be fine!" Sungjong smiled shaking Sunggyu with reassurance.
"She has Chunji to protect her." Sungyeol smiled.
"He better…" L clenched his fists.
"Overprotective mode?" WooHyun whispered to Hoya.
"Or just jealous." Hoya chuckled. WooHyun rolled his eyes.
"I'm not deaf." L eyed the two.
"Okay~" I smiled in a simple outfit. "Bye oppas~" I waved.
"Have fun~" Dongwoo called. As soon as they heard the door shut it was serious. "Let's get started!"
"Sung trio begin the food. The rest prepare set up!" Hoya called. Everyone nodded. Sungjong thought a moment then went to the kitchen.
"Oppa!" I ran over to Chunji.
"Hey." Chunji smiled.
"Why'd you call me out so early??" I tilted my head innocently starring at him.
"Don't give me that look." Chunji said coldly poking my forehead. "Let's go." He grabbed my hand and began walking.
"Where?" I stared.
"Everland." He said.
"Is it like Lotte World?" I stared keeping my pace with him. I blushed realizing his grip on my hand was firm and felt like he didn't want to let go.
"You'll have to wait and see birthday girl."
"No streamers are over here!"
"Keep blowing those balloons!"
"Flour!"
"Aish where's the knife?"
"Hyung it's burning!"
Everyone ran around the house trying to make everything perfect. Sunggyu was working on the cake while Sungjong and Sungyeol were preparing snacks and an actual meal. Which would be their first.
"Tell me again why we let Chunji do it?" L whispered to Hoya who was helping set up streamers. WooHyun and Dongwoo were setting up the music and stereo.
"Because Chunji will keep _______ busy." Hoya whispered.
"We could've done that." L stared as Hoya reached for the tape.
"Yeah… no." Hoya said jumping off the chair. L stared as he grabbed the tape from Hoya. "You can tell that with us around ______, she'll know something's up and probably want to go home."
"What would make a difference with Chunji?"
"Well for one." WooHyun said making L flinch falling off the chair onto the couch. "You have become really close to ______. We all have. And we said we wouldn't hide anything from her."
"So we all know she'd use that against us in the end." Dongwoo continued. "And if one of us were in Chunji's spot, I bet that'd be what would going through our head."
"Besides!" Sunggyu shouted. "We need more hands!"
The doorbell suddenly rang. Sungjong stood up and went to the door. Sungjong's eyes widened in surprise.
"I found those hands…"
-------------------------- I hope you like this update :) I have ukulele club today and im a little worried I might be the only girl... Oh well. We'll have to wait and see. Anyeong!
^ Back to Top