4

The E.N.D

by Hwang_Abbie
| Updated | Created
Tags choiseunghyun kimyoobin toobin top wonderbang yubin zombies | Report Content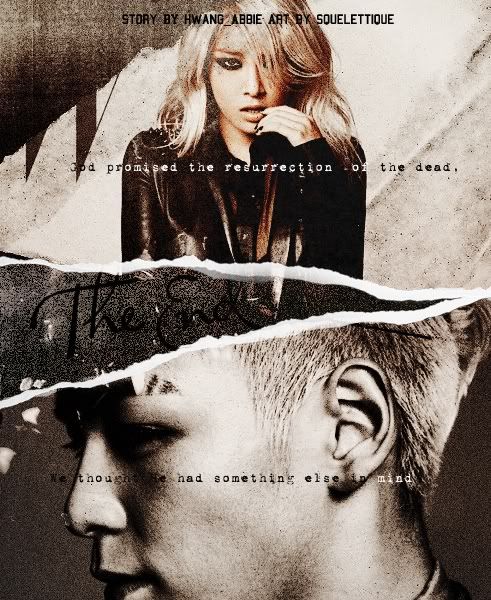 Characters
Choi Seunghyun (TOP), Kim Yoobin, Zelo, Kim Jaejoong, Lee Kikwang, Lee Taemin, OC's and many more~
Description
It's hopeless outside and it's dangerous inside. People are gone, the world is deserted. Desperation and fear fills the air inside these four walls as death reeks outside our windows. The smiling sun has lost it's bright, the peaceful blue moon is now a sign of evil.
The beautiful city now's an abandoned joint. What seems to be a metropollis now looks like ground zero. Models and actresses, playboys and gorgeous men, now they're all deformed into something inhuman. Ever since it happened beauty in everything was stripped away, replaced with something horrid, something unimaginable, something scary beyond belief, something.
Shrieks, snarls, and wailing echoes to the death ridden city. They're coming our way and there's no stopping them. We held our breaths as we hid from them, for we are mortals and they can't die. As the scent of rotting meat drew close, we could only pray.
God promised the resurrection of the dead, we thought He had something else in mind. 
Foreword
" If you're hearing this then i don't know whether to congratulate or to say i'm sorry for you. As you may know now the world is turned inside out and hell has been opened. Now i will not waste my time telling you about what has happened and why it happened, you are alive long enough to come up with that conclusion. All i will tell you is that these zombies, they're not like in the movies, they can smell your blood and their virus spreads faster. They're stupid and hard to kill, but that doesn't mean they can't be killed.
If you're wishing for a way to end this whole shindig, there is a way. The only way for humanity to see the light of day again is to...."
END OF VOICE LOG
---
back with a new story starring TOP, Yoobin, baby Zelo~, Taemin, Kikwang (it doesnt feel right to leave him behind....), Jaejoong, and many more~
anyways the title was inspired by the black eyed peas while the story was because i watch way too much zombie movies *sigh* i should stop but it's addicting.
awesome poster by this person here~
anyways, i hope you subscribe and comment :3 they are always loved btw~
Tweet
^ Back to Top