41

Experiments and Mirrors

Completed!

by eseech
9228 views | Updated | Created
Tags infinite myungsoo myungyeol psychological sungyeol | Report Content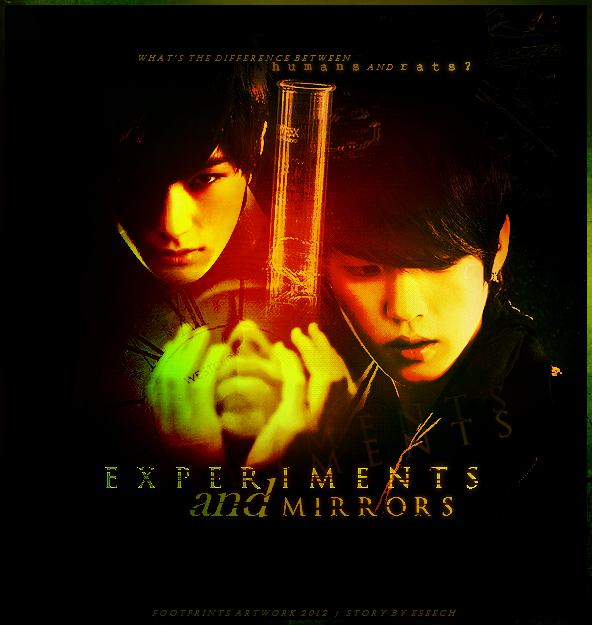 Characters
Sungyeol, Myungsoo and rest of Infinite
Description
Sungyeol is a prodigy who's found the biggest mystery in science - a living human. Kidnapping Myungsoo as his experiment, Sungyeol tests the limitations, capabilities of both a human's physical and mental abilities. However a factor he did not anticipate was adaptation, and in a vain attempt to bring his experiment back to its original condition, Sungyeol finds the tables turned. Now he is the experiment. Now he is chained.
Characters: Sungyeol, Myungsoo and remaining Infinite members
Length: 1 to 3 Chapters LOL FUCK THIS SHIT IDK HOW LONG 8D
Theme(s): Psychological
Warnings: This story is pretty dark, so if you aren't comfortable with twisted characters, I suggest you stop reading. Thank you! :D
Credits: Thank you http://www.asianfanfics.com/story/view/206886/f-o-o-t-p-r-i-n-t-s-2nd-poster-request-shop-busy-korean-kpop-poster-request for making such a lovely poster. Why don't I have godly photoshop skills //bricked
Foreword
'"Try stare into the mirror," He suggested, wrapping his hands around the other.
The other boy trembled, his hands rising hesitantly. It dropped immediately as he turned to face the older. His voice was pleading. "Please, let me go."
The elder laughed, twirling a strand of the other's hair. "Just try."
Sungyeol struggled in the chains, feeling the déjà vu as a younger boy wrapped his arms around him. It seemed like only yesterday he had done the same to the younger. A guilty feeling twisted around his blackened stomach as he shivered. This wasn't how things were meant to go.'
Tweet
^ Back to Top