1

With All My Heart

by catharina
16 subscribers | 856 views | Updated | Created
Tags jaejoong junsu jyj yoochun | Report Content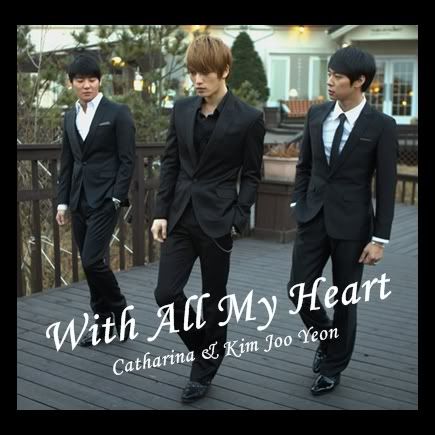 Description
Book One of All About Heart Series
Foreword
"Omma, I'm off to work now."
"Okay, be careful." She shouted from the kitchen.
I walked to the bus stop. It took about thirty minutes from my apartment to the office. I lived only with my mom in Seoul. My parents have been divorced since I was ten years old. I don't know why but since the separation, I saw my mom happier so I never asked her the reason. But she started dating again since two years ago, I guess she feel lonely at home because I go to work. Actually, she met this man coincidentally. At first, she was invited to the reunion from her university. She didn't want to go but I forced her, she almost lost contact to her friends. I can't accompany her that day because I just started work in the new company for few days and I can't ask for leave.
"How's your day?" I asked her as soon as I get home.
"Perfect, I'm so happy I can finally meet my old friends especially my girl gang. I got their phone number and they promised to ask me out sometime."
"That's great omma, I'm happy to see you finally live your life again. You should do it long time ago. I feel guilty every time I left you alone at home when I go to work."
"That's okay. Anyway, I also met my sunbae who helped me a lot during my years in the university. "
"Let me guess. A man?" I raised an eyebrow.
"How did you know?" She looked shock.
"Instinct. It's so cliché if sunbae helped his junior especially if he had intention on her. Did you two go out at that time?" I smiled.
"No, I already had a boyfriend at that time. But I never thought he had that intention on me because he never showed it."
I laughed. "So, what are you two talking about after several years?"
"Not much, just asking each other condition and our partners. He told me that he lost his wife five years ago due to cancer."
"Hmm, I sensed something here. Did he say something about meet again sometimes?"
"How did you know again?"
"I knew it. He tried to chase after you again, omma."
"That's impossible. He can't probably still have feelings for me after so long."
"Who knows? People always said first love never die."
Our conversation that day has finally come true. Not long after that, maybe few months later, my mom told me that she decided to date her sunbae. I hugged her and congratulate her. She told me his name is Mr. Kim, Kim Kyung Sik. She also told me that he had one son and now he's working in the company, I didn't ask the name. It's been two years now and I wonder when they will make it official.
I arrived at the office on time and looks like my boss hasn't come. I worked at Haesin group as a secretary to Director. This company is growing to big scale this last two years and you can find their branches in almost every country. I was just about to sit on my chair when someone approached me.
"Joo Yeon ah, did my oppa in his room?"
This is Park Hye Rin, my boss'sister. She also worked here but as a manager in marketing department. During those two years since I know her, I can tell that her brother really spoiled her. Everything she wants, she must get it no matter what the cost. That's why we can't be closed friends but sometimes she asked me out to accompany her somewhere. I'm fine with that.
"I don't think he already come, Hye Rin ssi."
"Hmm, weird. He left the house earlier than me but he hasn't come until now. Where did he go?"
"Did you miss me already, little sister? Good morning, Joo Yeon ssi." A man's voice suddenly came from behind.
That's Park Yoo Chun, my boss. He's been working in this company since he was still in university, that's long enough until his father gave him this position in the company. He's in his late twentys but already reached high position in the company, it makes him the target from the girls in the office. I'm not included.
"Morning, Yoo Chun ssi." I greet him.
"Oppa, where have you been?"
"Why? Do you need something from me?" He raised an eyebrow.
Hye Rin smiled. "I'll tell you inside."
Hye Rin grabbed her brother's arm and dragged him to the room. I get off work at 5 pm. Make a stop at the supermarket to buy some stuff then head back to my apartment. We were having dinner as usual and a little chat about my day at the office. But today is different. She's the one who have something to tell me.
"Joo Yeon ah, I want you to make time this Saturday. We're going to meet Mr. Kim and his son."
"What for?" I frowned.
"I want you to meet Mr. Kim officially."
"Did you and Mr.Kim planning on something?"
"I'll tell you about that later."
If my mom said later, she would never spill any more words so I don't ask her further. But I can smell something fishy right here. She must be up to something big. Let's hope my feelings were wrong.
Tweet
^ Back to Top