The Little Girl
by Danzz12 and ChibiDeer |
Tags amber nana sooyoung luhan sehun kris suho | Report Content


Kris POV
SooYoung fell down to the floor... I picked her up and taking her in bridal style I told Suho and Suzy to go home.... That day was really something...
-Yah, You 2 go home, I'll call you later...to tell how SooYoung is being...-
I look at them... Suho wasnt very pleased with my request.. but I didnt care I just care about SooYoung right now... So I started to walk to my home
I walked for 30 minutes  and arrived at home... I shouted -Amber open the door please-
Amber runs downstairs and opened the door when she saw SooYoung in my arms she asked shocked -What happened to SooYoung SheShe-
Sehun runs to the door too, He saw SooYoung with some bruise in her face -Why is SooYoung SheShe like this?- I saw his face and it was starting to fall a tear
-She will be alright, just let me get in and put her in her room- 
Amber and Sehun just nodded...
We went straight to SooYoung's room and I put her in the bed...
I tell Amber to bring a mini towel and some water to clean SooYoung's face
Using the towel I was wiping every part of her face... her nose... her lips.... I was fascinated 
-GeGe, Do you like SooYoung SheShe?- Sehun asked me
-Oh, no why?-
-Your face tells it- and then He smiled, it was the first time I saw him smiling in a while, SooYoung brings him happiness
After I finnished cleaning her face
-Amber, Sehun are you feeling well now?- looking at them
-Yes, we are... and we are hungry....- Amber replied
-I'll call LuHan to bring some food for you- 
-Ok, Thank You GeGe- Sehun said and the look at SooYoung 
-She will be alright HunHun she just fainted-
-But why GeGe?- 
-She had a fight with Nana and her friends-
-Argg that stupid bitch who is after you?- 
-Amber please measure your words... you still dont have the age to say bad words....-
-Bleh, Im 15 now so whatever!!-
-GeGe please take care of her...- Sehun let a tear fell
I approaches SeHun and give him a hug - Yes I will dont worry about her... she will be fine...-
Then I take out my Phone and dialed Lu Han
-Hey DaGe [Big Bro], Amber and Sehun are hungry can you please bring some food?-
- Oh yeah, sure what would they like to eat, ask SooYoung too-
-Just bring anything...-
-Hmmm ok...-
And then we hunged up...
----------------------------------------------------------------------------------------------------------------------------------------------------
It was 10:00 p.m 
I was in SooYoung's room sitting on a chair near her bed...
I was sleepy when I heard her screaming my name
-Kris.... Kris.... Kris.....-
-Yah, SooYoung Im here, Im here...-
She was moving side by side in the bed, I was terrified... she was having a nightmare...
-SooYoung... SooYoung....- I said holding her hands
When suddenly she wake up with tears on her face...
-K...K...riss.....- she hugged me
-Everything is alright Im here...- I hugged her back - It was just a nightmare...-
We remain like that for 15 minutes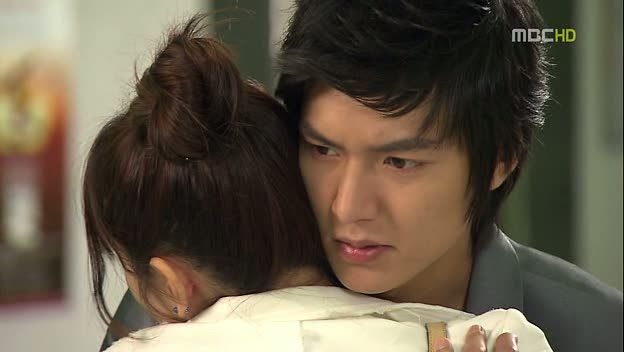 [Just Imagine Lee Minho is Kris xDD]
-Im fine now Kris... Xie Xie....- She said 
-Im glad to hear that...-
-Im confused now-
-Why is that ?-
-I saw my mom in that dream and there was a girl.... I couldnt see her face and couldnt hear her name-
-Maybe its a premonition... of something that could happen...-
-But I dont want that to happen... I was in my wedding there.... and at the end a horrible storm messed up everything...-
She grabs my hands tightly.. -I was scared...-
-But it was just a nightmare...dont worry everything is ok now, Im here-
I saw her face making a little smile
I was about to get out of her room when she call me again
-Kris... can you sleep here tonight?- 
-Uh?-
-I mean can you stay here in my room just for tonight?... I dont want to have a nightmare again....-
-Oh sure- my heart was beating so fast.... I cant contain it... she asked me to be here for her
END OF POV
-------------------oooooooooooooooooooooooooooooooooooooooooooooooooooooooooooo-----------------------------------
SooYoung POV
He was walking out of my room when I call him again...
-Kris.... can you stay here for tonight?-
He accepted my request... I was very thankful with him...
I just needed him to be with me to forget that damn nightmare of mine... Just that I cant forget about that little girl...
Maybe its what he said a premonition... I will met her, My own little sister... The secret my Mom asked me to keep...
But there was another reason I didnt want him to leave... Im scared that someday I could leave and never saw him again...
I patted a side of my bed and tell him to sleep there...
as he was placing himself in the bed I hugged him... and put my head on his chest... I felt warm...
I fell for him... I dont want to let him go....
He hugged me back.. and as I was felling asleep I felt his lips on my forehead 
-Good Night SooYoung, have a sweet dream-
END OF POV
-----------------------------------------------------------------------------------------------------------------------------------------------------
SORRY THIS IS LAME XDDD
^ Back to Top