chapter 8: her hug
by deathangeL_se7en
Tags fantasy sooyoung tiffany exo tao chanyeol kris | Report Content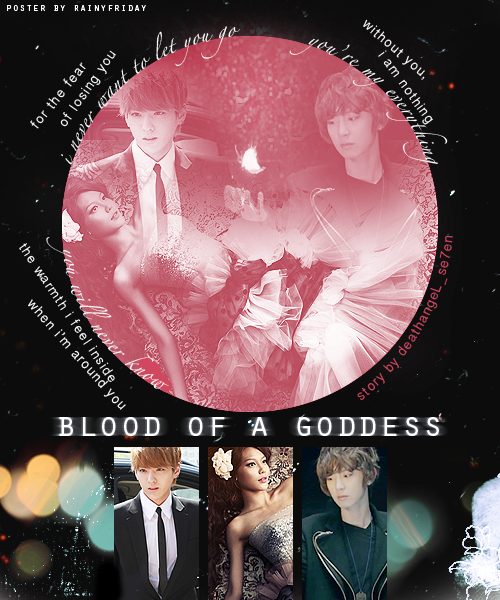 kris woke up early in the morning to cook breakfast for everybody, after he finished cooking he went upstairs to wake everybody up. kris woke up his sister first,second he went to tao's room, third lay's room, fourth suho's room and lastly he went to sooyoungs room. kris knock thrice, when no one answered he slowly opened the door. kris took a peak to see if she's already up, when kris gaze went to the bed he smile unknowingly when he saw sooyoung was still sleeping. he slowly made his way towards sooyoungs sleeping body and kneeled infront of her.
kris carefully put his thumb in sooyoungs cheeks, then he trailed a finger to sooyoungs nose,lips and jaw. when sooyoung didn't move kris slowly leaned forward, ready to give her a peck on her lips. before their lips could touch kris felt someone poke his back, at first he shrugged the feeling but then before leaning down again he felt a poke in his back again. kris then turned around, when he turned around his eyes widened when a large angry pair of eyes are looking at him. kris back away a little and gave a weak smile, kris then realize that the large eyes belonged to outcry.
kris: *sigh* you scared me there outcry
outcry: *growl*
kris: mianhe....i....i...i was trying to wake her up....
sy: outcry*rub her eyes* is that you out cry?
kris: a-ani...it's me...kris
sy: *look at kris* is there a problem kris?
kris: b-breakfast is r-ready [fuck...don't stutter kris...don't]
outcry back away a bit from her spot to let kris stand up properly. sooyoung got out of bed letting the comforter slide to her body and fell on the floor, just as the comforter fell on the floor kris faced sooyoung to tell something. just like the first night of sooyoung, he once again saw sooyoung's naked body, kris froze on his spot and blushed crimson red.
sy: *walk 3 steps forward infront of kris* are you ok kris? are you sick?
kris: *gulp*y...y-you do-d-don't have c-clo-c-clothes * look at the ceiling
sy: oh...i don't have any clothes left.
kris: why didn't you tell me or noona
sy: because i don't want to bother you.
kris: i'll just give you some of my stuff. uhmm...could you cover yourself now...it's kinda...uhhmm...just...j-just cover up
not waiting for sooyoung give any response, kris turned unto his heels and walk towards the door. outside the room when he closed the door, kris took a deep breath and clutch his hands over his chest to calm himself down. minutes had pass kris was still standing infront of sooyoung's room.he was waiting for his heart to calm down,but it won't calm down. it keeps on beating so fast.tao who wokes up and got out of his room only to see kris standing with a hand on his chest, he walk towards him and give him a weird look.
tao: *poke kris* what are you doing?
kris: .....................
tao: hyung? gege? are you ok?
kris: .....................
tao: *hit kris shoulder* ya!hyung!gege!
kris: w-what?!
tao: what the hell are you doing here?
kris: i'm...*pointing a finger somewhere* get...clothes....no clothes...fuck
 tao: what are you even saying?
kris: *sighed and close his eyes* i don't know what am i even saying
tao: i think you should eat your breakfast already...your mind is somewhere else *shook his head*
kris: go ahead...i'll...i'll be in the kitchen a couple of minutes....i need to get something
tao: ok....oh...do you want me to wake up sooyoung?
kris: NO!
tao: woah...what's wrong?
kris: n-nothing...just go eat breakfast already
tao: ok *sigh* your getting weirder everyday
tao patted kris shoulder then walk towards the stairs, when tao left kris run to his room and opened his closset. kris chose the clothes that he is not wearing anymore so he could give it to sooyoung so she has a clothes to wear. after 5min of choosing the clothes he slowly made his way towards sooyoungs room, kris knock on the door and waited for sooyoung to answer. after the second knock the door opened and there stood sooyoung with a blanket covering her body.
sy: is this ok now?
kris: y-yes. next time if you need anything just ask me,tao,suho,lay or tiffany noona.
sy: ok
kris: here are some of my clothes *handed sooyoung the clothes*
sy: *took the clothes* thank you kris *smile*
kris: go and change now. breakfast is serve
sy: ok. i'll be there
kris: ok
sy: uhm..kris
kris: *look at sooyoung* hmm...
sy: after eating, can i take a short walk
kris: sure...want me to come with you?
sy: no it's ok. i can walk by myself and i think you have an appointment today
kris: [appointement? what appointment?] are you sure yoy don't need someone to walk with you?
sy: *nods* i'm sure *smile* i'll go change now.see you in a couple of minutes
kris look at sooyoungs face for the last time before she closed her door, he smiled when he see sooyoungs smiling face. but a question was lurking inside his head in seconds, sooyoungs word keeps on replying in his head. kris manage to decend the stair and walk towards the kitchen but still the word  "appointment" keeps on repeating in his head. kris took a sit beside suho who eyes him, tao handed a sandwich to kris but sandwich fell on the table when kris didn't took the sandwich. kris thoughts was disturb when he heard the spoon and fork made a noise, he look to his front when he saw that it was the sandwich that made the noise.
fany: are you ok kris?
kris: uhuh
suho: are you sure hyung?
kris: yes...
suho: if you say so
kris: suho
suho: *look at kris* weyo hyung?
kris: do we have an appointment today or something?
suho: ani. weyo?
kris: nothing...just asking
suho: ok then...noona, can i go out today?
fany: sure...you can go anywhere you like as long as you come home before dinner
suho: i will...thanks noona...
lay: where are you going anyway?* ate his sandwich* 
suho: to the mall...i'm going to buy some stuff since i forgot to bring some of my things
tao: you can come with us then we will just drop you off there
suho: sure...thanks
fany: what about you kris? do you have plans for today?
kris: nope...but i'll take a walk after eating breakfast
fany: take sooyoung with you when you take your walk, she needs to get out of the house once in a while... speaking of sooyoung, where is she?have you seen her kris? *put down her cup of coffee and look at kris*
kris was about to answer his sister tiffany when sooyoung appeared in the kitchen wearing his clothes. tiffany giggled when she saw sooyoung standing infront of the kitchen door holding kris short so that it won't fall. tiffany  thought at how cute sooyoung is especially when she's wearing kris clothes. kris didn't realize that his short was too large for sooyoung , and the fabric of his shirt, it was so thin that you can see the skin underneath the fabric.
fany:  *giggle* you look cute
sy: *took a sit beside tiffany* thanks unnie.
fany: how come your wearing kris large clothes?
sy: i got no more clothes. all the clothes you gave me and kris the night you found me are already dirty
fany: didn't you wash your clothes?
sy: wash? *look at her hands* i don't know how to wash clothes *frown* 
kris: you don't need to wash them with your hands sooyoung
sy: *look at kris with wide eyes* really? i don't need to wash them?
fany: neh...
tao: you can just put your dirty clothes in the washing machine
sy: *tilted her head and look at tao with questioning look* washing machine? 
tao: neh...washing machine *smile*
sy: is it a maid?
suho: no it's not a maid...
kris: it's a machine that can wash your clothes.  
sy: really?it can wash clothes?
lay: neh...it can wash all the dirty clothes
sy: do i have to go inside the machine also? so it can wash me too? *look at lay  questioningly* 
lay: no *chuckle* your so cute soo...
sy: soo?
lay: uhuh...sooyoung is too long. so we better call you soo as your nickname
sy: o-ok
tao: about the washing machine...soo, you can't go inside the machine. coz if you do you will only hurt yourself
sy: it can hurt me?! *look at tao with a frightening look* if....if that thing can hurt me, then why have it inside your home? your not safe... aren't you all scared that it might eat you or kill you?
fany: *giggle* soo...if you won't get inside the machine it won't harm you. and it won't kill or eat  us.
kris: do you even know what is a washing machine soo?
sy: *shook his head* 
fany: so it mean you don't have a washing machine in your house?
sy: *nods her head* in our place we don't have any kind of machine that you have here. we only have people... maids wash our clothes
suho: ahhh...that's why you have no idea about washine machine.
fany: so it means your rich?
sy: my father is a ruler
lay: ohhh...a mayor... but if he is a mayor, then why is your father not looking for you?
sy: i think he is... but...he just didn't know where to start looking
tao:  *arch an eyebrow* what really happened soo? why are you really here?
sy: i...i...i run away from home *look at her lap* 
fany,kris,suho,lay and tao: WHAT?!
sy: *look at them with a confused look* what's wrong?
kris: you running away from home.
sy: is it wrong to run away when you have a problem and you want to have time in thinking?
fany: neh...it is...you should have just talk to your dad about it... your father must be really worried about you.
sy: c-can we not talk about it. i don't really want to talk about it. p-please...can we just...
lay: we need to talk ab~~
sy: *stood up from her chair* i...i'll just take a walk...
lay was about to follow sooyoung so they can talk about her being a run away child but fany grab his hand and stopped him. she doesn't want to upset the girl even more so she didn't want lay to push the topic even further. tao and suho gave sooyoung a worried look when they are looking at her retreating figure. kris wanted to follow sooyoung but he stopped himself because he know sooyoung need time to think.  
inside the kitchen everybody ate in silence after sooyoung stood up from her chair and left the house. after they finish eating their breakfast, they all went to their rooms and prepare themselves to leave the house.  after changing fany went to her work,  lay and tao left the house with suho so they can drop him off to the mall while kris also left the house so he could take a walk around the neighborhood. kris left outcry inside the house because she is sleeping soundly, outcry didn't even notice that sooyoung was gone.
sooyoungs words to kris earlier keeps on replying in his mind, still he doesn't have a clue of what she meant about the "appointment" he has. neighbors greeted kris when they saw him walking around. kris stop infront of one of their neighbors house when he saw a statue of a girl. while looking at the statue, a flashback of what happened yesterday inside his room played in his head. then it hit him, the "appointment" sooyoung was telling him is about his and the goddess meet up at the abandones garden near not far from their house. kris turned around and started to run towards the abandoned garden so he could meet the goddess. while running towards the garden, he question himself as to why did sooyoung knwo about the appointment? did he told her about it? minutes later he just shrug it because he felt like an idiot when he forgot about his meet up with the goddess. 
sooyoung walk towards the meeting place where she and kris promise to meet. infront of the garden, sooyoung opened the gate of the garden and went inside. once inside the garden, sooyoung walk around to see if there are any flower nor tree alive. when she was infront of the gate again she frowned at how can people just let the flowers and trees die. it pained her even when she can't see any birds,butterfly and other living creatures inside the garden. sooyoung got an idea, since she was still waiting for kris to appear she wants to give the garden a new life. a life that the people took away. sooyoung held out her hand and started to walk, while walking everything that sooyoung touches went back to life. flowers started to bloom, the trees are green once again green and some tree even grew  fruit with it. birds, butterfly and other bugs started to appear in the garden.  when she's done touching every dead flower and trees inside the garden, she smiled at the sight she was now seeing. the garden was now alive again. she promise herself that she will visit the garden everyday so she can watch it.
sooyoung walk towards a tree and pick an apple from the tree, she then took a sit on the grass so eat the apple. while eating the apple she felt a sudden gust of wind and a scent surround the garden, a scent that she knew ever since she was a child. sooyoung slowly stood up and control herself not to look behind her where she felt a familiar presence. a couple of minutes had pass sooyoung is still not looking at the person behind her, so the person got nothing else to do but he needs to face sooyoung.
sooyoung drop the half eaten apple on the grass and a single tear escape her eyes when she saw the familiar presence.the person smiled lovingly at her then pulled sooyoung to a hug. scared to let her go, he tightened his hug to sooyoung and kissed her head. sooyoung who just stood frozen couldn't believe her eyes that he followed her to the human world.  
sy: c-chanyeol?
c.y: yes my goddess.it is i...chanyeol
sy: b-but how?
c.y: i followed you.
sy: how did you know that i'll be here in the mortal world?
cy: because before you left we talk about the mortal world. so i thought you might be here.
sy: you shouldn't have come my prince
cy: why wouldn't i follow my love?...
sy: because...because father might get mad at you when he finds out
cy: it's ok my sooyoung.it's ok if he will get mad at me...it's my choice to follow you here in the mortal world. i want to look for you because i want to be the person who will bring you back to our world
sy: g-go back to our world?
cy: *pulled away from his hug and look at sooyoung in the eyes* yes my sooyoung...since i found you already we will go back to our world
sy: *took a step backward and gave chanyeol a cold glare* i'm not coming with you
cy: what?what did you just say?
sy: i said *look at the ground* i'm not going back to our world. i'll stay here
cy: sooyoung, you can't stay here
sy: yes i can my prince. i can stay as long as i want.
cy: *grab sooyoungs hands* you can't stay longer. your father needs to talk to you. he has something to say to you
sy: *look at chanyeol* i know it already chanyeol
cy: you know what?
sy: i know that father asked you to marry me
cy: how did you know?
sy: i went to the garden where you and father are talking. i went there to ask father about something. when i arrive, i hid behind a tree and heard all the things he said to you
cy: aren't you happy to know that your father ask me to marry you?
sy: i'm happy about the news.
cy: then why do i have a feeling that your not happy
sy: because...............
cy: because what my goddess?
sy: because i'm not yet ready to marry you chanyeol.
cy: but i thought you love me?
sy: i do *step forward and hug chanyeols waist* i do love you my prince
cy: if you love me, then you will go with me and go home to our world
sy: i really can't my prince
cy: but why my sooyoung? why don't you wanna go back with me? give me a reason
sy: i don't wanna go back yet because there are so many things i wanna do. i wanna live here, i wanna explore the human world, i wanna make friends, i wanna see all the places that the humans go to, i wanna eat their food.
cy: *pulled away and grab sooyoungs shoulder* you can't stay much longer here in this world sooyoung. you are only endangering yourself by staying longer here.
sy: no...flare is here with me...she will protect me...
cy: the guardian can't protect you always.
sy: no...she will do her duty as my guardian...she will protect me always...
cy: but~
sy: STOP! please...stop it already...i already made up my mind...i will stay here as long as i want... you can't do anything about it chanyeol. if you don't like my decision then go back! go back to our world!
cy: you know i can't leave you just like that sooyoung
sy: i won't make up my mind chanyeol. i will stay here.that's final
cy: *sigh* if that is what you want then...i'll let you stay
sy: r-really? you'll let me s-stay?*look at chanyeol with a smile*
cy: *chuckle* yes...if you say that you will stay then i'll let you stay *put a hand on sooyoungs cheek and caressed it with his thumb* i'll let you stay...but...
sy: *her smile was replace by a frown* but what?
cy: i will stay with you
sy: what? *eyes widened*
cy: you will let me stay with you
sy: stay with me?
cy: *nods* i will stay with you.
sy: no! no you can't!
cy: if you don't like *grab sooyoungs wrist and ready to fly* then let's go home to our world
sy: wait...wait!!! ok...ok...i'll...i'll let you stay with me
cy: *smirk* i thought you'll never say yes *kiss sooyoung on the lips*
sy: *pout*
cy: so...where are we going to live?
sy: uhm... let's...let's see each other later...i need to talk to the lady of the house first
cy: ok then...
sy: i hope your alone
cy: oh. flame is with me
sy: he can't come!
cy: why?
sy: coz outcry is with me
cy: *gave sooyoung a questioning look* outcry?
sy: flare...flares new name here is outcry...
cy: why change name?
sy: because the creatures in our world know her name as flare...so she's hiding her identity 
cy: oh...i see...but why can't i take flame with me?
sy: because the lady might not want another wolf in her house...i think you better prepare yourself for later...buy some clothes for you to wear...and don't forget to be in your human form ok 
cy: ok...where are we going to me meet?
sy: the house of the lady is near here.so just look for me, i'll stay outside her house so you can see me
cy: ok then...i'll get going and prepare myself
sy: wait...wait...don't buy too many clothes ok...
cy: sure my goddess
before chanyeol leave sooyoung, he put a hand on the back of her neck and wrap an arm in her waist then pulled her closer for a kiss. the kiss that sooyoung and chanyeol shared was a passionate, sooyoung wrap her hand around chanyeols neck and pulled him even closer. chanyeol pulled away from the kiss so they can take a breath,   he then look at sooyoung and bid goodbye to her. in seconds chanyeol flew upwards and left sooyoung in the garden.
soooyoung touch her lips when chanyeol left her, she smiled when she remember the kiss they shared just a couple of minutes ago. while sooyoung was busy thinking about the kiss, kris finally appeared in the garden.  kris jaw drop when he saw that the garden was alive again, he slowly walk towards sooyoung. kris couldn't help but to look at the goddess admiringly. sooyoung felt kris presence when he took 2 more steps closer to her.
sy:  isin't the garden beautiful? *look around the garden*
kris: *yelp*
sy: did i startle you hunter?
kris: k-kinda...
sy: i'm sorry...
kris: it's o-ok *blush* what did you just said a while ago goddess?
sy: i said...isin't the garden beautiful
kris: a-ah...y-yes it is. it is beautiful
sy: did you forgot our meet up?
kris:  *rub the back of his neck* y-yes...i forgot...i'm sorry
sy: it's ok...i know your busy with something...
kris: why didn't you just leave? why wait for me?
sy: i didn't leave because i have faith in you...
kris: faith?
sy: yes... faith...i have faith that you won't abandon me
kris: n-no! i...i won't ever abandon you goddess *wave his hand in the air*
sooyoung gave kris a smile then she held his hand and ushered him to the table in the middle of the garden. sooyoung sat kris on the stone chair then she took a sit across kris. they have been sitting on the chair for almost 5minutes and still they are not yet talking to each other. kris was busy looking at sooyoung who is happy playing a water ball that she created. when sooyoung gaze went to kris, kris blushed a crimson red when their eyes met and lock with each other for a couple of minutes.
sooyoung giggled at kris reaction when their eyes met. sooyoung then held kris hand and slowly put the ball in kris hands. when the ball was in kris palm he held it high and look at the ball in amazement.after a couple of minute  of looking and poking it, the ball exploded making kris face wet. kris' wipe his face then look at the goddess who is laughing in her seat.
kris: not funny *pout*
sy: i'm...i'm...i'm sorry... i can't stop laughing because of your face...
kris: you think that it's funny because i got wet?
sy: *cleared her throat and control her laughter* y-yes
kris: it's not funny *cross his arm in his chest*
sy: do you know that you look like a 5 year old kid doing that? *pointing a finger to kris*
kris: *shook* no i don't look a kid...i'm a man *fix his slighlt wet shirt*
sy: yes..you are a man. a wet man *nods*
kris: your making fun of me aren't you? *arch an eyebrow*
sy: no...i'm just happy...i'm just happy seeing you smiling...aren't you happy hunter?
kris: y-yes...i'm happy...i'm happy being with you
sy: *gave kris a sweet smile* is that so hunter?
kris: yes...yes goddess...
sy: i'm glad that your happy being with me even if it's our first time to talk with each other this long.
kris: can i ask you something?
sy: sure hunter. you can ask me anything
kris: is it true that your blood blood is different from your other brother and sister?
sy: *nods*
kris: aren't you afraid that they might hunt you?
sy: i'm not afraid...i'm not afraid because i know you can protect me from the bad creatures *smile*  
kris: it's a honor to protect you *bow*
sy: it should be me who should say that.because i heard that you are a good hunter
kris: i don't think i'm a good hunter
sy: if your not a good hunter, then why would archangel michael give you the mission on hunting me?
kris: i don't know
sy: *grab both kris hands and squeez it* it's because he believe in your ability.
kris: really?
sy: *nods*
kris: thanks goddess
sy: *gave kris a smile and stood up* i better leave hunter. and you should go back now. it's almost meal time.
kris: *stood up and walk closer to sooyoung* ok. then i'll see you again the day after tomorrow
sy: *nods* thank you for coming. i appreciate it hunter.thank you
kris: it's my pleasure goddess *gave sooyoung a 90 degree bow*
sy: i'll see you again hunter
after giving sooyoung a 90 degree bow, kris slowly straightened himself and look at sooyoungs retreating form. when kris can't control himself from watching the goddess disappear he called her name aloud, when she heard her name being called she took a glance at kris who is now running towards her. sooyoung face kris and gave him a smile.
sy: what's wrong hunter?  
kris: *look at sooyoung then hug her tightly* i just wanna hug you...to feel if you are really here and this is not a dream.
sy: i am here. i am not a dream. and i won't go anywhere hunter
kris: *pulled away from the hug and rub the back of his neck* y-you can go now goddess
sy: is that all?
kris: yes
sy: *giggle* ok. i'll see you again
before sooyoung leave she snake her arms around kris and hug him also. kris froze when he felt sooyoungs arms wrap around his waist. he couldn't believe that he is being hug by the goddess. kris felt his face heat up and when sooyoung pulled away he look away so she couldn't see his blushing face. kris look infront to see sooyoung but to his dismay sooyoung was already gone. kris put a hand in his chest and closed his eyes so he can calm himself down because after sooyoung hug him, kris heart won't stop beating fast. when kris was a bit calmer he left the garden and kept saying to himself not to fall for the goddess.
A/N
 hi readers!!! 
 enjoy reading!!!
Thank you to all my subscribers who are still with me
*cough* please *cough* comment *cough*  
^ Back to Top