5

Not So Cliché After All

Completed!

by hellopsr
84 subscribers | 4497 views | Updated | Created
Tags exo baekhyun chanyeol baekyeol | Report Content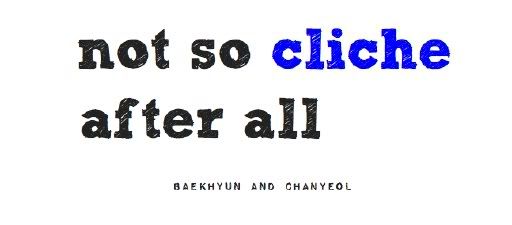 Characters
Byun Baekhyun, Park Chanyeol
Description
Baekhyun loves movies, but he loves Chanyeol more. And as cliché as that sounds, it's not so cliché after all.
warning: profanities, implied sex, nc-15 bits.
Foreword
I love EXO too much that I write about them too much. Really, first it was HunHan and now it's BaekYeol. They're my first boy-x-boy and I'm getting quite used to it so wish me luck! I got a lot of positive feedbacks on my HunHan, so please support my BaekYeol as well~
Anyway, the thing about this story is that, once I wrote the first sentence, the rest of the story just kind of flowed into my mind and my fingers literally danced on the keyboard. This story has all of my feels because it's sort of something that happened to me. Baekhyun and Chanyeol are precious, and I just kind of wanted to get it out there. I wish they'd PDA more (although I suspect something beyond PDA is going on inside their shared bedroom), and I love them so, so much.
I submitted this story to fuckyeahexofics@tumblr. Check them out for more good EXO fan fictions!
So anyway, I personally think the cinema au is b-e-a-utiful, and I hope you guys think so too, as well as the story of course. ♥
Tweet
^ Back to Top