I think I...
by eizanyeol
Tags comedy romance you exo baekhyun chanyeol agedifference | Report Content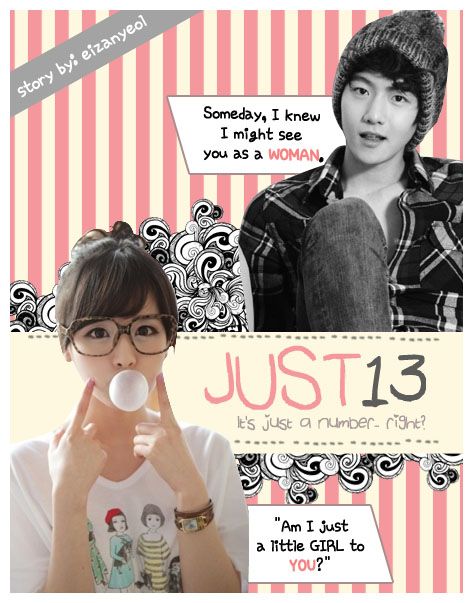 Chapter 25 – I think I…
Soon enough, Kai & Tao came and finally, Xiumin & Chen went back to the park with a bag of treats! Everyone headed towards them in excitement as they pick out what they wanted. The two didn't know what to get each one so they only picked random.
"What took you guys so long?" Baekhyun asked.
"They had their own little date," Kai snickered
"Okay, sure. Put it that way," Xiumin casually shrugged as Chen only chuckled
They all stopped crowding the two and ate their treats in groups or just alone. However, on a side note, Sehun was very unhappy; seeing a lot of boys and only two girls (especially one of those girls were Sejun) all together wasn't really a satisfying plan for him. The now-protective brother walked towards Sejun who was about to join Chanyeol & Baekhyun's conversation until she was yanked back by the back of the neck of her shirt.
"Ow- YAH!"
Sehun stood beside her and shot her a displeased look, "No conversing with boys! Of you go to Hyeri!"
Sejun scoffed in disbelief, "Hyeri's right there," she pointed at Hyeri who was practically crowded by most of the new princes (EXOM) in school. Sehun did a double-take before his jaw dropped, "M-My H-Hye…" Sejun giggled to her self deviously, "Can't I just go to Kyungsoo oppa? He seems lonely," she turned her head to watch D.O. who was walking towards the trash can to throw his ice cream's cover, "Plus~ he's not as 'violent' as you think the boys are."
Sehun looked back to where he eyes were fixed on and pouted, "Poor hyung. Forever alone!" he declared, getting a displeased look from his sister, "Don't you talk about Do Kyungsoo like that!" D.O. was partly the only guy who tried not to treat her like a baby, instead it's the opposite!
"Fine. But if I see you with another guy, I'm going to be on your side forever,"
Sejun rolled her eyes, "Yeah yeah. Sheesh, what's up with you and your sudden possessiveness? Gosh." She muttered away as she bounced towards D.O., she leaned near to his ear, "Kyungsoo oppa!" she shouted
With a scream, D.O. jumped in surprise and jumped back, "S-Sejun-ah!" he glared slightly
Sejun giggled freely and poked his cheek, "How can someone so older than me be so cute?" she gleefully exclaimed
D.O.'s ear grew red, "Gomawo."
"Oppa, teach me English!" Sejun abruptly suggested. D.O.'s eyes flickered in confusion as Sejun chuckled, "I heard youre great at it!"
"Ah." D.O. smiled and nodded, "Arasso."
--
Meanwhile, Chanyeol & Baekhyun were having their little talk about random jokes & stories. Suddenly, Chanyeol paused from laughing and glanced towards D.O.'s & Sejun's way.
"Baekhyun?"
"Yeah?"
"Do you know who Sejun's crush is?"
At his abrupt question, Baekhyun paused, took a glance at Chanyeol before following his gaze to where the subject was. Baekhyun secretly smiled to himself as he watched Sejun hug D.O. as if he was her teddy bear, "I… honestly am not sure I know that, Chanyeol-ah." Baekhyun had seen her blush around him, smile so often around him, be a total girl around him but… he wouldn't be too sure if he's the one who she likes. He turned back to look at Chanyeol, "Why?"
"It's just cute, that's all." Chanyeol answered back after a short pause
Baekhyun nodded, though still curious, "You know… Sejun's a great girl. She's an awesome little 13-year-old."
Chanyeol just had to agree to that, "Yep. It's the first time a girl like her-"
"Who knew someone so younger than me could take my heart away?"
Chanyeol's eyes widened at his last sentence, "What?" 'Did I hear right? Did he just say…'
But Baekhyun only chuckled, "I think I'm in love with her."
Chanyeol scoffed, "B-Baekhyun, that's not possible."
"What's impossible?" Baekhyun smiled at him, "Falling in love with her is possible." He spoke softly, turning his head to look at Sejun again.
And there Chanyeol went silent. Just like what he told Sejun, he's truly in love with her, not directly, but he said it! Now he was really curious who Sejun really likes. If it was Baekhyun, he'd lose. If it wasn't himself, it's okay, but he hoped it wouldn't be Baekhyun either. It'll be better if it wasn't anyone of them, it also would be okay if it was Park Chanyeol himself. Chanyeol… really doesn't like sharing.
"Fine then," Chanyeol mumbled, smirking at the ground
Baekhyun looked up at him as Chanyeol looked back, the smirk still attached to his face, "Then it's war."
---
OTL. I've read your comments again and thought... 'shiet; who should I make her end up with? D:' 
Now I'm not sure if she should end up with Baekhyun. orz. Either way, there's going to be someone to get heartbroken. 
^ Back to Top