Chanyeol likes Her
by eizanyeol
Tags comedy romance you exo baekhyun chanyeol agedifference | Report Content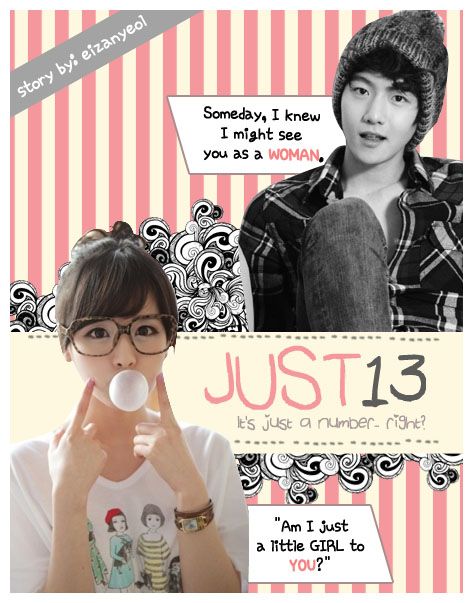 Chapter 20 – Chanyeol likes Her
Eventually, the food fight has ended and Suho claimed it as the best birthday ever… unless they all clean up. Now everyone was everywhere, scraping mashed food off the walls, mopping the floor, just cleaning off everything! Everyone, and I mean everyone, was either soaked in water/liquids, sticky thanks to food or both, most likely both. Baekhyun was teasing Tao, who was almost in the verge of bursting into tears, as he tell him a ghost story while they mopped the floor.
Sejun was peacefully scraping off cake on the bedroom's door until Chanyeol waddled towards her, "Junnie!"
She jumped in surprise, then glared at Chanyeol, "Yah, Park Chanyeol."
"Oppa." He finished off with an innocent smile.
Sejun furrowed her eyebrows, "If you're going to do this again, I might as well just go ho-"
"No!" he burst as he pouted deeply, "I just wanted to talk."
Sejun couldn't help but smile at his pout, "Talk about what then?"
Chanyeol smiled back and shrugged, "Well… things," he uneasily mumbled as he look down. Sejun raised her brow at his action until he looked back up with a grin, "Since I find this cute, I wanted to ask if uri little Junnie has a crush on someone?"
Sejun blinked before blushing as her eyes drift back to the door and slowly wipe the smudge of cake on the door, "Why do you want to know?" she asked, not mockingly but slowly and curiously
Chanyeol licked his lips awkwardly as he turns to the wall with a smudge of icing, "I said it's cute. So there's someone, huh?"
Sejun whipped her head at him with a sly smile, "Do you have a special someone?"
Chanyeol paused and shrugged, "Yeah. Of course, who doesn't?" he continued to wipe the smudge off
Sejun nodded slowly and looked away again, thinking about what Suho was saying before, "Who?"
Chanyeol blinked, "Why do you wanna know?" he coyly replied
Sejun rolled her eyes and scoffed playfully, "If you want to know mine, tell me yours first!"
The boy's brow irked up as he turn his head to look back at her, "W-Well…" it was obvious he really wanted to know her crush. But maybe she likes someone in her age instead of someone older. He wouldn't know anyways; it's Oh Sejun, indirectly mysterious with everything she has & does.
Thinking he wouldn't say anything, Sejun chuckled and looked away, sliding aside to wipe off the cake on the wall. There was brief silence until Chanyeol spoke back up, "I like… her." He said nervously. Sejun instantly looked back up at him with questioning eyes, "Her?" she asked and he nodded, "Her."
"Don't laugh… cause you're not one to. She's really young but somehow I managed to like her. It's silly, I know but… I guess I was just attracted."
Sejun gulped inaudibly before taking her eyes off of his face, blinking away uneasily. Was he going to say it?
"I knew her from my friend. I thought she was older than how old she is but… I guess she's okay. The way Baekhyun told me about her was how I got attracted," he continued, unconsciously wiping off nothing on the wall as he smile to himself, "Pretty, cute, tough but that's how she's so adorable, playful and even though it doesn't show, she's a very good friend & family member."
"S-So she's young?" Sejun awkwardly asked
Chanyeol nodded gently, slowly turning his head to give her a soft (not to mention, charming) smile, "Very young,"
Sejun's eyes widened as she blushed & look away, 'Shut up, Oh Sejun! That's not you!' she thought, "P-Pedophile,"
At her remark, he frowned, "Y-You think so?" he whispered sadly as if she just implied something. When she noticed the hurt in his voice, Sejun panicked, "N-NO! I mean… No, It's… cute…" she blushed some more, thinking of that one particular person she's into. Baekhyun.
Chanyeol beamed slightly and grinned at her, "You think so?"
Sejun giggled and nodded happily, flashing him a modest grin, "Ne."
Chanyeol moved nearer to her side but he slipped on some cake, "WHOA!"
Sejun gasped and reached out to help him but of course, thanks to his weight she just had to fall along. They end up laughing beside each other. Everyone's attention was brought to them and Tao stopped crying. Everyone either laughed as well or just ignored the two, nevertheless, they ended up going back to cleaning. However, Baekhyun saw the picture and he unconsciously glared at the pair. Luhan saw his reaction and approached him, "What's with the glower, Byun Baekhyun?"
Baekhyun's reaction faded as he turn to look at his hyung, "E-Eh?"
Luhan chuckled and shook his head, "Nevermind," he said, patting his dongsaeng on the back before going back to help Sehun with stacking the CDs back in order how Suho wanted it.
Baekhyun finally realized he was glaring and sighed, 'What's happening to me?' he started to glare again as he watched Chanyeol take some cake off of Sejun's hair with an affectionate smile.
---
OMAGAAAAAAH! THANK YOU THANK YOU forever0701 for the GREAT FANFIC POSTER!! Waaaaaah~ It's cute, isn't it? 8D I just finished making a poster for Just 13 yesterday but I dun mind using this poster. :'D Even though the ulzzang is Kim Shinyeong. xD But it's alright. Thank you again, you're such a good subscriber and poster maker. ;_; <3
Don't worry you other pretty & amazing subs, I love you too. ;D <3
^ Back to Top