Call Me Oppa!
by eizanyeol
Tags comedy romance you exo baekhyun chanyeol agedifference | Report Content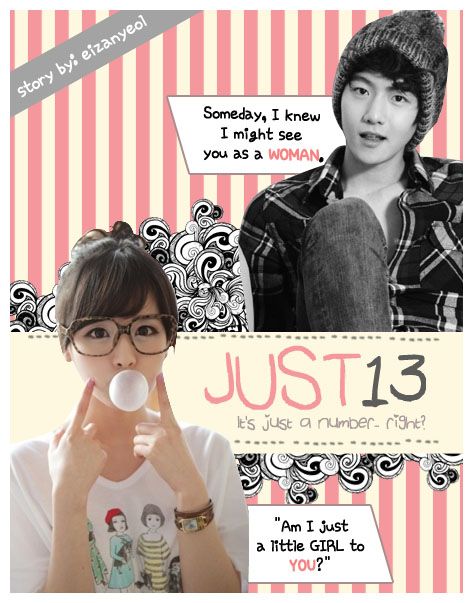 Chapter 14 – Call Me Oppa!
After that, they all walked to the park to play basketball. It was already dawn but they still continued to play. Sejun would've stayed, but Chanyeol wouldn't let her. If she didn't come along, he'd stay with her and bug her to call him 'oppa' even though she'd already call him that.
Sejun was sitting on the rocked fence as she played with her phone which flickered off because it was at low battery. She sighed in boredom and looked up to see the boys still playing, 'Aish, Park Chanyeol.' Sejun lowered her head to stare at the ground. She stayed in that position until someone ran over.
Sejun noticed his presence and looked up, "Byun Baekhyun," she greeted
Baekhyun slightly scoffed playfully, "Can't you call me oppa for once?"
"I already did, but… you never took notice of it," she shrugged before noticing the others weren't there anymore, "Where'd Park Chanyeol & Oh Sehun go?"
Baekhyun sat down beside her after her retort, "They went to buy snacks, Oh Sejun." He mocked
Sejun nodded in understanding and looked in front of her. She was really very happy that she's alone with Baekhyun and now that he's single, she's not that mad anymore. The only thing that's annoying her is the silence that happening.
Baekhyun was being bothered by the silence too. In all honesty, Baekhyun wanted a nice conversation now that they're alone, especially when Chanyeol's not there to disturb. Slowly, Baekhyun narrowed his eyes to look at her.
"So," he started.
Sejun turned her head to look at him, "Sup?"
"Call me oppa." It sounded like a mock than a command thus Sejun made a face.
"Don't be Park Chanyeol."
"Okay, then I'll be Byun Baekhyun," he then started tickling her on her sides and expectedly, Sejun started giggling and squirming around.
"Y-Yah! Hihi… S-Stop! Byun Baekhyun!"
Baekhyun laughed along, "Call me oppa first!"
"Nooooooo! HAHAHA! YAH!" Sejun laughed aloud as she tried to hit Baekhyun as hard as she can but only doing it weakly since she was weak with tickling.
"Haha~ no~ Say 'I want Baekhyun oppa.'"
"NO!" Sejun tried going away but Baekhyun held her around
"Fine then!" he continued and Sejun started to lose air
"YAH!"
"'I want Baekhyun oppa,' that's all you could say to make me stop." He winked but she didn't see it. Finally Sejun decided.
"I WANT BYUN BAEKHYUN OPPA! NOW STOP!"
"Alright." Baekhyun stopped, but grabbed on her wrists, pulling her close to him and flashing her his infamous charming smile. He looked at her eyes and said, "Here's your Baekhyun oppa."
Sejun blushed and before she could get redder, she pushed him away and looked away, "Yeah. Cheesy."
Baekhyun continued to smile and watched her, "Don't say you don't love it,"
"I don't." she lied, turning her head back to look at him with a playful smirk, "Oh, look. You're so cheesy that ants are starting to flock over you,"
Baekhyun chuckled, "You're blushing so hard even I can see it under the red-orange dawn~" he winked, poking her cheeks.
Sejun got redder in embarrassment but kept her eyes at him and glared at him, leaning closer, "You think you're so cheeky, you're growing a new head!"
Baekhyun leant closer as well, "You're so dazed at my looks that retort barely had sense."
"You're so smug you think everything revolves around you!" she leant closer.
"That comment was so weak but I thought it was so cute." He leant closer.
Now they were both inches away, so instead of pulling away, in panic, Sejun fell down from the fence, "WAH!"
Baekhyun's eyes rounded, "YAH!"
Sejun fell flat on her knee that got scraped by the rock floor, "Ow." She muttered with a pout before standing back up.
"Yah you're bleeding." Baekhyun glared at her irresponsibleness.
Sejun glared back, "So?"
Baekhyun rolled his eyes at his immaturity and helped her up. Sejun sat back up on the fence and Baekhyun bent down to her knee level, checking on her wound, "Aigoo. We need this to be cured sooner or this will be infected." He sighed, "What's wrong with you these days? You're always so clumsy. Oh yeah, ever since that talk we had you'd been an accident-prone."
Sejun rolled her eyes and shrugged, "Yeah, cause I'm falling for you," she teased as a pick-up line but ended up thinking he might believe it really.
Baekhyun smiled to himself softly, "I know." He conceitedly retorted back but Sejun just stuck her lower lip out and look away stubbornly. "Hey, Junnie?"
"Yeah?" Sejun trailed off absentmindedly
"Thanks for that day again though." Baekhyun looked up at her to smiled ever so sweetly
Sejun looked back down and nodded slowly, a smile immediately forming on her lips, "No problem."
"So those words were true right?" he asked in a teasing tone.
Sejun made a face, "What words?"
"All of those words you said that night,"
Sejun cleared her throat, "Aren't you going back up now?" she ignored his question.
Baekhyun just chuckled, "I get it, I get it." he stood back up again and sat beside her. He was about to talk again until someone abruptly hugged Sejun behind with his arms around her neck causing her to stumble forwards.
"WHOA!" Sejun exclaimed, luckily, the person yanked her back so she was still on her seat.
Baekhyun, however, was taken aback and panicked slightly. He whipped his head to see who it was and saw, "Luhan hyung." He called rather coldly as if he was mad at him. Baekhyun was confused as to why his tone of voice came out like that. So to pay for it, he gave him a smile.
Luhan blinked at his greeting but soon smiled back, still hugging Sejun behind who was struggling. He rested his chin on the top of her head even though she was moving so much.
"YAH! LUHAN! GET OFF ME! WHY DO YOU LIKE HUGGING ME SO MUCH?!"
"Not until you call me opp- OW UGH!"
Sejun had sulked down before she jumped up to hit his chin. It hurt her head too, but she knew it would hurt Luhan's chin more. Sejun hopped off the benches and ran off. Baekhyun laughed at the scene and didn't even bother to help his hyung. Luhan gave him a glare, "Yah! That really hurt…" he pouted
Sejun stopped by the hoops and pointed at him like a little kid, "HAHA! THAT'S WHAT YOU GET FOR BEING SO- OW! YAH!" she yelled suddenly after something slapped her head from behind.
"Behave, Oh Sejun." Sehun warned. After seeing his Luhan hyung, though, he beamed like a fat kid seeing that big cake on that bakery shop, "LUHANNIE HYUNG!" he ran over & tackled Luhan.
Chanyeol, however, came with the bags. He stood next to Sejun who was just until his elbow, "Junnie-ah~ I got you some tea!"
Sejun blinked, "Tea? Ew!"
Chanyeol tilted his head, "Ew? But don't you like tea?"
Sejun instantly shook her head furiously, "NO WAY! Last time I drank it, Sehun soaked his toe in the mug. Now every time I try it, it tastes like Sehun's foot." She pretended to gag before running to Baekhyun.
Chanyeol blinked some times and pouted, "R-Really?" he ran after, "But Sehun said-" he paused, narrowing his eyes at Sehun who was tightly hugging Luhan, "You Sejun-hater!" he glared at the boy maknae.
Sehun only grinned at him before wiggling, "Luhannie hyung! You came!"
Luhan struggled, "OH SEHUN. LET GO OF ME. YAH!" but couldn't help but laugh, "Aish."
"Oh come on hyung, I know you love my hugs!"
"Of course I do! You're an Oh. I love hugging Sejun and I love your hugs!"
"Ugh. I hate how you always hug me from behind. It has happened like… 5 times! What's wrong with you?"
"Call me oppa, Oh Sejun!"
"I HATE THAT."
"LUHAN HYUNG! STOP PAYING ATTENTION TO THAT MIDGET. LOVE ME!"
"SHUT UP, OH SEHUN!"
"YOU SHUT UP OH SEJUN!"
"Yah, that's my Sejun you're cursing at!"
"Oh, Chanyeol, you know Sejun's mine."
"Yah! Byun Baekhyun, she's mine first!"
"YAH. YOU TWO. STOP ARGUING OVER ME. JUST WHAT!"
"Luhannie hyung~"
^ Back to Top