58

✎The Couple Book: The Next Step After Dating. [Vacation Mode]

by dubumints
574 subscribers | 8155 views | Updated | Created
Tags drama ljoe onew romcom shinee originalcharacter cheesy | Report Content

Characters
Lee Jinki, Maki Teppei [OC], L. Joe, SHINee | [+cameos].|| Look out for new students too!
Description
Who says being a couple will be easier?

New Student?
Welcome! Although to help you catch up and get that A+ you deserve, it would be better to  take
The Dating Subject first! ;)
---
✎LESSON PROPER
Now that Onew and Maki are a couple, what exactly is the next step?
Holding hands? Kissing? Spending time with each other?
What about new rivals and 

old distractions?
What about getting new responsibilities and 

giving up?
Looks like this will be another semester to look forward to!
---
Subject/s You're Enrolled In: ALL the subjects that needs to be taken in the senior year. 
Type of Subject: Romantic Comedy with a touch of drama and of course, cheese.

Difficulty Level: PG 13

Focus of the Subject: Mainly Onew x Maki (OC)

Other Classmates:  Same old classmates from junior class. Oops. Do I spy a new one? :O
Honor Students: 

 
All the old students who took The Dating Subject. ;) Welcome back!
Creative Students--
Advance Readings~
---
✎AUTHOR'S NOTE:
Hiiii classmates! Looks like we all got through junior year and The Dating Subject without a hitch!
Welcome to Senior Year!
Sadly, there are no subjects that we're taking up this year that's as interesting as dating...
But still, I hope you won't drop out and that you'll continue enjoying the lessons! ;)
Get ready for cheese, comedy, love, and drama.
English isn't my first language, so pardon me for the errors you'll meet along the way.
Happy reading! <33 Comments/Suggestions/Criticisms will always be appreciated.
Silent readers will get detention
! ROFL. kidding. Silent readers break my heart. < / 3
When you unsubscribe, it makes me cry. D:
And yes. This is the sequel to The Dating Subject. XD
BTW. NO COLOR CODINGS HERE.
This is done so that I'll be able to edit faster and ultimately, update faster. I hope you guys don't mind!
---
BULLETIN BOARD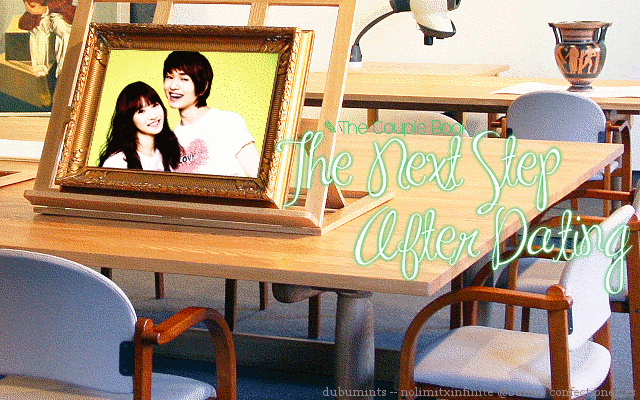 ---
DISCLAIMER:
I do not own Lee Jinki (maybe in the future, rofl.), SHINee, and the Kpop idols. All the other stuffs in this fic are mine unless otherwise stated.
Please do not plagarise, post as your own (in other words, stealing), or redistribute.
Or I'm 
telling 
ONEW. Hmpf.
Foreword
Guess what? They're dating!
Now that Maki has finally figured out everything...
Now that Onew had finally confessed and made her understand what he truly felt...
Now that they had both gotten through The Dating Subject without a hitch...
Who would have ever thought that not everything would end there?
That obstacles will come.
That distractions will stay.
That their love will be tested.
Has Onew and Maki learned enough to make it through and pass?
Or would they need to do a retake? 
Tweet
^ Back to Top