Nineteen
by Annie1017
Tags original romance you exo exom luhan kris | Report Content


ღ Chapter Nineteen ღ
"A guy and a girl can be just friends, but at one point or another, they will fall for each other…maybe temporarily, maybe at the wrong time, maybe too late, or maybe forever." -Dave Matthews.
---
My apartment chose to do renovation at possibly the worst time possible. I had caught a cold the day before as summer transitioned to winter, and had spent the whole day more or less throwing up. By the second day, I was no longer nauseous, but my whole body felt tired, my head hurt, and the loud sound of drilling downstairs made me want to cry.
"Come stay over here," Lu Han had invited over the phone.
"I don't want to burden you guys."
"You're not contagious, so just come and nap here. You just overworked your body and need some quiet rest time. You'll have the apartment to yourself today here."
I was about to protest again, but another spurt of drilling made me close my eyes to fight the pain in my head. "Okay, okay."
I brought with me my favorite blanket, and more or less collapsed onto the EXO-M couch. It was nice and quiet, and I turned on the tv.
"Are you okay?" Kris asked, eyeing me from the doorway to the hall. "You're looking really pale."
"I'm always pale," I muttered, trying my best to glare. But really, I was too lethargic to even express emotions at this moment.
"Do you need someone to stay with you?" Chen asked as he slipped on his jacket. The members all had dance practice today, and were about to head out together.
"No, it's fine," I told him. I really just didn't want to bother them. I was already intruding in on their dorm.   
As soon as they left, I regretted it. I was sweating, then I was freezing. I curled into a ball and wished that I would just fall sleep soon or that someone would come to save me. It felt like hell.
As if my prayers were being answered, the door to the dorm swung open again, and Yixing strolled back in.
"I forgot my headphones," he said, a little embarrassed. I was not at all surprised, since Yixing was always leaving things behind. He started for his room, but froze as he passed me. "Yah, Jae-in…you look horrible."
"Thanks," I groaned, cuddling even more into my blanket. "Yixing, can I get some more covers?"
"Yes, but…I'm going to get someone to here to stay with you." He dropped two more blankets on me, and then pulled out his phone.
This time, I didn't argue; I felt like I was going to die. The new blankets made me feel warmer, and I settled in. I probably should have just taken an a sleeping pill and gone to dreamland, but I had been raised to believe that western medicine was not good for the body.
"I have to go to practice now, but we're going to take turns staying with you, okay?" Yixing said, hanging up. "Hyungs claimed the first shift, and they'll be back in few minutes." 
"Sure," I replied. I didn't really care who, as long as someone was here to make sure I didn't die. Yixing made sure that I was warm and tucked in, and then left.
When door opened again and Lu Han and Kris came back into the dorm, I almost cried again. I was feeling miserable, and just seeing their faces made me feel better.
"Alright, where does it hurt?" Lu Han asked, strolling up to me at once.
"My head," I groaned. "…my throat...and my whole body."
Kris stood back a little and watched. "You want something to eat?" he asked.
"No, I don't think I'll be able to keep it down."
Kris nodded, and then disappeared down the hall. 
"Just sleep, Jae-ah," Lu Han soothed, brushing my hair out of my face. "Anything I can do to make it better?"
I looked up at his doe eyes, and wanted to cry all over again. Geez, hormones. 
"Sing to me," I told him.
Lu Han looked surprised, but took a seat next to me on the edge of the couch. "What would you like me sing?" he asked, looking down at me steadily.
I thought for only a moment before answering.
"Leehom. Sing 'Heartbeat' by Wang Leehom."
This time, Lu Han didn't look nearly as surprised. Leehom was one of my favorite Chinese singers, and Heartbeat was my favorite song by him. Lu Han cleared his throat a little and then started singing. He really did have the voice of an angel.
I closed my eyes and let my mind drift as I listened to him sing.
[A/N]: dis bitch won't let me embed like I normally do -.- So click HERE to listen to it on youtube. The verse Lu Han "sings" starts at 1:05.
The expression in your eyes is so full of beauty, taking away my heartbeat
Your gentleness is so close to me, taking away my heartbeat
You turn time back to the beginning, can I just have one more second
Waiting for that when you too will think again
Of that happiness suspended in our memories
His soothing voice and the sweet lyrics alleviated my headache, and I fell asleep in no time at all. I dreamed of nice things for once, half memory, half imagination. I was walking hand in hand along a river, the Seine River in Paris, with the man that I loved. It was a cool, summer's night in my dream, and I felt...content. Odd thing was, I never did get to see the face of that man. Weird.
---
Kris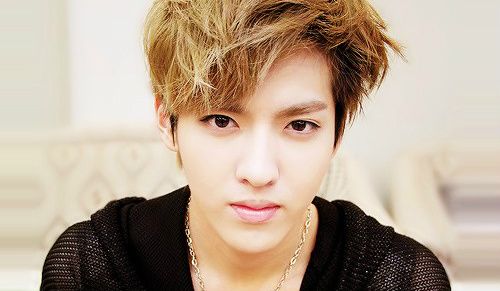 Seeing how close Lu Han was to Jae's face made me want to throw something. I leaned against the doorway to the hall, and watched as he brushed hair off her forehead.
When Yixing had called and said that Jae-in was too sick to be left alone, Lu Han and I had volunteered almost at the same time to stay behind. I literally thought we were going to duke it out right there, but them manager decided that we could both stay. Now, I wished we had fought it out, because then it would just be me taking care of her.
Now, he was singing her favorite song, and Jae-in's eyes were closed as she settled into her blankets again. She looked peaceful, happy even. The whole sight just made me angry.
Silently, I retreated back to my room and flopped onto my bed. Jealousy was not a pretty thing.
 -----------------------------------------------------------------------
Manager called a few hours later and demanded that one of us switch out. Lu Han left for practice, and Tao returned to help me take care of Jae-in. To be honest, our little maknae was so exhausted that I doubt he could have taken care of himself at that point. So, I put him to bed to nap as well, and sat down on the floor in the living room next to the couch.
As non-creepily as possible, I watched her sleep. Jae-in's hair was pushed back out of her face, and her lips were set in a small smile.
When Jae-in finally stirred and opened her eyes, she looked much better than before. Color had risen to her cheeks, and her eyes were less glazed. I smiled at her, glad that she was gotten through the worst of it.
She opened her mouth, and the first question she asked was, "where's Lu Han?"
I think I snapped. Really? The first thing she does is ask for him? It was all so unfair. Angrily, I turned away from her.
"Lu Han, Lu Han, Lu Han! It's always about Lu Han!" I growled, frustration and bitterness finally showing through.
She looked surprised at my outburst, and pulled herself up to a sitting position. "Kris…calm down," she said.
Calm down? As if.  
 "Why do you only see him, Lee Jae-in?" I barked harshly. "Why are you so blind?"
There was a long moment of silence that seemed to just drag on and on for an eternity. She looked at me with shifty eyes that were avoiding my own, and the only sounds were the pounding in my chest, in time with our breathing.
"That's not true," she finally muttered, locking onto my gaze finally. "I'm not blind, Kris. I see you."
Before I could respond, or really even process her words, Jae-in reached over and grabbed onto the collar of my shirt. She yanked, surprisingly strongly for a sick person, and caught me by surprise. I pitched forward, and the next thing I knew, she was kissing me. Jae-in had moved one of her hands, so now only one clutched at my shirt and the other went around my neck, curling into my hair.
It wasn't our first kiss, but at the same, it sure felt like it. Her lips were soft and sweet, and there was fervor behind them as she kissed me again, and again. Our tongues explored each other's mouths, and her hands tugged sensuously on the tips of my hair. Then the passion died down, leaving behind only the chaste, delicate butterfly kisses.
Have I died and gone to heaven?   
---
[A/N]: Fuck yeah, it just happened. You mad? Wait, of course you're not mad. Jaeris totally just had a makeout session. 
I heard Lu Han say in an interview that his favorite Chinese singers were JJ Lin and Wang Leehom and I almost cried. I ADORE both of those guys, especially Leehom. His voice is just perfect, and he can dance, and act, and he speaks perfect English cause he's from Jersey, and I want to marry him even though he's like twice my age. Cool. Chinese pop music is amazing as well, and I wanted to introduce you guys to some good artists' MVs below:
JJ Lin-He's Chen's favorite Chinese singer, as well as one of Lu Han's. This isn't my favorite JJ Lin song, but Lu Han sang a verse of this on one of the interviews once. 
More Leehom-because this MV was made by Wongfuproductions
Hit-5-probably the Chinese group that most resembles a kpop group. They're all fucking hot but I can't tell them apart because I don't really know the names yet. I heard one of the members got compared to EXO-K's Sehun or something but seriously they're all hot, who gives a fuck. This is the only song I like by hit-5 because their other more upbeat, dance-y songs sound SO autotuned and crappy. 
Show Luo-stole my heart in Hi My Sweetheart, is hilarious as a host on variety shows...is a badass in this post apocalypse themed MV. One of the few actors whose dramas has made my cry-I don't cry easily. I've seen basically every drama on earth and there are only 2 in which I've cried...maybe 3. Just go watch Hi My Sweetheart. It's my favorite drama of all time of any language/country. 
Fahrenheit-when I first got into kpop, I went through a "fuck all other music" phase for about 2 months, and this was the only group that I didn't kick to the curb. Seriously I have posters of them in my room because this was the first group that I was ever OBSESSED about. They've all been in a bunch of different dramas and stuff and all four of them are pretty unf and funny. 
Going to leave before I end up sharing my entire music library. Buh-bye. Tweet tweet.
^ Back to Top