1

Our Guardians~

Completed!

by KangJaemi
22 subscribers | 1935 views | Updated | Created
Tags dongho kevinwoo kiseop romance ukiss elikim fantasty | Report Content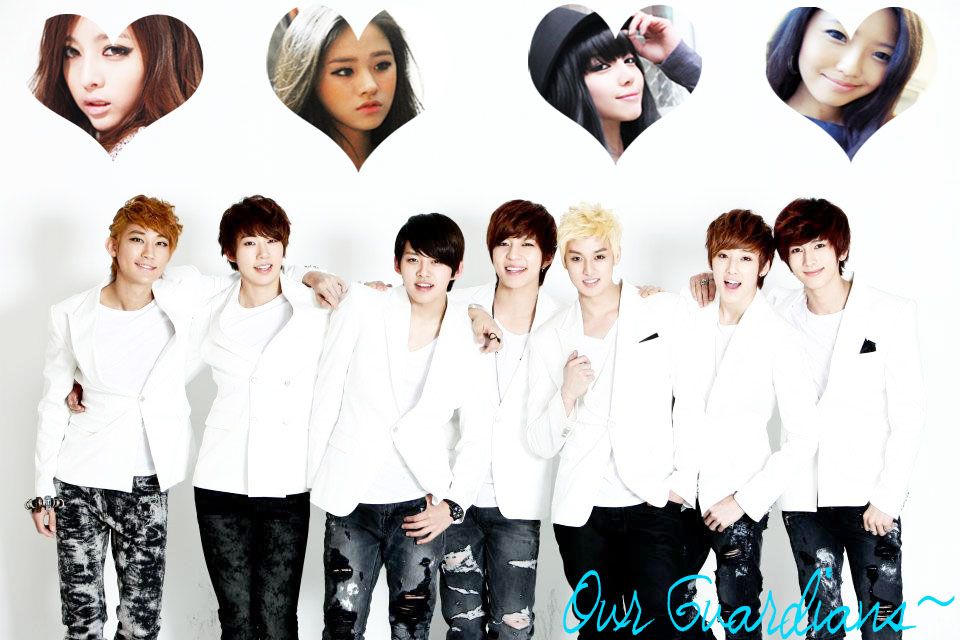 Characters
Eli Kim, Kiseop Lee, Dongho, Kevin (Main)
Description
Jaemi, Nara, Heechin, and Yoomi are always in some sort of bad situation whether it's together or not. They are non-stop running away from rapist, kidnappers, or just bad people. When the angels above notice them having a hard time, they send 4 guardian angels to keep them safe. Will the girls enjoy their new friends or will they rather not have them around? Will the angels agree to watch them? Or don't want to do anything with them either?
Angels:
1. Eli Kim (Earth Powers) 
Characteristics: Rude, Smart, Protective
Likes: Night Skies, Long Calm Walks
Dislikes: Loud People, Haters
2.Kevin Woo (Water Powers)

Characteristics: Kind-hearted, Serious, and Interesting
Likes: Fun People, Jokes, and smoothies.
Dislikes: Mean People, Hypocrites, and Pranks
3.Kiseop Lee (Wind Powers)

Characteristics: Queit, Embarrassing, Romantic
Likes: Girls, Soju, Pictures
Dislikes: Early Mornings, Bright colors
4. Dongho Shin (Fire Powers)
Characteristics:Shy, Rude, Lazy
Likes: Quietness, Reading, and Sleeping
Dislikes: Rude people, Loudpeople, or complainers
~~~~~~~~~~~~~~~~~~~~~~~~~~~~~~~~~~~~~~~~~~~~~~~~~~~~~~~~~~~~~~~~~~~~~~~~~~~~~~~~~~~~~~~~~~~~~~~~~~~~~~~~~~~~~~~~~~
The Girls:
1.Jaemi Kang : Guardian is Eli
Characteristics: Nice, Smart, Loud
Likes: Sports, Playing Guitar, Writing poetry
Dislikes: Mean people, arguing, and breakups
2. Yoomi Jung: Guardian is Kevin
Characteristics:Loud, Fun, acts cute and sometimes wild
Likes: Singing, Dancing, and cooking
Dislikes: Players, Mean People,water, and spicy foods
3. Nara Kwon : Guardian is Kiseop
Characteristics: Quiet, Distant, fun to be around
Likes:Loud People, Both shy and out going people, Funny people|
Dislikes: Back Stabbers, Annoying people
4.HeeChin Park : Guardian is Dongho
Characteristics: Funny, Nice, Strict, Calm
Likes: Ice Cream, Internet, Coffee, and Hotties
Dislikes: Annoying People, Kids, Bitter food, and sluts
Foreword
Heechin, Yoomi, Nara, and I were chilling on a nice summer night. We walked out the movie theater and headed home. "WOO. That was a banging movie." Yoomi shouted. She wrapped her arm around me, "Don't ya think Jaemi-ah?"
"Ne...It was good." I replied.
"Holy shiz, guys... Look" Nara stopped us. We looked straight a head and there were men with bats in their hands
"Are you kidding me?" Heechin complained, "Not again." The guns ran towards us and we started running away.
"Why do they want us? Why are we always getting in trouble?" Yoomi cried.
"Dont talk just run!" I yelled. These men were fast and even if we stop, we'd get caught. We ran for hours to get away from them but they continued chasing us, "Jesus.. I'm so tired." We finally stopped and hid in trees catching our breaths.
"They are over there." The men said.
"Damn." Nara sighed. "Let's go!" We got up and started running again.
"Guys, go on... I can't make it anymore!" Yoomi said falling to her knees.
"Yoomi. Get on my back at least." Nara offered.
"No, Go!" Yoomi commanded. Nara shook her head and continued running. The guys grabbed Yoomi and pulled her away,"Please let me go."
"Nah. I rather not." The men laughed.
"She said let her go." Yoomi saw a skinny tall male figure standing in the dark.
"Who is this guy?"
"Your worst nightmare." The skinny guy did a helicopter type spin and water whips came out of nowhere. The whips wrapped around the men's necks. He lifted them up and flung them across the city. He picked up Yoomi and smiled. "They won't be coming back, okay." Yoomi nodded and smiled. He teleported Yoomi in front of her house.
"Woah. You know where I live?" He ignored her and placed his hand on her head. He pressed softly on her head and erased her memory then teleported away.
Tweet
^ Back to Top