This is Goodbye
by wooception
Tags 2pm iusinger romance woou wooyoung wooyoungxiu milkycouple | Report Content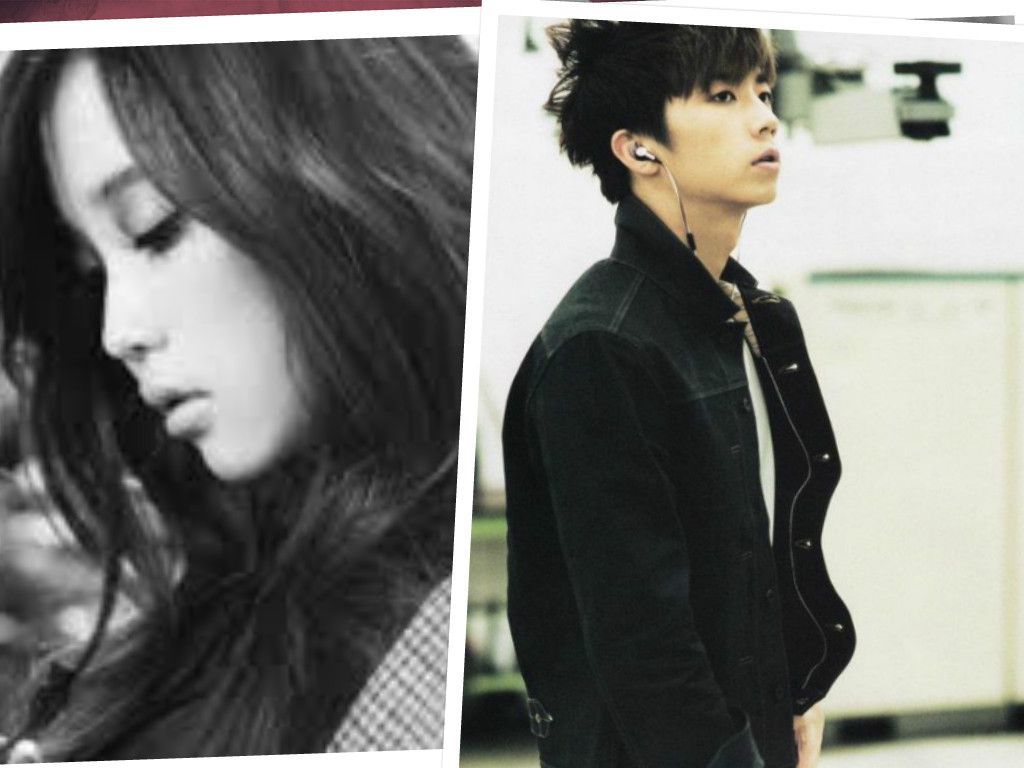 Wooyoung's POV
The sun was already way up by the time I woke up, IU-shi and I stayed up 'til heaven knows when last night, just sitting there enjoying each other's company. I smiled at the memory, yea, that'll last for eternity.
I glanced at the clock that read 11:05 am.
SHIT.
Her plane is leaving in less than an hour. IU told me yesterday that she was very busy with her schedule abroad, and will have to leave the country for the next few weeks. I insisted on going with her to the airport to see her off but she kept on rejecting, and begged me to stay home.
Guess who's staying home today? Oho, not me.
I would listen to anything IU says, but this? No way, I need to see her one last time before she leaves.
I quickly threw on a plain white t-shirt and a plaid shirt overtop, pulled on my jeans, and grabbed my socks and sunglasses while running to the door. It would help a whole lot if I dressed casual and won't get recognized by mad fans.
"YAH WOOYOUNG! Where the hell are you going? We have a photo shoot today!" I heard Junsu protest while putting on my shoes.
Between heavy pants, I managed to pull out the few words," IU. L-leaving. Airport. Now." And tumbled out the door.
Time really wasn't on my side today, as I waited impatiently for a taxi to arrive. AISH! Where are the taxis when you needed them?
Finally, a taxi slowly rolled toward where Wooyoung was standing and he quickly climbed in.
"Ah-Ahjussi, G-gimpo Airport please. And drive as fast as possible."

"Airport? Where might you be going sir?" The taxi driver asked, but changed his question when he saw my lack of luggage, "Sending someone off eh? Ah, young man, a lady perhaps?"
I chuckled, "Yeh, if I don't see her today, I might not see her for awhile."
The ride seems like it lasted forever as I constantly checked my watch every 5 minutes.
"Ay young man, this person must be very important. But no worries, we've arrived."
 I quickly thanked him and paid the fee while running toward the airport. The minute I arrived, a woman's voice came on the speaker, "Anyone on flight 2315, please direct yourself to Terminal 2, the plane will leave in 15 minutes." Crap. That's IU's plane.
Terminal 2, Terminal 2... AISH, WHERE THE HELL IS TERMINAL 2? I started panicking while going in circles looking for her.
There, in the sea of people, I see a brunette bobbing along the crowd with 3 guarded men beside her.
Bingo.
I ran happily towards her while yelling her name, "IU! IU-SHI! I'M HERE!"
She turned around, along with those men. I frowned in confusion, who are they? Definitely not security, I know her security guard as well as my members. But the thought quickly faded away when I saw her face.
She looked beautiful as always, it's amazing how long we've been together, and how casual and makeup free she looked, but every time I see her face, I still couldn't believe that she was actually mine. The emotions on her faced changed rapidly though, from confusion to surprise, then back to confusion, then came a look that amazed even myself. Panic. She looked flustered and panicked.
Nonetheless, I still ran toward her.
"Woo-Wooyoung...O-Omo..You're...here." She stared at me in distraught, "Why'd you come? I told you yesterday to stay home!"
Horrified by her reaction, I pulled her in on a tight hug and whispered in her ear, "I'm sorry, I couldn't bare to not see you again." I felt her tremble against me and I smiled, I knew her well enough to know that she can't fight when I do that.
But when I pulled away, I didn't see a red-faced, blushing IU. I saw tears forming near her eyes, and her lips trembled as she looked down and said, "I told you not to come Wooyoung. I told you not to come."
I flinched slightly, she's was never like this. She would always forgive me every time I did something wrong.
"What's wrong?" I asked her with concern, taking a step towards her.
Still looking down, she took a small step back.

"Flight 2315, your plane is leaving in 3 minutes, please receive your ticket and aboard the plane."
"IU-ah, you need to leave soon. Tell me what's wrong?" I'm getting really scared now, something's not quite right.
"Oppa..I..."
She looked up, with tears streaming down her face.
"Oppa, mianhae. But let's break up."
With that, she turned around and left, closely ushered by the 3 men.
--------------------------------------------------------------------------------------------------------------------------------------------
A/N: NOOOO. IU LEFT! D: Wooyoung's gonna be in so much pain now T_T Please don't hate on her just yet, there's reasons why she broke up with him.
        I personally think this chapter sucked. It just doesn't seem right for such a change in the story :/ So thank you so much for everyone that actually stayed along and read this far, I honestly appreciate it a lot! PLEASE COMMENT, TELL ME YOUR OPINIONS AND HELP ME IMPROVE AND SUBSCRIBE! THANKYOU SO MUCH! :*
 
^ Back to Top