Living a perfect life
by JangSooMin
1736 views | Updated | Created
Tags boram eunjung hyomin jiyeon soyeon tara kyuri | Report Content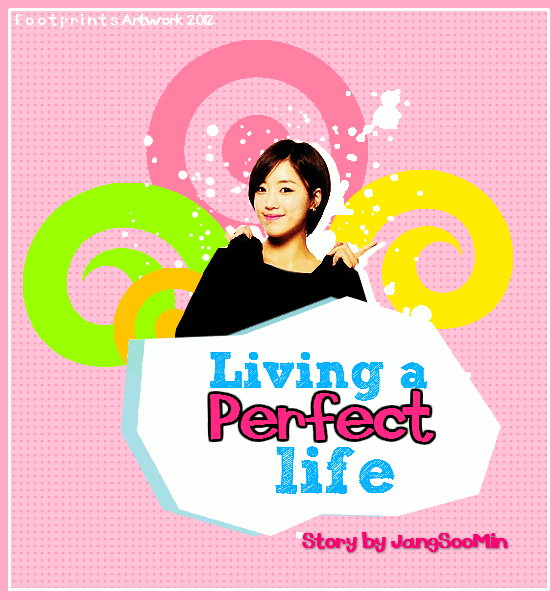 Characters
eunjung, beast, t-ara, nichkhun
Description
Kang Hara is the youngest amongst the five siblings of one of the richest families in Korea. She's cute, funny, pretty and popular as well. She also has 5 bestfriends who stick by her side no matter what. Shin Yuuko, Park Jikyeon, Jung Da-eun, Kim Minji & Yoon Ga Byeol. But there were 3 guys that keep messing up her heart and feelings, Junhyung, Nichkhun and Hyunseung who are known as the three roses of the school.
How will she face problems and drama in the future?
Will her friends help her get through it?
and most importantly.....
Who will she choose?
CHARACTERS
GIRLS
HAM EUNJUNG AS KANG HARA
-wealthy family
-youngest out of five siblings but feels lonely sometimes
-cute, attractive, popular among guys and crazy (esp. with Yuuko)
-she has to pick one of the three roses of the school
PARK HYOMIN AS SHIN YUUKO
-wealthy family but not as rich as Hara
-a transfer student from Japan
-mother's Japanese, father's Korean and has two younger brothers
-pretty, cute, crazy (with Hara) and SS (staying single)
PARK JIYEON AS PARK JIKYEON
-also from a wealthy family but same status as Yuuko
-cute, caring, loving, smies (a lot)
-has three sisters below her
-asks Yuuko and Da-eun for love advice but is SS
PARK SOYEON AS JUNG DA-EUN
-wealthy family
-one older sister, a younger brother and a younger sister
-matured, cute, takes care of others
-plays married couple with Yuuko (soyeon's the umma & Hara, Jikyeon are the daughters)
JEON BORAM AS KIM MINJI
-wealthy family
-cute, matured, pretty
-one older sister and parents
-an SS and is hardworking
LEE KYURI AS YOON GA BYEOL
-wealthy family
-cute, childish, playful
-an older sister, an older brother and two younger sisters
-in a relationship with Yoseob
S-TAR
GUYS
YONG JUNHYUNG
-one of the three roses
-attractive, handsome, popular amoung girls
-has a reputation that he can get any girl he wants
-loves Hara
KIM NICHKHUN
-one of the three roses
-eldest amoung the three
-matured, responsible and caring
-loves Hara
JANG HYUNSEUNG
-one of the three roses
-playful, cheerful, crazy
-is secretly Yuuko's distant cousin but they keep it to themselves
-loves Hara
LEE BYUNG HUN
- prefer known as L.Joe
- loves yuuko but tease her a lot
- cute but mystery 
CHAPTERS
SECOND ROSE: Unexpected meeting
FOURTH ROSE: Lies and another rose
The reason for this fic is because it reminded me of someone and well, I'd like to dedicate this fic to her. Saranghae, chingu~!
Foreword
Hara looked up at Yuuko who was texting her friend in Japan. She debated whether she would tell her about the roses. She knew it was for the best if she'd just come clean and spill the beans. Yuuko, who had been watching quitely knew what happened, how couldn't she? Hyunseung was telling her about it the whole night!
"Yuunnie appa...."
"Ne? What is it?"
"Urmm.... the three roses......"
"Ne?"

Hara was playing with her fingers and looked at the floor as if it were the most interesting thing on Earth. Yuuko kept quite and listened to what else she had to say.
"All three of them...... they confessed to me......."
___________________________________________________________________________________________________
What happens when three roses fall for you? And you had to choose just one.....
Tweet
^ Back to Top