Brotherly Loved or In-loved ?!
Completed!
by wallemolly
142 subscribers | 7429 views | Updated | Created
Tags comedy infinite myungsoo romance you | Report Content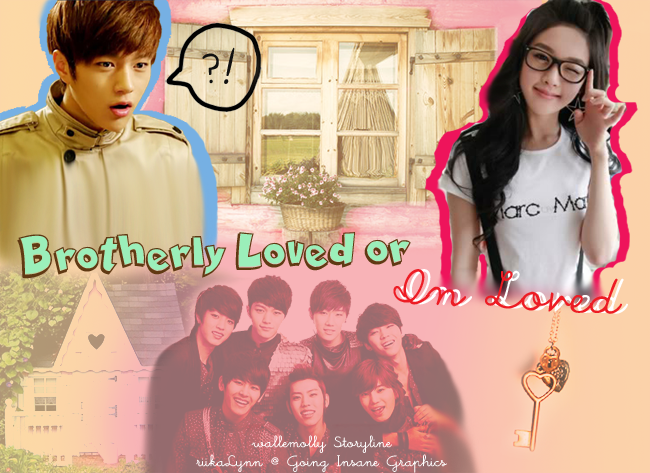 Characters
Kim Myungsoo, Park Yoonhae(YOU;fictional), Sungyeol, Sunggyu, Sungjong, Hoya, Woohyun, Dongwoo, Park Kae-in(fictional)
Description
You didn't know when love strikes you.
You cannot even tell what type of person you will fall for. 
So, you'd better be careful. 
Foreword
Yoonhae(you) was asked by her sister Kae-in to go and live to Kae-in's father for just 2 months, and Yoonhae did it for the sake of her sister who she loved the most. But will she be able to live there peacefully when she knows that Kae-in has a brother named Myungsoo, famously known as L, who also famously known as a cold guy have a cold heart and an insensitive one? And indeed, L is a good looking man.
Will she be able to turns L's cold heart into a warm one?  And can she be able to feel the brotherly love from him?
How L would react when he knows that his step-sister will be living in their house? Will L be able to give his brotherly love to her? Or he will be starting to feel something not as brotherly love?
+     +     +    +
"Yah! Yoonhae, wake up! It almost time, I'm not going to wait you so I'm leaving first and just take a cab. " L said with an irritated tone while knocking your door.
"BWOOH?!~ L opaa, wait for me! I'm almost finish--." But before you finish your sentenced you heard the engine of L's car speeding off. You left there hanging and disappointed until you find yourself screaming out loud.
"I HAAAAAATEE YOOOUU KIM MYUNGSOOOOOOO~~~!" you screamed until your last breath.
"I cannot bear this brother of mine anymore!" you said with an anger tone while panting.
***
THIS IS IT !!! PLEASE SUPPORT MY FIRST EVER FANFIC :)
ENGLISH IS NOT MY PRIMARY LANGUAGE. THEN, I AM SO AND VERY MUCH SORRY FOR THE WRONG GRAMMARS THAT YOU WILL BE READING.
LEAVING A COMMENT IS NOT A CRIME, SO PLEASE FREE TO LEAVE A COMMENT :)
AND SUBSCRIBE AS WELL, THANK YOU! ~ 
*** IF YOU DO SUBSCRIBE AND LEAVE A COMMENT, I ADD YOU AS A FRIEND !!!
THANKS FOR MY BEAUTIFUL POSTER
 Going Insane Graphic Shop 
http://www.asianfanfics.com/story/view/161975/going-insane-graphic-shop-not-taking-request-apply-graphic-infinite-kpop-bap-posterrequestshop-btob
CLICK THE LINK ABOVE Ü
:: to go to my beautiful and creative poster-maker Ü
+++
Tweet
^ Back to Top