My other half
Completed!
by Junjunki
3437 views | Updated | Created
Tags bbomb blockb ukwon zico ubomb zikyung kyung | Report Content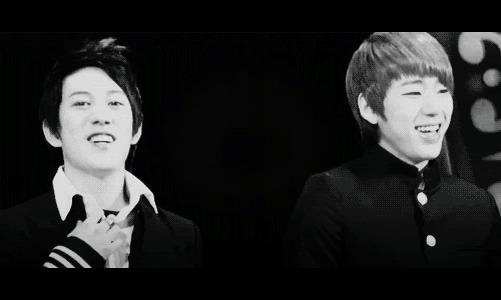 Characters
Zico, Park Kyung, U-kwon, B-bomb, Jaehyo, Taeil, P.O, Ubomb, Zikyung, Block B
Description
People said best friends stay together forever. But to him, it was a lie. He didn't like his best friend at all. His name is Park Kyung. To him, he was nobody.
"Let's stop being friends, Kyung" he managed to say it to him when Kyung approached him. He glared at the little guy as he fixed his glasses, hair covering those eyes like he was hiding his eyes from him. And he doesn't like it.
He thought by ignoring Kyung actually can make him feels happy. And he was not happy. He can't smile like always or jokes like he use to, maybe because he used to do that to Kyung a lot than the others but he didn't bother because the other guy didn't show up at all.
Something plopped in his head about Park Kyung jumped off the bridge. Heh, why should he care about him anyway. Maybe he should, he thought because Kyung was his ex-best friends and apart of him was missing, he misses all those dumb stuff he did when he was hanging out with the little guy.
But that was three years ago, and now everything changed. And now he was suffering from this little guy, Park Kyung that appeared in front him was different. He already changed.
 
Foreword
Pairings : Zikyung (OTP), Ubomb.
I don't know, I don't know, I don't know but I'm hot, hot, hehehee :P Sorry for making Kyung act like a girl 
Tweet
^ Back to Top