O5- The Opening Ceremony
by SapphireQueen
Tags you exo sehun lay exokandm adventurecomedy magicromance | Report Content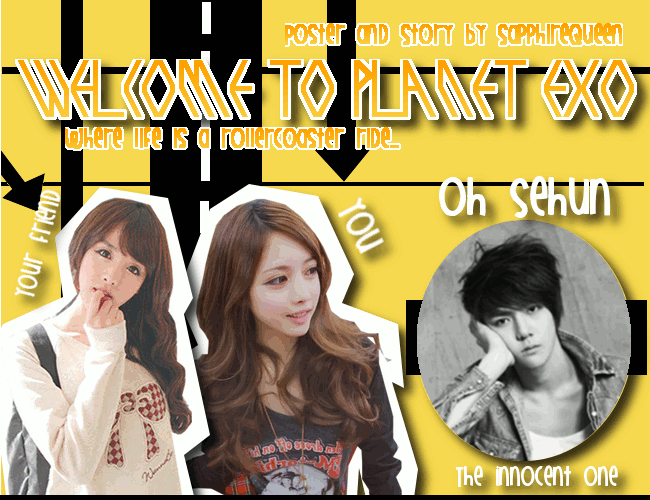 "Annyeonghaseyo," you ran into the main hall as you passed the gatekeeper, "Mianhe, I lost my group." He grunted, but let you in anyways. You stopped abruptly and scanned the room for Hyunsin. Piggytails, pink suit, piggytails, pink suit, you thought to yourself. After a while, you spotted her on the stage, with the rest of the batch. You skipped up the stairs and took a seat next to Hyunsin.
"Aish, that Kai bastard tripped me," you panted and slumped backwards more.
"Eh, I don't really like swearing," Hyunsin said uncomfortably, and she was sitting straight and alert. You rolled your eyes.
"What's happening now?" you questioned her, confused as to why your batch was on the stage.
"I'm not sure, but I think it's the opening ceremony or something. New batch, new students, we have to introduce ourselves," she replied, then became silent.
A tall lady, probably the headmistress, stood up and silenced the crowd. When she was sure that everyone was quiet, the woman began to speak. You almost died of boredom.
"Annyeonghaseyo, new students and old. This opening ceremony is to introduce the new students the rules of this reform, and to simply welcome them." Applause was forced in the audience, "Now, let's hear them and their names." The woman gestured your batch.
No one volunteered to get up and speak, so you decided to show these cowards. You got up casually, and walked to the microphone.
"Hai everyone," you said cooly, "I'm Jin Ae and this reform thing is seriously annoying, by magic's cool, I guess." You finished and sat down proudly, which earnt you lots of claps from the audience of old reform students.
"Annyeong..." then, one by one, the new students started talking, but none of them lasted more than three seconds in front of the mic.
"Great, so the old students may now depart, and I'll just have to talk to the new ones now," the woman clapped her hands gleefully, "Oh, and will the students I talked to yesterday please stay as well?" You spotted Kai and his gang leaving, but Sehun mysteriously stayed behind.
"So, welcome to Exo Planet! I know that you'll have a really great time," the woman said, "I don't like explaining things, so your partners will have to fill you in on the details. Your partners will help you get to your classes, find the rooms, and tell you the basic things about this reform. Please line up alphabetically by last name, and I'll tell you your partners."
The students got into a line, as you grumbled between a nerd boy and a girl who had unnatural beaver teeth. When the headmistress got to you, she asked, "Lee Jin Ae?" and you nodded. Then, she furrowed her eyebrows and sighed, "You'll have to stay behind. Sorry, dear." You groaned and stepped out of the line. Time crawled by, and you almost fell asleep until the headmistress called your name again.
"It seems like you were missed in the partnering session," the headmistress bit her lip, "But, no fear. OH SEHUN! Get here right now!" Sehun got out of his comfortable position leaning on the wall, and slowly walked next to you.
"Well, he got left over too, so you guys will be paired up. Mianhe if I had wasted your time. We will give you a day to familiarize yourself with the school, then classes begin, got that?" the headmistress rushed. You two nodded and left the main hall.
"So, Lee Jin Ae, eh?" Sehun asked. You just groaned a 'yeah', and tried to keep the conversation as limited as possible.
"I really liked your talk on the stage," he snickered. You thanked him and asked, "Are we almost there?"
"Oh wow, you're so eager," he said sarcastically, "Yup, that's as far as I can go. You'll have to ask someone else if you get lost." You gave him a quizzical look.
"Eh, it's because that's the girl's area, so..." Sehun blushed a bit, and you just smiled.
"Thanks... eh, Sehun?" you asked.
"Yup, that's my name. It's getting late now, you should sleep," he advised. You waved goodbye and walked to your room all tired. Maybe this wouldn't be so bad after all...
^ Back to Top