16- Sehun's Birthday
by SapphireQueen
Tags you exo sehun lay exokandm adventurecomedy magicromance | Report Content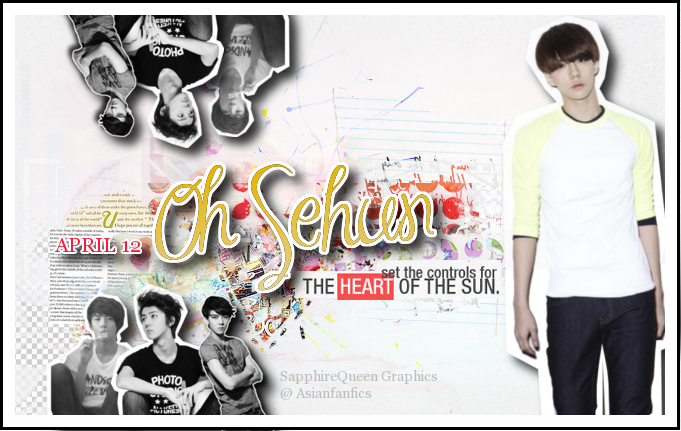 I  N  S  A  N  E  L  Y     E  X  O  t  i  c - My new Tumblr!
W  A  R  N  I  N  G: PRETTY LONG DUE TO SEHUN'S BIRTHDAY
---
"Wake up dongsaeng," Hyunsin said soothingly into your eye. You jolted awake.
"YAH, school! It's already ten o'clock! C'mon; we have to go," you whined, jumped out of bed, and was about to go on full speed get-ready mode until Hyunsin stopped you.
"Stop Jin Ae!" she yelled, "There's no school today. They had an announcement!" she laughed. You scratched your head and sat back onto your fluffy bed.
"Bwoh? Since when?" you asked her, confused, "Or did I sleep through that as well?" It's not my fault I love sleeping, you thought to yourself. You spotted a huge brown teddy bear sitting on Hyunsin's bed and added, "And where did you get that freakishly cute teddy bear, Hyunsin?"
"Slow down unni– dongsaeng! You slept through the announcement apparently," she giggled, "They said that the teachers were holding a meeting because of some 'issues'." Hyunsin make quote marks around 'issues', then continued, "And that teddy bear is from Luhan..." her cheeks started burning. Your face spread into a smirk.
"Yaahh~" you whined in a gummy way, "What's up with you and dating strangers you met only five seconds ago?" you asked her mischievously and crossed your arms, as Hyunsin was fumbling for a good explanation.
"I didn't meet Luhan five seconds ago! And he's not a stranger!" Hyunsin defended herself, "He's really funny and cute!" You laughed and tried to calm her down. Hyunsin added, "Don't go making conclusions when you don't know what's going on!" She threw a pillow at you.
"Yeesh, okay!" you laughed, "I won't! And what's up with being more mature now?" you smirked. Hyunsin shrugged and put down the pillow she was about to throw. You continued, "Anyways –"
"Annyeong Jin Ae," Sehun's melting voice came from behind you, "Woke up already, I see." he chuckled a bit. Two hands covered your eyes, as Sehun asked, "Guess who?" Pathetic, it's so easy! you hated being underestiminated.
"If it's not Sehun, then someone shoot me," you laughed as the two hands let your eyes breathe again. You turned around to see Sehun barely containing his happiness, "And why are you so happy today?"
"Well..." he trailed off, "It's my birthday!" You jumped up.
"Really oppa?" you hugged him, then added, "Happy birthday oppa~" in another gummy voice. Sehun's face turned pink a bit.
"Gomawo," he smiled, "Let's go do something. I'm hungry, breakfast on me!" you shrugged, put on your uniform-suit, then stood there.
"Will you buy me hot chocolate?" you smiled at Sehun. He chuckled.
"You know, it's my birthday, so you should be buying things for me," he raised his eyebrows. You defended yourself with, "But you're my oppa~" Sehun rolled his eyes, muttered a 'fine', let led you to the cafeteria. The weather was windy and cold, and you could see your breath in the air. Oh Sehun, you thought to yourself, Make this wind stop!
He opened the door to the cafeteria and said, "Ladies first," politely. You grinned and walked inside, where it wasn't windy. You rubbed your hands together, trying to gain heat faster. Sehun calmly walked past you, took off his suit, and draped it around you. You felt yourself blushing a bit.
"Well, at least I'm not sweating anymore," he laughed weakly, "And let's go get the hot cocoa you wanted, eh?" you nodded, still holding onto Sehun's suit. He payed for the hot chocolate and held it out to you, while ordering a coffee for himself.
"Oppa~" you smiled at him after finding a spot for you two to sit, "How old are you now?" He looked uncomfortable, but seemed to shake the feeling off.
"I'm... eighteen now," he finally answered you, "And how old were you again? Definitely not mature enough to be an adult like me, eh?" he smirked. You rolled your eyes, sipped your hot cocoa, and hit him playfully.
"Like you are," you smiled, "I'm fifteen, remember?" He smiled sheepishly and replied, "Heh. Bad memory?" You laughed a little, then continued drinking your hot chocolate, having an awkward silent moment with Sehun. He gazed into his coffee and stirred it once in a while, like he was in a trance again. You waved your hand in front of his eyes, and he broke out of his stare.
"Mianhae... I thought I saw something," he scratched his head, "Anyways, Jin Ae. Do you like Lay?" he looked into your eyes. You managed to smile sheepishly.
"Well, as a really good friend, then yes," you kept on smiling, "Why, you jealous?" He shook his head, then looked at his coffee again. You added, "Are you going to drink that or something?" 
"No, I don't feel like it," he muttered, then added in a brighter tone, "Who wants to play some games again?" You face broke into a grin that stretched from ear to ear and nodded eagerly. Sehun pulled on your arm and brought you to the garden where you hung out and "played" for most of the day. Once in a while, you would see Hyunsin getting really close to Luhan, maybe even holding hands, but you were able to suppress the laughs.
After ten hours of just being with Sehun and hanging out with the guys, you lay on the cool grass and stared at the setting sun. The stars were gradually appearing, but you can only see them faintly. Sehun saw you lying on the ground and sat next to you.
"Hey Miss Dreamer," he smiled and sank down. He also lied on the grass and tried to follow where your eyes were looking at, "The constellations are really pretty here..." he trailed off. You looked at him.
"Yeah," you smiled, "They are..." For a moment, nothing really mattered. Everything was peaceful, and only a gentle breeze went through the air. Thanks Sehun, you thought to yourself. The planet actually felt magical for once.
"If you could be any constellation in the Earth sky, which one would you be?" you asked Sehun in a peaceful tone. Your eyes were still glued to the stars, though you could still feel Sehun turning around and looking at you.
"Probably Pisces," he laughed, "I haven't been on Earth for so long that I almost forgot almost everything there... I guess I really am an alien." You smiled and turned around to look at him. Sehun looked back at you and smiled a bit.
"Why would you want to be Pisces?" you asked him, curious. His face broke into a grin.
"Well, I only want to be half of it," he smiled, "I want you to be the other half, so that we can always be together..." You looked at him with a surprised expression and he leaned closer to you.
"Saranghae Jin Ae," he stroked your cheek and kissed you. Your heart fluttered as you kissed him back, and everything seemed perfect.
"Jin Ae!" Hyunsin's voice interrupted the kiss, "I see you dongsaeng!" She wore a smirk on her face.
You could only look at Sehun and shrug with a sheepish smile.
---
Author's Note:
BOOM SHAKALAKA~! Did you like this chapter? I did XD
Gomawo to everyone to viewed, commented, and subscribed~! Sehun loves you too xD
OMFG. THEY KISSED :O
Kay that's it, adios! Gotta do homework now =_=
^ Back to Top