YUNJAE MANOR BORN!
by KariLovesJenna
Tags changkyu dbsk hanchul smut superjunior yoosu yunjae | Report Content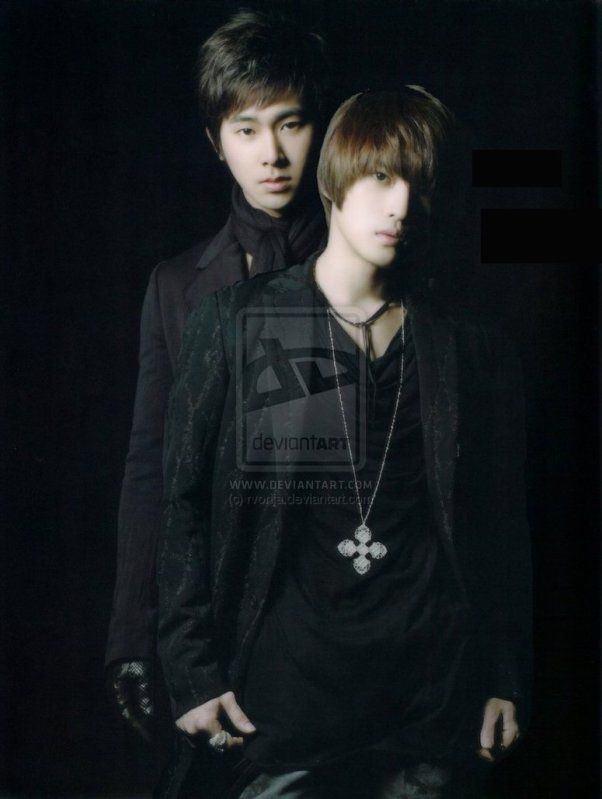 Everyone was pacing, wondering if the plan would work. If in fact Karam could pull it off.  Jae looked at Heechul and smiled.
"Yah weren 't we making this house a home?" Heechul bellowed.
"LETS DO THIS!!!" Yesung cheered.
Jaejoong went and began to hook up the audio system. Leetuk helped and they turned it on. Jae selected a bunch of upbeat happy songs and blasted it. Everyone clapped and began to work at a steady pace.
Jae and Chullie got the kitchen done in record time. They moved onto the sunroom.
Jae winced and rubbed his back.
"Omo Jae you ok honey?" Heechul asked worried.
"Deh, just need to sit, my back is still a bit worn from…" He blushed.
"Oh jeeez I know that feeling. Hmmm well I fixed it by letting Hangeng have the joy of being bottom for me occasionally" Heechul smirked as they sat down.
"You mean you, in him, and not him in you?" Jae asked red as a tomato.
"Deh, you think Yuhno would let you?" He asked.
"I don't know, he's very manly and I like it." Jae said still red.
"Aish stop blushing it's me here, remember my little gift?" Heechul sneered.
"Pabo!" Jae said playfully swatting Heec hul.
"Im teling you Jae try it, just prepare him like he does to you" Heechul said.
"LA LA LA NEW SUBJECT PLEASE YOUR CORRUPTING MY BABIES MINDS!" Jae said giggling.
Jae closed his eyes and smiled warmly. He was getting a little message from Yuhno.
"Chullie they just used the Jaejoong network and said they are picking up dinner" Jae giggled.
"Awesome tell Hannie I want PICKLES!" Heechul grinned.
"He said yes dear, and that we need to be somewhere else when they arrive they don't want us to see what they bought" Jae looked pouting.
They finished up and walked into the house to find everyone sitting in the finished sitting room. Jae widened his eyes.
"Yah you finished?" He asked.
"Deh, all that is left is your bedroom and the nursery, but we have specific instructions to not touch!" Yesung giggled.
"Hyungs went to get the grocery stuff you asked for too" He added.
Jae walked around to each room and was baffled at the amazing work they did. He smiled and thanked everyone for the work they did.
"Yah Chullie they are home we got to go. Guys let's get Minnie to his house while the boys finish the work." Jae smiled grabbing a jacket.
Everyone headed to Changmins house. Kangin carried him on his back. When they arrived Jae had to fish keys out of his pocket and open the door. They placed him in his bed and Jae tucked him in.
"Sweet dreams my boy,  dream of your sweet KY and hold him close, he will be home soon." Jae cooed gently as he kissed his forehead.
Changmin stirred a little and Jae smiled.
He headed downstairs and plopped on the couch.
"Omo, I hope they hurry I AM STARVING!" He giggled.
"Well you are feeding 3 hyung"  Sungmin giggled as they came in with the groceries.
"Yuhno hyung said he was coming over before they start, that his WIFE needed to eat" he added.         
Jae didn't get offended by that word anymore, in fact he loved being called Yuhno's wife. Granted he was a guy. But he figured he's carrying the babies, he does the cooking, and he is the bottom, might as well have a title!
Jae and Chullies eyes lit up when they arrived at Min's place with food. They were unsure if it was the food or them that they got happy for.
Jae bypassed the food and latched onto Yuhno tightly. He kissed his face all over and smiled before kissing his lips.
"I miss you so much Yunnie, did you get everything you needed?" Jae smiled taking his hand.
"Deh, and when we are done eating us three are going to go fix it up and you can come home, I want you to be surprised" Yuhno smiled rubbing Jae's Tummy.
"And you two get a surprise as well" He smiled.
Heechul on the other hand bypassed Hannie and dove into the pickles. Hannie pouted and Heechul laughed.
"PoPo Hannie" He said pointing to his lips .
Hannie smiled and kissed him softly snatching the pickle from him and biting it.
"Yah, that was my pickle, PICKLE THIEF!" He said chasing him through the house before finally being knocked down and kissed deeply.
They all sat down to eat, and filled the three in on the whereabouts of Karam and the incident that took place.
"Oh my god, he actually liked it?" Siwon gasped.
"I think he just longed to be touched and to touch" Heechul said.
"But I made that go away so Hyungs don't talk about it Deh?" Junsu said eating a piece of pork.
After they ate the three of them went back to Yunjae Manor (A/N teehee) and began to get things done.
Jae built a plate and went upstairs. He set the plate down and nudged the sleeping Min.
"Minnie wake up sunshine, Umma has food for you" He said softly.
Changmin stirred and blinked his eyes open seeing Umma sitting there. He smiled brightly.
"Food?" he cooed.
"Aish the Aigoo" Jae ruffled his hair and waited for him to sit up before handing him the plate.
"We are all downstairs when you feel up to coming down baby. But no hurry, we are going to try out your Movie room, those chair things look so comfy. Appa and Uncle Won and Uncle Hannie are at our place up to mischief, setting up stuff." Jae giggled.
"I will come down and sit with you guys deh" Changmin smiled and handed Jae the plate while he climbed out of the bed.
Jae noticed as they left the bedroom Changmin stopped and kissed his fingertips and placed them on a picture of Kyuhyun and His tummy. He felt his breath hitch.
They went downstairs and everyone got comfortable in the movie room and Jae stayed close to Changmin. He was too busy eating to really notice the lovey dovey couples.
Heechul threw in a comedy movie and they all sat back and watched it. By the time it was over Yuhno and the boys were walking into the room.
"All set guys, if you want we can head to our house" Yuhno said grinning.
He noticed Changmin asleep with his head on Jae's lap and he smiled. He kneeled down to him and kissed his cheek.
"How's he doing?" he asked quietly.
"He's doing ok Yunnie, He needs to rest, can we take him home and put him in the guest room? I don't know when Karam will be back and I don't want him alone." Jae asked.
Yuhno nodded and nudged the boy a little, realizing he wasn't going to wake anytime soon he had Hangeng and Siwon carry him to the house. He helped Jae up and hugged him tightly.
They locked up his house and headed to Yunjaes. Jaejoong swung their entwined hands like a kid. Yuhno giggled at the cuteness.
"You excited a bit my sweet baby?" Yuhno asked.
"Mmmm VERY" Jae giggled.
They arrived and everyone plopped on the couches. They wanted to give them special time to see the new rooms together.
"Now baby I know I said we would do our bedroom and the nursery together but I wanted to give you and the twins a special gift." Yuhno smiled guiding Jae up the stairs.
"But Yunnie we have the best gift ever, we have you" Jae blushed kissing his cheek.
"Aigoo your gonna kill me with Cuteness aren't you love?" Yuhno chuckled and wrapped and arm around him.
"Okay first our bedroom, I hope you like it!" He said opening the door Jae gasped. The room was something out of a dream. The room felt so alive yet so comforting to him. He grasped Yuhno and smiled brightly the smile that melted Yuhno when they first met.
"OMO YUNNIE ITS PERFECT I LOVE IT" he smiled running around touching everything. He notices each night stand had a framed picture pair. On his side was a framed picture of Yuhno and the little frame was the first picture of the twins. On Yuhno's side was the picture from the booth  and another  small frame of the twins. Jae felt tears go down his cheeks. They were tears of pride and joy.
"Jung Yuhno you amazing wonderful beautiful man!" He said rushing to him to hug him.
" I am glad you love it baby, I can't wait to hold you tonight in our new bed" He smiled kissing his lips tenderly.
"Now let's go see the last surprise" He said pulling him to the nursery door.
"Ready baby?" he said.
"Deh!" Jae said.
"We had to repaint and stuff but it was worth it" He said opening the door.
The first thing Jae saw was the working carasoul in the room. His jaw dropped. The room was vibrant and loving. A muted yellow but it felt so bright. He walked over to the twin cribs and rubbed his tummy.
"Look at what Appa did for you guys, all this is yours" he smiled.
Yuhno walked over and kneeled to Jae's Tummy.
"Hello my little ones, Appa wanted your room to be very special and to have the things Appa and Umma never had. When we know if your boys or girls or both we will add more fun stuff for you deh, and little one number two Appa is sorry for not buying you a crib when I bought the other, I hope you will forgive me" he said kissing jae's tummy twice.
"We forgive you appa you're the best appa everrrrrrrrr" Jae said in a baby voice Yuhno giggled.
"Yunnie I love you so much, this is beyond amazing just beautiful and perfect for our family." Jae cooed snuggling into Yuhnos chest.
"Nothing beats your beauty baby" Yuhno said kissing him softly.
"Let's head downstairs and see what the hyungs are up to, I know there is Soju involved." Yuhno laughed as they exited the nursery.
They peeked in on Changmin and shut his door. They headed downstairs, where everyone had gone into their movie room.
"Yah bout time we are going to watch movies and crash deh?" Heechul said.
"Sounds good what are we going to watch?" Jae asked sitting on Yuhnos lap.
"PORN" Heechul cracked up saying.
"Oh lets watch horror" Hangeng said.
Everyone agreed and they watched movie after movie till they all began to fall asleep. Jae nudged Yuhno and pulled him to their bedroom locking the door.
"Tired baby?" Yuhno asked.
"Not even close Oppa" He smiled seductively and dropped his jeans.
"HOT DAMN!" Yuhno cheered.
Yunjae  Living Room
Yunjae Weight Room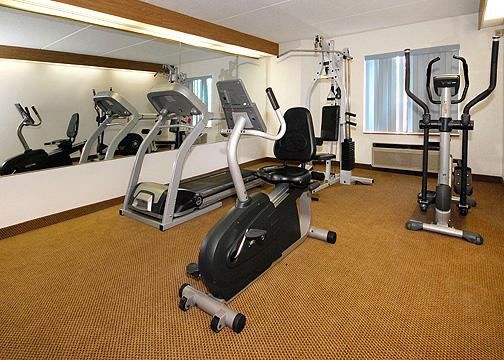 Yunjae Sunroom/Pool area
YUNJAE MOVIE ROOM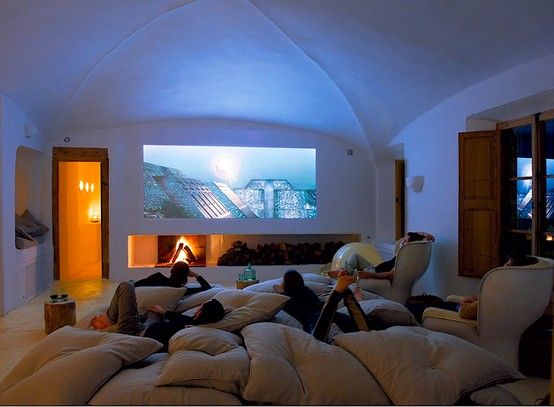 YUNJAE KITCHEN
YUNJAE DINING ROOM
YUNJAE MASTER BATH
Yunjae Guestroom
YUNJAE BEDROOM
YUNAJE TWINS NURSERY
OKAY GUYS IM CATCHING UP SOME ODDS AND ENDS WHILE KEEPING THE PLAN GOING. ITS NOW 3AM I AM WIPED OUT BUT STILL TYPING I WILL STOP IN A MINUTE AND CATCH A FEW z's AND SENSE I HAVE THE DAY OFF AND NO LESSONS TONIGHT PREPARE FOR MORE UPDATES
I LOVE YOU ALL VERY MUCH
KAMSAMNIDA
~**~*~~**~*K~*~*~*~*~
^ Back to Top